After Reinstatement by NFL, How Myles Garrett Suspension Compares to Others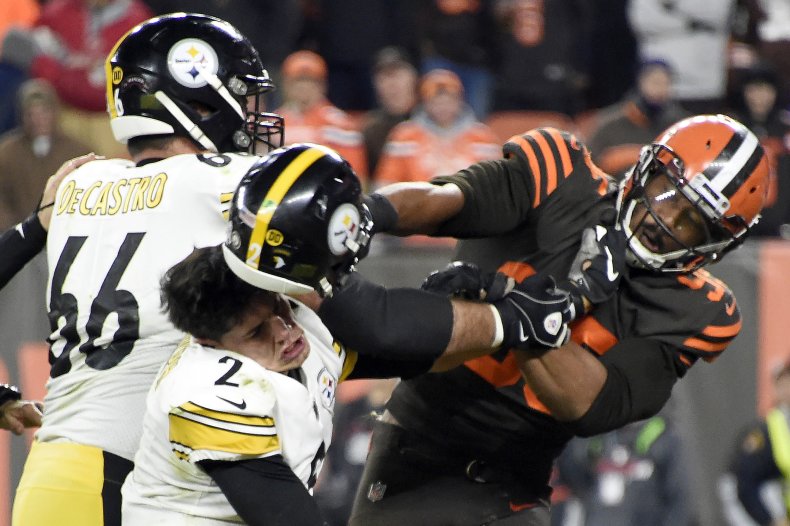 On Wednesday, Cleveland Browns defensive end Myles Garrett was reinstated by the NFL, turning an indefinite suspension to a six-game suspension, but how does this compare to suspensions of the past?
Garrett was initially suspended during the Browns' week 11 game against the Pittsburgh Steelers after he ripped the helmet off of Steelers' quarterback Mason Rudolph and proceeded to hit him in the head with it.
Prior to being reinstated, many speculated that Garrett could receive one of the longest suspensions to date, but after the NFL announced that he will be able to play week 1 of the 2020 season, Garrett's suspension marks the second longest for a single on-field incident.
One of the more recent long-term suspension from an on-field incident happened during this past season with Oakland Raiders' linebacker Vontaze Burfict. During the Raiders' week 4 game against the Indianapolis Colts, Burfict landed a helmet-to-helmet hit on Colts' tight end Jack Doyle and was ejected from the game. After being ejected, the NFL announced that Burfict would be suspended for the remainder of the regular season and playoffs, 12 games in total, which marked the longest punishment in NFL history for a single on-field incident. Burfict's suspension was much longer than Garrett's mainly due to Burfict's three previous suspensions, which cost him four games in 2018, five games in 2017 and three games in 2016.
Before Burfict's suspension in 2019, the previous longest for a single on-field incident was handed to former Tennessee Titan defensive lineman Albert Haynesworth in 2006. During a week 4 game against the Dallas Cowboys, Haynesworth stomped on the face of Cowboys center Andre Gurode, causing a severe wound and nearly missing his right eye. Immediately after, Haynesworth was given a 15-yard unsportsmanlike penalty, but after throwing his helmet in protest of the call, he was given a second penalty and ejected from the game. On the next day, the NFL suspended Haynesworth for five games without pay, which was the longest in NFL history at the time.
Prior to Burfict's 12 games and Haynesworth's five games, the NFL's longest suspension was only two games which occurred in 1986, during a game between the Chicago Bears and Green Bay Packers. Charles Martin, defensive end for the Packers, received the suspension for picking up Bears' quarterback Jim McMahon and body-slamming him into the ground. In addition to it being the longest suspension for a single on-field incident at the time, it was also the NFL's first multigame suspension.
In 2013, a situation nearly identical to Garrett's occurred during a preseason game between the Houston Texans and Miami Dolphins. During the game, Texans defensive end Antonio Smith ripped the helmet off of Dolphins offensive lineman Richie Incognito and swung it at his face. Despite being similar to Garrett' incident, Smith's suspension was much shorter: Smith was suspended for two preseason games and one regular season game for his actions.
While Burfict and Garrett have two of the NFL's longest suspensions for single on-field incidents, there has been a number of other players suspended for longer but stemmed from off the field incidents.
In 2014 running back Adrian Peterson was handed an indefinite suspension for violating the league's personal conduct policy after he was charged with a felony for hitting his 4-year old son with a tree branch. Peterson was placed on the commissioner's exempt list but was reinstated in 2015, missing a total of 15 games.
After Reinstatement by NFL, How Myles Garrett Suspension Compares to Others | Sports