After Rep. Matt Gaetz Complains, Florida Woman Who Threw Drink at Him Receives 15-Day Sentence
Amanda Kondrat'yev, who pleaded guilty to throwing a drink on U.S. Representative Matt Gaetz in June, was sentenced to 15 days in federal prison Monday for assaulting a U.S. Congressman.
Gaetz was leaving an event at a restaurant in Pensacola, Florida when Kondrat'yev hit him with a red drink. Police reported that Kondrat'yev was holding a sign which read, "Gaetz—wipe the blood from your hands, A+ rating—NRA, save our kids vote Gaetz out in 2020."
"My supporters are just as passionate as all my opponents," Gaetz said in a statement issued before Kondrat'yev was sentenced. "They have the capability to be violent too. My efforts to ensure ALL participants remain nonviolent are undermined greatly by the Defendant's actions."
Gaetz was present at the sentencing and asked the court to give Kondrat'yev a jail sentence as opposed to probation to keep people from showing up at his events "to cause harm to my supporters or me."
"Only incarceration allows me to reinforce to my supporters and opponents alike the Free Speech is welcomed—but assault will not be tolerated," said Gaetz.
Judge Hope Cannon issued the shorter sentence, citing Kondrat'yev's lack of a criminal record and the "limited duration" of the crime, according to the Pensacola News Journal. In addition, Kondrat'yev will pay a $500 fine and serve one year of supervised probation.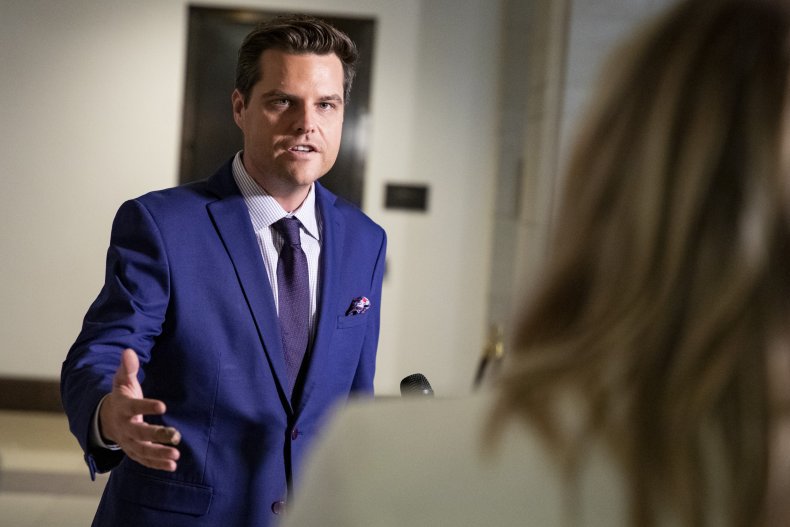 "We want to welcome everyone to our events," Gaetz said after the sentencing, "whether they support me or not."
Kondrat'yev's attorney Eric Stevenson told reporters he was "disappointed" with Gaetz's call for imprisonment.
"For him to talk about a violent crime, it's not as violent as a potential DUI is to drivers on the road," Stevenson said. "It's not as much of a threat to our national security as storming a security hearing with a cellphone in a room that doesn't allow cellphones. It doesn't jeopardize our rule of law as much as intimidating witnesses, and it's not as severe as threatening to unleash violent supporters if you don't get what you want."
Gaetz was arrested in Okaloosa County on suspicion of driving under the influence of alcohol. Those charges were later dropped.
As a representative, Republican Gaetz gained an amount of notoriety this past October by leading a group of fellow legislators into a closed-door session of the impeachment proceedings against President Donald Trump.
"I think the president's right," Gaetz said at the time. "As Republicans we needed to be tougher in exposing this for the kangaroo court that it is."
Kondrat'yev ran as a Democrat against Gaetz in 2016 for the Congressional seat Gaetz eventually won. Kondrat'yev dropped out of the race before voting began. According to a March 2016 fundraising report, Kondrat'yev had gathered $258 for her campaign and spent $238, leaving her with $20 cash on hand.