After Republican Senator Mocks Pronunciation of Kamala Harris' Name, Dem Opponent Raises Nearly $2 Million
Republican Senator David Perdue, who is running for re-election in Georgia next month, appears to have contributed to his Democratic competitor's weekend fundraising haul after repeatedly mispronouncing Kamala Harris' name in a video that quickly went viral.
Perdue's opponent, Jon Ossoff, received more than $1.8 million in donations from at least 60,000 contributors between Friday, when the video was released, and Monday afternoon, according to his campaign. Ossoff confirmed the campaign had already raised $1 million in a tweet posted Saturday afternoon. The Democratic nominee's weekend fundraising haul came after his campaign reported third-quarter earnings of $21.3 million, a new record in Georgia. Perdue's campaign raised roughly $5.6 million over the same three-month period.
Ossoff's fundraising success over the weekend came on the heels of Perdue's remarks about Harris, a California senator and this year's Democratic vice presidential nominee, during President Donald Trump's campaign rally in Macon, Georgia, on Friday. Referencing Harris while addressing a crowd of Trump supporters, Perdue said: "Kamala? Kamala? Kamala-mala-mala? I don't know. Whatever."
Sabrina Singh, Harris' press secretary, called Perdue's comment "incredibly racist" in her response to his remarks Friday night.
The video of Perdue's remarks, which subsequently circulated online, gave way to a social media movement that saw a number of public figures, including actors, athletes and authors, denouncing Perdue's mockery and sharing meanings behind their own names. Their messages helped the hashtag #MyNameIs trend on Twitter.
Ossoff condemned Perdue in several messages shared to Twitter on Friday evening, and in a statement released the following day demanded his opponent apologize publicly.
"My opponent, GOP Sen. David Perdue of anti-Semitic attack at infamy, just mocked Sen. Harris' name...We are so much better than this," Ossoff tweeted on Friday.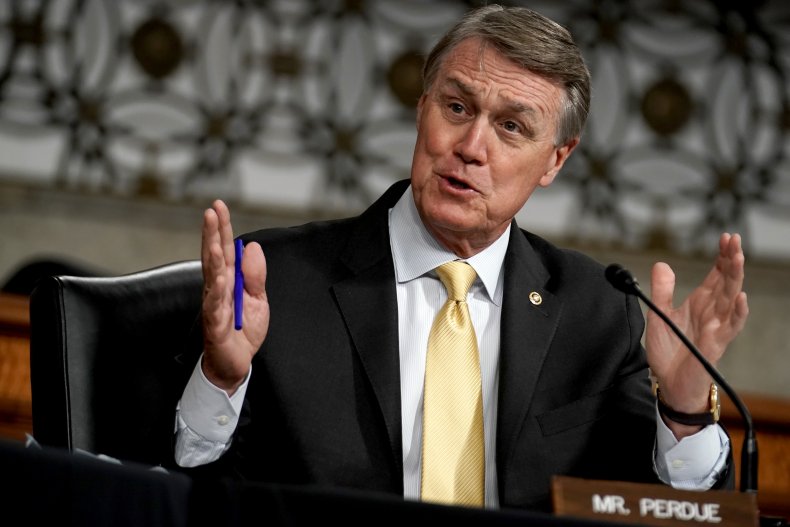 "Georgia needs a leader who will unite us to defeat COVID-19, not a pathetic schoolyard bully who engages in a stunning and juvenile display of bigotry at a Trump rally," the Democratic congressional nominee added in the Saturday statement. "David Perdue should grow up, take responsibility for once in his career, admit he was wrong, and publicly apologize."
As of Monday afternoon, Perdue has not apologized for his remarks at Friday's rally. John Burke, the communications director at Perdue's re-election campaign, reportedly said the senator "didn't mean anything by [his pronunciation of Harris's name]" in a statement obtained by multiple news outlets.
Newsweek reached out to Perdue's office for comment but did not receive a reply in time for publication.