After Rigged Elections, Belarus Opposition Expresses Despair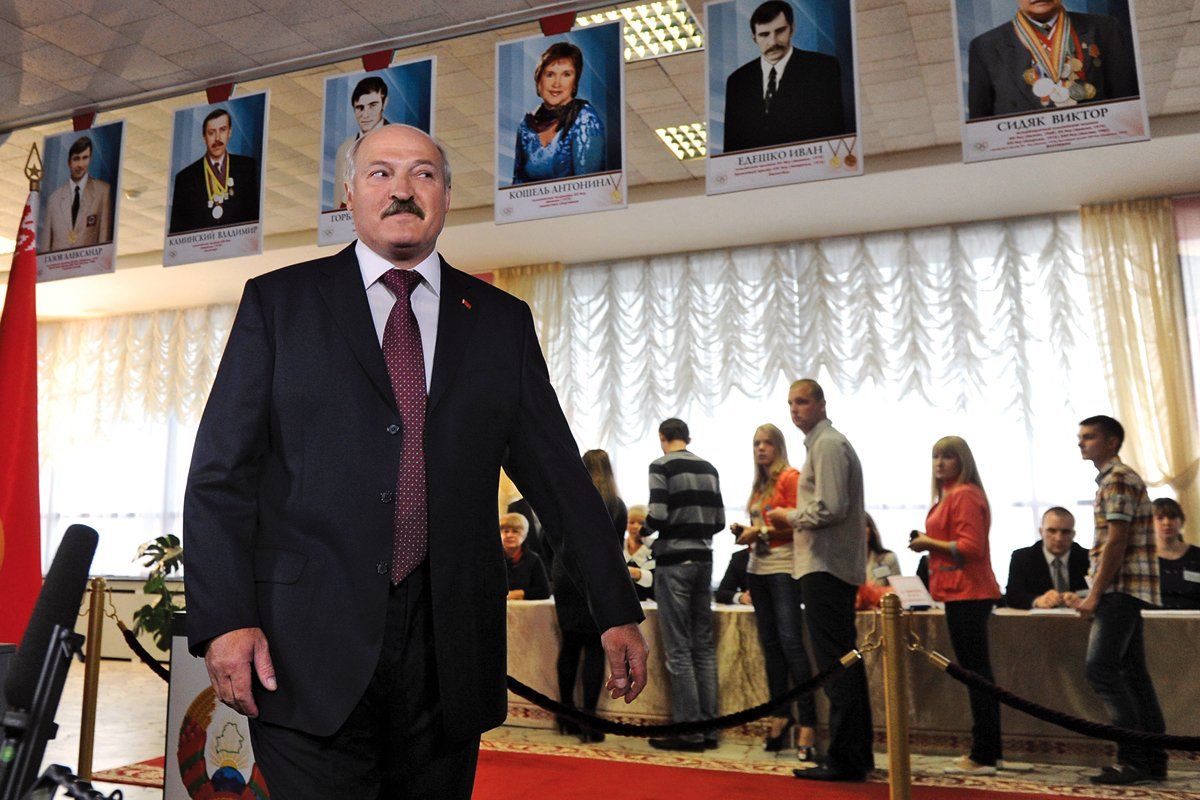 Aware of the possibility that the secret police were listening in, Belarussian dissident Anastasia Palazhanka whispered to the visitors: would they help her arrange her wedding to her fiancé, an imprisoned leader of the Young Front opposition? Palazhanka, a 21-year-old honored by Hillary Clinton last year with the prestigious International Women of Courage award, was conferring with observers from the Organization for Security and Co--operation in Europe (OSCE), who were on hand to monitor parliamentary elections in the former Soviet Republic. They'd dropped by the Soviet-era Hotel Yubileinaya in Minsk to listen to opposition members who -wanted to air concerns about the rule of President Alexander Lukashenko.
With an emotionless face, the young woman relayed the facts about her fiancé, Zmitser Dashkevich. He'd been in prison since 2010, after being arrested on the eve of a major anti-Lukashenko protest; he'd spent half his term already in solitary confinement; his sentence was recently extended by a year after authorities said he'd disobeyed prison rules. Palazhanka told the OSCE officials that Dashkevich was suffering under emotional and physical pressures, and that his lawyer was rarely allowed to see him. She did not tell them that the couple had no illusions left about a speedy end to Lukashenko's rule, and that they were expecting the worst for Belarus.
Palazhanka's story is frighteningly common in Belarus, where Lukashenko—who has been called "Europe's last dictator" and who was barred from attending the Olympics this summer due to EU sanctions over alleged human-rights abuses–has been pursuing a brutal crackdown on the opposition. Since 2010, 14 leading dissidents have been jailed, while scores of others have fled to Poland, London, and Lithuania to escape persecution. Meanwhile, the president's power continues unchecked: during last week's elections, independent observers blasted the government for ballot fraud and two opposition parties boycotted the vote, which resulted in the country's parliamentary seats being unanimously stocked with Lukashenko loyalists.
To stay in Belarus and face prison or to slink into exile: those are the two predominant choices facing Lukashenko's critics today. It's a situation that Palazhanka and her fiancé could hardly have imagined just two years ago. Back then, the couple symbolized the stubborn hopefulness of the resistance. Every Valentine's Day, they'd adorn themselves with white angel wings and lead hundreds of demonstrators to protest downtown, in a production designed to subtly mock Lukashenko's own tawdry love life (the president liked to show off a new young beauty at every public appearance; meanwhile, the official first lady vanished years ago and rumors swirled that Lukashenko's personal doctor was also the mother of his youngest son). Leading the crowds to Freedom Square in early 2010, the couple chanted, "We believe! We are mighty! We'll win!"
Then, 10 months later, during rigged presidential elections, the violence began. Opposition candidates were arrested and beaten, and police aggressively broke up the crowds turning out to protest. That December, Natalia Radina—the editor of the popular opposition website Charter97 and a famously fearless protest leader—says that police beat her on the head so violently she suffered a severe concussion. After the authorities threw her in jail, she says, she was forced to sleep for weeks on the floor of a prison cell as she bled from both ears. After she finally got released from prison last year, Radina dyed her hair red, ditched her cellphone and all other personal items, and slipped across the border into Russia. President Dmitry Medvedev eventually helped her escape to Europe—a strange move, perhaps, considering Lukashenko's close relationship with the Kremlin. She told Newsweek that she continues to live in exile today along with dozens of other Belarussian leaders, who continue to "fight Lukashenko on the Internet to make it possible to return home soon."
Radina was one of 40 activists sentenced to jail after the 2010 protests. For most of the opposition members, tragedies both personal and political have befallen them since then. Dashkevich lost his mother during his imprisonment. Palazhanka's father had a heart attack while she was on trial last year, and her brother lost his job at the national bank, purportedly over his relation to the "fifth column," as Luka-shenko has labeled his critics. Last spring, Andrei Sannikov—one of four former presidential candidates arrested—says the secret police threatened him by telling him that his wife, the reporter Irina Khalip, and son might be killed. Since then, Sannikov and Khalip have been released from jail "thanks to EU sanctions," he says, but he came out 20 kilos lighter and with a broken leg. While Sannikov can leave the country for medical treatment, Khalip explains that they will not flee from Belarus, even though she lives under partial house arrest and the secret police visit her to make sure she is back in her apartment by 10 p.m.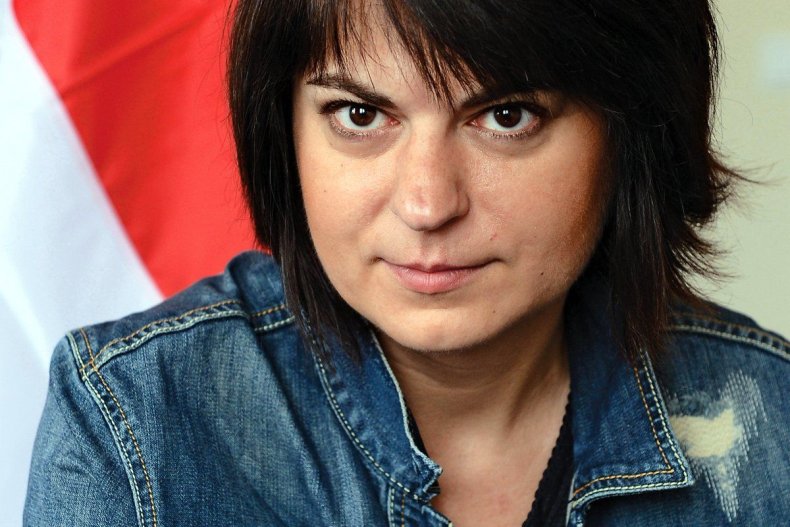 Polls by the independent sociological institute IISEPS have reported that 54 percent of Belarussians have considered leaving their country, at least temporarily. Meanwhile, the opposition has largely been driven underground. Occasionally dissidents congregate at the U Gallery, an exhibit hall–cum–bookstore and café, to talk about art and human rights, and dream about a different future for Belarus. One night last week, intellectuals gathered there to discuss the Belarussian majority's estrangement from politics. Some said that they'd grown disillusioned after the KGB (as the secret police is still known in Belarus) had reportedly kidnapped and tortured three Ukrainian FEMEN -activists—known for their topless protests—who had staged a demonstration against Lukashenko in Belarus last year. (The KGB denied any involvement.) Others said that it was futile to oppose the president when the outcome of elections was always the same—namely, that Lukashenko wins and his opponents go to jail. "Tired of severe reality, people close their ears and withdraw into their personal little worlds," said Ales Ancipenka, a rector at the "underground univer-sity," a secretive educational institution that teaches literature, poetry, and philosophy in the Belarussian language.
Some dissidents vowed to keep up the fighting spirit. Tatiana Korotkevich, the only female opposition candidate to run in the recent elections in Minsk, said she was still convinced that "Lukashenko's power machine is wrong and it is failing." Still, worrisome human-rights accusations continue to surface—such as recent reports that male prisoners in Lukashenko's penal colonies were being forced to spend hours standing naked in freezing cells. It's a tactic that wouldn't surprise Anatoly Lebedko, the leader of the United Civil Party of Belarus. "They told me, 'Just cooperate with us and the torture is over,'?" he said, describing his time in prison. "I promised them I'd rather gnaw off my right arm than tell them anything." Lebedko chose to boycott elections last month, describing them as "inevitably fake and rigged."
On Election Day, Minsk looked a lot like the old Soviet Union: giant flags and signs extolling "The Glory of Labor" decorated the avenues; secret police followed foreign journalists around the city, confiscating equipment and deporting some of those who came to cover the election. Department-store loudspeakers exhorted: "Citizens, do not forget to come and vote." While Lukashenko and his 7-year-old son, Nikolai—both in identical dark, stiff suits—voted for the cameras, the OSCE observers declared the election was "stage-managed." Meanwhile, for the first time in Lukashenko's 18-year reign, the opposition did not even try to stage a protest.
As Election Day wound down, and the OSCE observers prepared to leave Belarus, the leader of the observation mission did not manage to help Palazhanka and her fiancé—then on the fourth day of a hunger strike inside Mozar prison—arrange for their wedding in jail but expressed his hopes that they would instead get to wed soon, "some place better than prison."
After Rigged Elections, Belarus Opposition Expresses Despair | World