After Riots, Hundreds in Missouri Protest Teen's Death at Hands of Police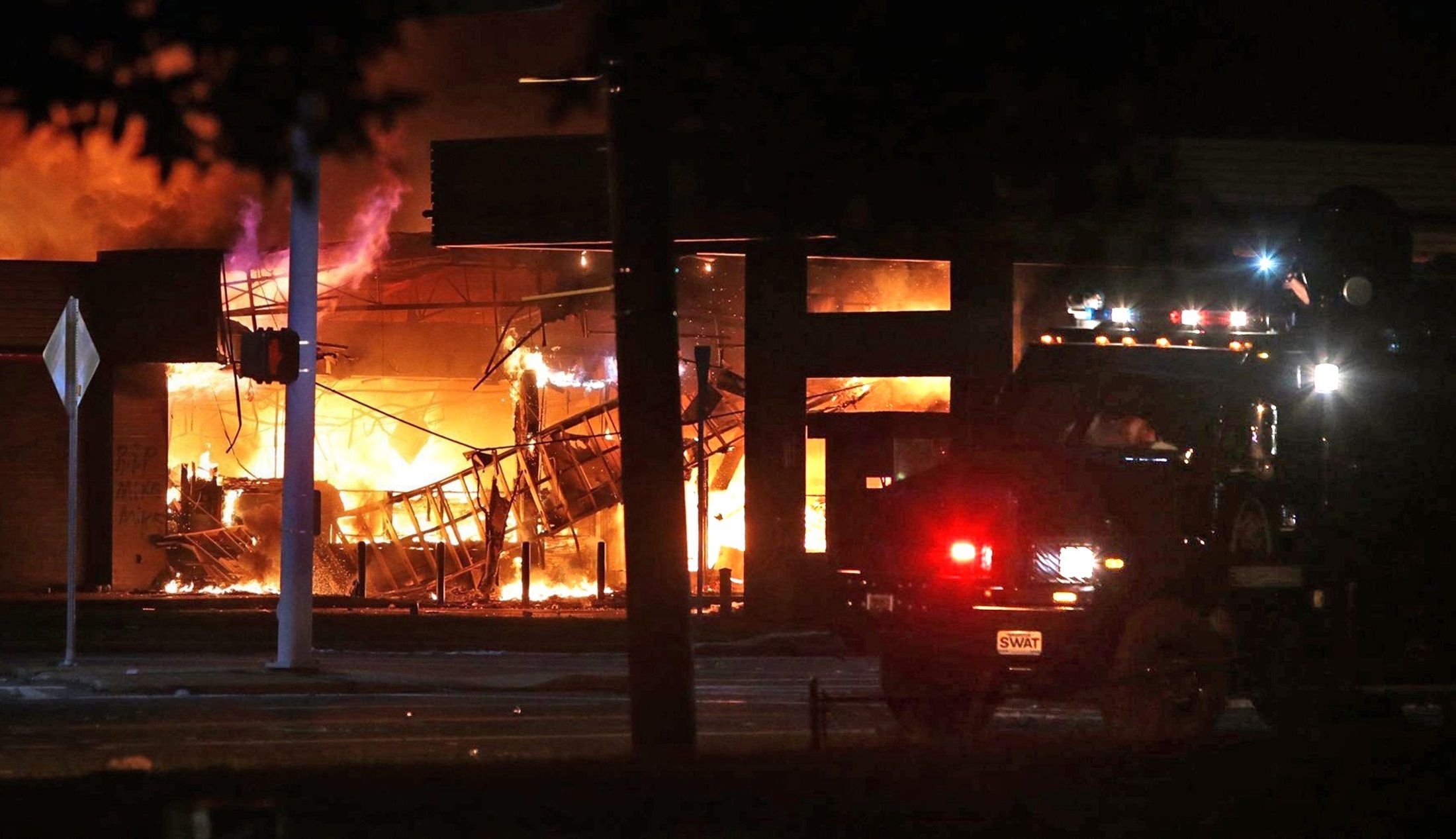 FERGUSON/KANSAS CITY, Mo. (Reuters) - Hundreds of protesters gathered at a suburban St. Louis police station on Monday demanding murder charges against an officer who shot to death an unarmed black teenager over the weekend.
Up to 15 people were arrested during the largely peaceful protests, which took place after a night of rioting when demonstrations over the death of Michael Brown, 18, turned violent, St. Louis County police said.
About two dozen businesses were damaged in the rioting overnight, 32 people were arrested, and two officers were injured, police said.
"It breaks my heart," Ferguson Police Chief Tom Jackson told reporters on Monday. "Last night was the worst night of my life."
The FBI is looking into any civil rights violations in the case, a spokeswoman for the agency said. St. Louis County police is leading the investigation into the shooting itself.
Jackson said there was plenty of physical evidence and eyewitness testimony. "I really believe we can get to the truth of what happened here," he said.
Brown's family has asked for an end to the street violence, according to media reports. They have hired lawyer Benjamin Crump, who represented the family of Trayvon Martin, a black Florida teenager who was unarmed when he was shot and killed by a neighborhood watchman in 2012. The family planned a news conference on 4 p.m. CT (2100 GMT), Crump's office said.
Protesters at Monday's gathering shouted "Stop the killer cops" and "No justice, no peace."
Police said Brown was shot on Saturday afternoon after a struggle over a gun in a police car. It was not immediately clear why Brown was in the car. At least one shot was fired during the struggle, and then the officer fired more shots before leaving the car.
OFFICER NOT IDENTIFIED
The officer, who was not identified, is a six-year veteran and has been put on administrative leave, police said Sunday. The officer's race has not been disclosed.
Brown was a graduate of Normandy High School in the area, the school said. Brown's mother told KSDK television that her son was a "good child getting ready to go to college."
Three of the Ferguson Police Department's 53 members are black, Jackson said. About two-thirds of Ferguson's population of about 21,000 are black, according to U.S. Census figures.
Ferguson's median household income is $37,517, less than the Missouri average of $47,333.
Most of the communities around Ferguson have gone from white to mostly black in the last 40 years, said Terry Jones, political science professor at University of Missouri-St. Louis.
"There's a long history of racial injustice," said Jones. "Slowly and not so surely, the St. Louis metropolitan area has been trying to figure out a way forward. As the Michael Brown shooting indicates, there are often setbacks."
More than 300 police officers, many in riot gear, tried to control the crowd on Sunday night, said St. Louis County Police spokesman Brian Schellman. Sunday's protests turned violent after dark, with rioters smashing windows of stores and restaurants and damaging cars.
Boon Chang, owner of Northland Chop Suey, was cleaning up glass on Monday morning after rioters smashed windows at his restaurant and stole sodas.
"If they saw a brick anywhere, they grabbed it," Chang said.
On a vacant building next door, someone had used red-orange paint to write: "The only good cop is a dead cop."
The St. Louis County branch of the NAACP civil rights group called a meeting for 6 p.m. (2300 GMT) on Monday to discuss the case, according to a spokesman for Murchison Tabernacle C.M.E. Church, where the meeting will be held.