After Ron Johnson's BLM Remarks, GOP Senator John Barrasso Says Lawmakers 'Speak for Themselves'
Republican Senator John Barrasso of Wyoming on Sunday morning responded to recent remarks made by GOP Senator Ron Johnson of Wisconsin about Black Lives Matter and the Capitol riot by saying that lawmakers in the chamber "speak for themselves."
Johnson has faced backlash from critics and calls for his resignation after he said that he didn't feel threatened by the Trump supporters that stormed the U.S. Capitol on January 6, but he might have been concerned if the insurrectionists were Black Lives Matter activists or members of Antifa.
"Even though those thousands of people that were marching to the Capitol were trying to pressure people like me to vote the way they wanted me to vote, I knew those were people that love this country, that truly respect law enforcement, would never do anything to break the law, and so I wasn't concerned," Johnson told conservative radio host Joe Pag on Thursday.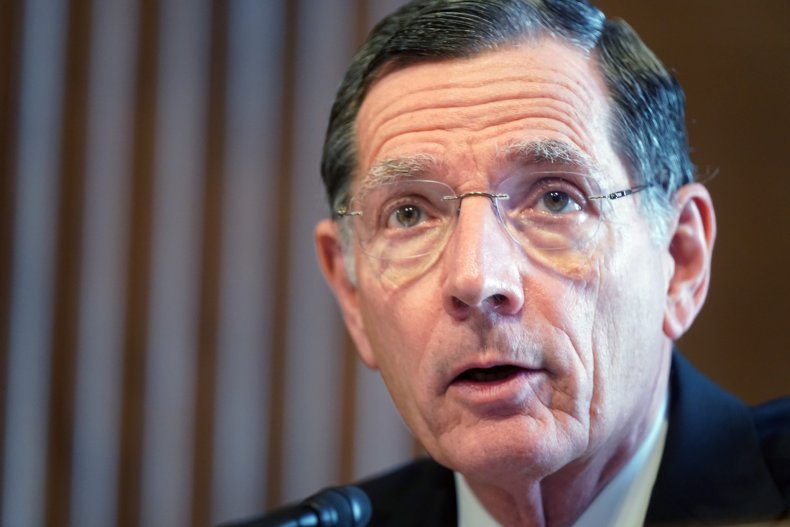 "Had the tables been turned—Joe, this could get me in trouble—and President Trump won the election and those were tens of thousands of Black Lives Matter and Antifa protesters, I might have been a little concerned," the senator added.
In an appearance on ABC's This Week, Barrasso told host George Stephanopoulos that Johnson is "going to speak for himself" when asked about the remarks. "You know this, George. You spent time on the Hill. Every member speaks for themselves," he added.
The Milwaukee Journal Sentinel has called on Johnson to resign for his position on the riots and alignment with former President Donald Trump. "If he runs again, Johnson must be opposed in both the primary and general elections by people who care enough about democracy to support and defend it," said the paper's editorial board.
Five people were killed in the Capitol riot on January 6, including a Capitol police officer. Forty of the more than 300 people that have been arrested in connection with the insurrection were accused of assaulting police officers during the attack.
Johnson told Pag, "This didn't seem like an armed insurrection to me ... when you hear 'armed' don't you think of firearms?"
Former Democratic Senator Barbara Boxer disagreed with his assessment. "Everybody in the country and the world saw the insurrectionists beat up, injure and kill law-enforcement at the Capitol and they saw them break the law over and over as they smashed windows and soiled the citadel of democracy," the ex-lawmaker tweeted. "Everybody except Sen. Ron Johnson. He needs to go."
Newsweek reached out to Senator John Barrasso's office for further comment.