Trump Group Sends 12-Year-Old Girl to Interview Roy Moore Ahead of Alabama Election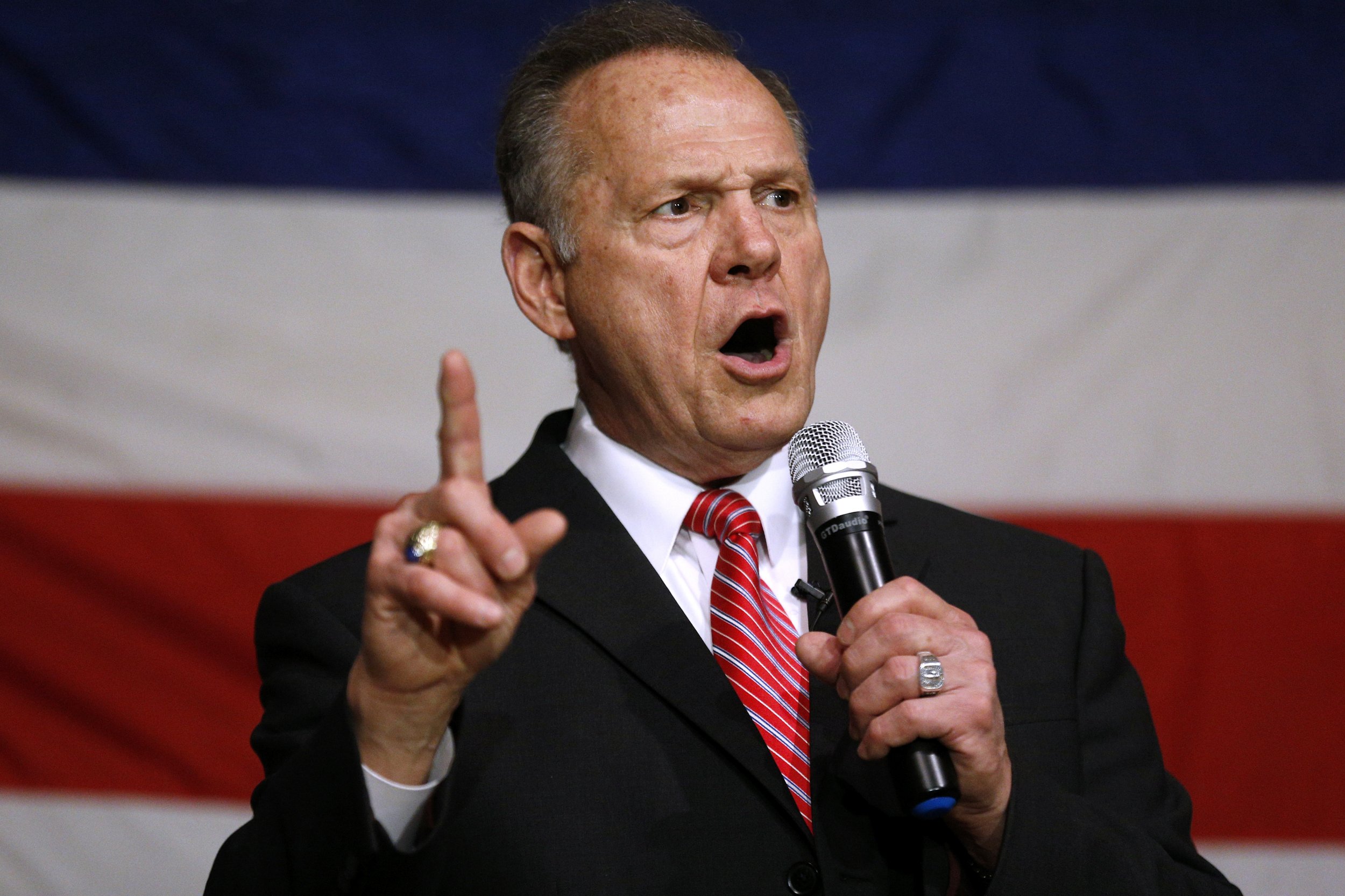 A political group backing President Donald Trump has sent a 12-year-old girl to interview embattled Alabama Republican Senate contender Roy Moore.
The America First Project published a video Sunday that showed Millie March—who rose to fame at the age of 11 during the 2016 election due to her support for Donald Trump—interviewing Moore as part of his campaign for election in Alabama.
In the interview, Moore tells March he believes illegal immigration to the U.S. could be stopped "in a relatively short time" using America's military before President Trump builds a wall on the border.
"I think the military can be used down with the border patrol and stop illegal aliens coming across the border," he said during their conversation at Alabama GOP headquarters. "If we need to stop it permanently we build the wall, and I think it would be not an inexpensive way to do it."
In the short video Moore said he believes religious liberty, health care and taxes will be at the top of Alabama voters' minds as they head to the polls on December 12 to vote in the state's special election. Moore also tells March he would like to do away with income tax and impose taxes on goods and services instead.
Read more: Alabama GOP Senator slams Roy Moore, my state "deserves better"
Moore has been accused of sexual assault by multiple women, but the scandal was not discussed during the interview with March.
In early November, Leigh Corfman told The Washington Post that Moore initiated a sexual encounter with her when he was 32 and she was 14. Beverly Young Nelson also accuses the former Chief Justice of the Supreme Court of Alabama of attempting to force her into a sex act when she was 16 and working as a waitress at a restaurant in Gadsden, Alabama, when he was a district attorney.
Several other women have come forward with stories that Moore tried to pick them up or that they dated him when he was in his 30s and they were in their teens.
Moore has denied the allegations, and many of his supporters claim the women have been paid to come forward.
The accusations have split Republicans. Alabama's Republican Senator Richard Shelby denounced Moore and his candidacy on CNN's State of the Union on Sunday. "I couldn't vote for Roy Moore. The state of Alabama deserves better," Shelby said.
He added that he didn't vote for Moore's opponent, Democrat Doug Jones, but wrote in the name of another Republican on his early voting ballot. Polls show Moore leading Jones by four points.
President Trump has supported Moore, arguing at the White House early this month: "We certainly don't want to have a liberal Democrat [in Alabama] that's controlled by Nancy Pelosi and Chuck Schumer."
Moore's campaign released a robocall recorded by Trump on Sunday telling voters: "We need Roy to help us with the Republican Senate."