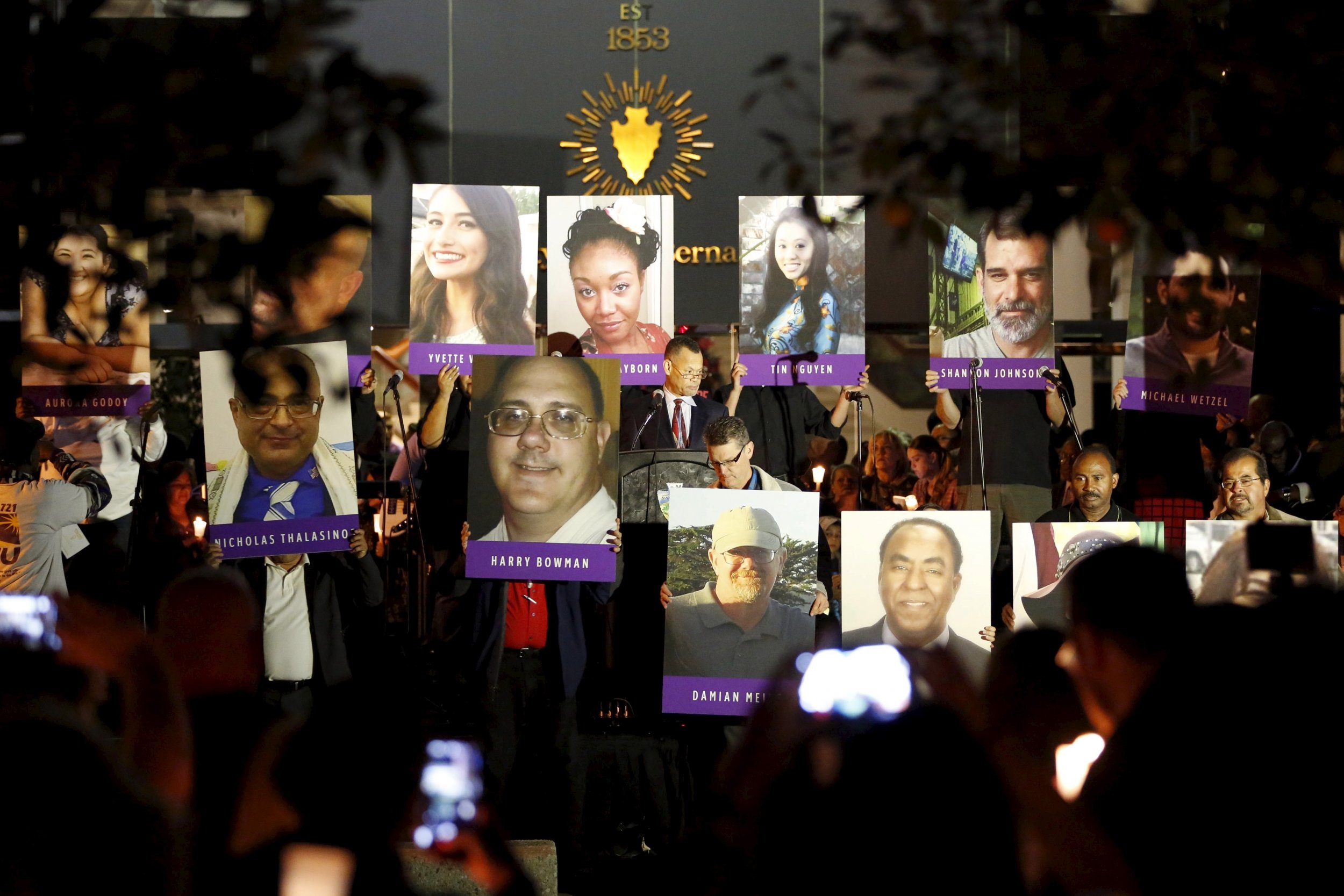 WASHINGTON (Reuters) - Investigators searched for motives and evidence in the case of a California couple who killed 14 people at a holiday Christmas party, while a poll released on Friday showed Americans are losing faith in the U.S. government's ability to protect them from militant attacks.
A Gallup poll of 1,013 adults conducted on Tuesday and Wednesday showed 55 percent of respondents had a "fair amount" or "great deal" of confidence that authorities could prevent further attacks, a 12-point drop from June.
Syed Rizwan Farook, 28, and his wife, Tashfeen Malik, 29, committed what the Federal Bureau of Investigation has called an act of terror when they opened fire on the party in San Bernardino on Dec. 2. Twenty-one people were also wounded.
Farook, 28, a U.S.-born son of Pakistani immigrants, and Malik, 29, a Pakistani native he married last year in Saudi Arabia, died hours after the attack in a shootout with police. Malik had declared loyalty to the militant group Islamic State on social media before the attack.
The Gallup poll, conducted by telephone with a margin of error of plus or minus 4 points, found that 67 percent of Americans believed more attacks were "very likely" or "somewhat likely," an increase of 22 points since June.
Fear of an imminent attack reached a high point of 85 percent after the Sept. 11, 2001, attacks on the United States.
Last week's California shooting and the November 13 attacks in Paris that left 130 people dead, along with the Obama administration's plan to bring 10,000 Syrian refugees to the United States, have escalated debates about U.S. immigration policies and national security.
Republican presidential candidate Donald Trump created an uproar when, after the San Bernardino attacks, he called for a ban on Muslims entering the United States. New York Representative Peter King called for more surveillance of the U.S. Muslim community after attending a Thursday briefing on the attack.
Investigators in the San Bernardino case are pursuing a possible link between Farook and four men who were convicted of providing material support and resources to the militant group al Qaeda and plotting to attack U.S. military forces in Afghanistan.
CNN has reported that Farook knew Sohiel Omar Kabir, the Afghan-born, naturalized American ringleader of the 2012 plot who was convicted last year. David Bowdich, assistant director of the FBI field office in Los Angeles, said it would be "irresponsible not to investigate" ties between the two men.
For the second day, divers from the FBI and San Bernardino County Sheriff's Department searched Seccombe Lake, about 2.5 miles (4 km) from the scene of the massacre. Bowdich declined to specify the nature of the search, but CNN reported that they were looking for a computer hard drive that belonged to Farook and Malik.
On Friday, Secretary of State John Kerry, in Paris for a climate change summit, made his first comments on a possible failure in the visa program under which Malik entered the United States as Farook's fiancée. Senator Chuck Grassley has said she used a fake address on her application. The program is now under review.
"We need to make certain, given the new circumstances that we're facing, that there is no potential loophole whatsoever," Kerry said. "Obviously it has to be fail-safe, and that's what the American people need and deserve."