After Sanders, Buttigieg Beat Biden in Fundraising Haul, Jake Tapper Questions Whether VP Still 2020 Frontrunner
After it was revealed that Senator Bernie Sanders and former South Bend Mayor Pete Buttigieg had raised more money than Vice President Joe Biden on Thursday, CNN host Jake Tapper questioned whether it's correct for Americans to still consider the moderate candidate the Democratic 2020 frontrunner.
Some of the remaining presidential candidates vying for the 2020 Democratic nomination opened their first days of 2020 by releasing their fundraising figures for the fourth quarter of 2019. Although Trump's reelection campaign outraised his top opponents with $46 million, some candidates came closer than expected to the president's figure.
Sanders topped his Democratic colleagues with $34.5 million raised in the final quarter—between October 1 and December 31. Somewhat unexpectedly, Buttigieg followed in second place after having raised $24.7 million. Biden came in third with $22.7 million.
During a segment on CNN's The Lead, host Jake Tapper used the latest fundraising figures to doubt Biden's status as the 2020 frontrunner. "Is it even right to call Joe Biden a frontrunner if he's being eclipsed in fundraising by Buttigieg and by Bernie Sanders?" he asked his panel. "Bernie Sanders has a huge fundraising donor base and also the state-by-state polls show that it's really fluid and voters haven't coalesced around a candidate yet."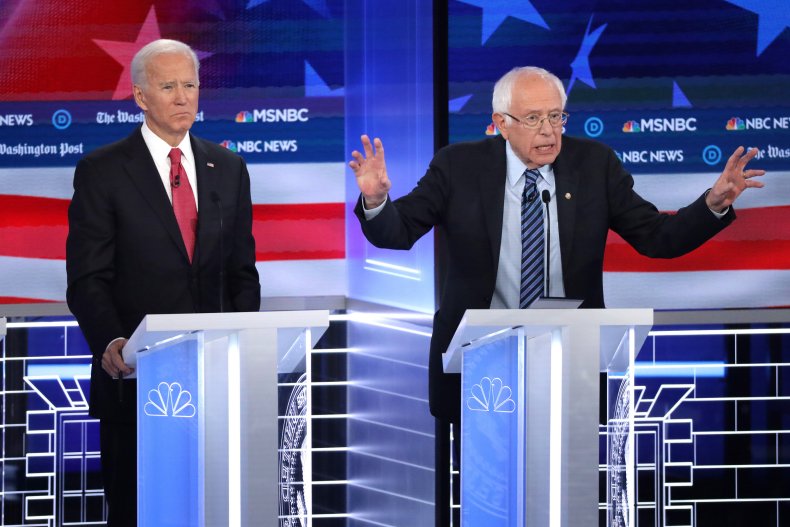 In response, NPR reporter Ayesha Rascoe noted that Biden's support since launching his presidential bid in April has been "fairly consistent." The former vice president has lead the field in most recent national polls.
"This was a do-or-die moment for him, in a sense. If he hadn't been able to show that he could do the fundraising right now, that would have been a real problem for him," Rascoe added.
Tapper suggested that Sanders' surge in donations could put him back in the media spotlight, before then urging voters not to underestimate him.
"We shouldn't sleep on Sanders again," the host said. "He had a heart attack in October. Since then, not only has his health revived, since then, 1.8 million people contributed to his campaign, 40,000 people alone donated on the last day of the fourth quarter, $8.53, the average donation. And he's also pointed out that with 5 million donors, if every one of them gave him $27: that's $1 billion."
Although some candidates are still to release their fourth quarter fundraising figures for 2019, out of the ones who have, former tech entrepreneur Andrew Yang came in fourth place after having reported $16.5 million in donations. Hawaii Congresswoman Tulsi Gabbard trailed the group with $3.4 million.