After Sanders Debate Feud, New Hampshire State Lawmaker Switches Support From Warren to Klobuchar, Says She's More 'Electable'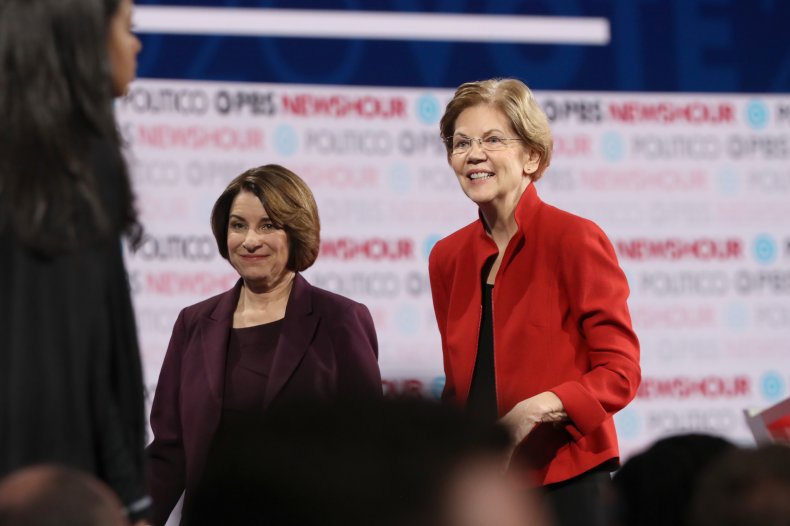 A New Hampshire state legislator announced he will be switching his support from Senator Elizabeth Warren to Senator Amy Klobuchar for the 2020 Democratic presidential primary, after witnessing Warren's recent feud with Senator Bernie Sanders.
State Rep. Michael Pedersen joined a host of other New Hampshire lawmakers in publicly endorsing Warren on November 21. His support of the senator wavered recently, with the Sanders dispute prompting the final push to Klobuchar, according to a Thursday NBC News report.
"After the debate, I saw everybody pairing up. Sen. Warren and Sanders competition against one another, and then everyone else," Pedersen told the outlet. "I just think those two as a team, Sanders and Warren, they don't appeal widely across the nation as Sen. Klobuchar."
Pedersen explained that while he still "likes" Warren and her staff, he believes that Klobuchar's specific experience and track record could prove more valuable against Trump. He plans to help by personally canvassing for Klobuchar's campaign.
"I like both candidates a lot, and am friends with staff on both teams, however I think that Sen. Klobuchar is more electable across the country than Sen. Warren," said Pedersen. "She has a proven track record of winning in Trump country. And Sen. Warren has a proven track record of winning in liberal northeast."
The Sanders-Warren feud began on Saturday over Sanders campaign talking points that were reportedly critical of Warren. It heated up on Monday, when multiple reports alleged that Sanders had told Warren in a closed-door 2018 meeting that he didn't believe a woman could win against Trump in 2020. Warren quickly confirmed the reports, while Sanders vehemently denied having made the comments.
At the Democratic presidential debate on Tuesday, the drama intensified yet again after the moderator asked the candidates about the alleged incident. Sanders denied having made the remarks. Warren disagreed but stressed that she did not want the conflict to continue as she saw Sanders as a "friend."
Immediately after the debate, Warren refused to shake Sanders' hand on stage and the pair began what looked like a fiery exchange. A day later, audio from the incident confirmed that Warren had told Sanders, "I think you called me a liar on national TV." Sanders responded by telling Warren, "you called me a liar," after first urging her to take up the discussion at another time.
Most national polls have recently shown Sanders coming in second to frontrunner former Vice President Joe Biden, with Warren in third place. Klobuchar has remained a long shot to win the nomination, with five recent polls all showing the senator earning the support of less than five percent.
Newsweek reached out to Warren's campaign for comment but did not receive a response in time for publication.