After Second Times Square Shooting in 7 Weeks, New York Deploys 50 Extra Police Officers
New York City will deploy 50 additional police officers to Times Square after a second shooting happened in the area in seven weeks.
Mayor Bill de Blasio announced the additional resources on Monday. The Democrat called the latest shooting "absolutely unacceptable" and something the city "will not tolerate."
"Now we've seen patterns in Times Square that we are going to address very, very aggressively," de Blasio said at a press conference.
A 21-year-old bystander was shot in the back when a gunman opened fire near Broadway at the intersection of 7th Avenue and 45th Street on Sunday evening. The victim has been identified as Samuel Poulin, a Marine who graduated from The Citadel in South Carolina in 2021.
Authorities are still searching for the gunman, and say that Poulin was not the intended target. The investigation is ongoing and motive still unknown.
The New York Police Department (NYPD) on Monday released photos of the suspected gunman.
De Blasio and NYPD Chief Rodney Harrison detailed on Monday a new "Times Square Safety Action Plan" that will deploy more than 50 extra officers and increase enforcement of illegal vending connected to gun violence.
"This is a place that is so precious and so important to our city. It has to be safe," de Blasio said. "We're going to be adding additional officers and additional measures to make it safer, make it better."
The safety action plan comes after Times Square experienced two shootings in seven weeks.
That first shooting took place on May 8 when an argument broke out between a few men near West 44th Street and Seventh Avenue. A gun was pulled during the dispute, but the shooter struck three other people, including a 4-year-old girl. Each suffered non-life-threatening gunshot wounds.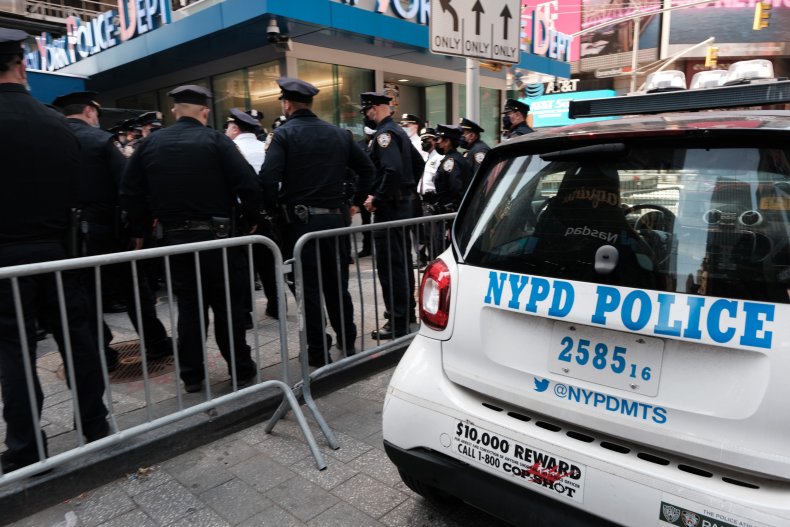 A four-day manhunt ensued for the suspected shooter, who was captured at a McDonald's parking lot in Florida. Farrakhan Muhammad, 31, has been charged with attempted murder and multiple counts of assault, reckless endangerment, and criminal use of a firearm. Police said Muhammad was a CD vendor.
Muhammad denied being the gunman in an interview with WCJB, stating he was in New Jersey at the time of the shooting.
Video from the May 8 shooting shows NYPD officer Alyssa Vogel wrap a tourniquet around the young girl's leg to stop her from bleeding and sprint through the area to an awaiting ambulance.
"This little girl is the strongest person I have ever seen," Vogel told ABC News.
In response to the shooting, NYPD Commissioner Dermot Shea called for greater punishment for the spread of firearms in the city.
"The bottom line is we are going to flood the zone in Times Square with additional officers to make sure this situation is resolved once and for all," de Blasio said on Monday.