After 'Send Her Back' Chant, Meghan McCain Shares Video of Father Schooling Supporter Who Called Obama an 'Arab'
After the crowd at a Donald Trump campaign rally in North Carolina chanted "send her back" during the president's attack on progressive congresswoman Ilhan Omar, The View's Meghan McCain shared a 2008 video of her late father, Senator John McCain, schooling a supporter who called Barack Obama an "Arab."
"For anyone who needs reminding of how a lot of Republicans like me were raised and how we view the world. I love you Dad and I've never missed your leadership more," McCain tweeted, alongside a video taken at a 2008 campaign rally for John McCain, who was then the Republican nominee for president.
During a Q&A at that event, a McCain supporter told the candidate: "We're scared of an Obama presidency, and I'll tell you why. I'm concerned about someone that cohorts with domestic terrorists such as Arabs."
In response, the senator said, "I have to tell you, he is a decent person, and a person that you do not have to be scared [of] as president of the United States," prompting booing from the crowd.
Another supporter said, "I can't trust Obama, I have read about him and he's an Arab."
"No ma'am," the then-nominee replied, while shaking his head. "He's a decent family man, citizen, that I just happen to have disagreements with on fundamental issues and that's what this campaign is all about. He's not."
The video was shared on Twitter shortly after Trump dedicated a portion of his campaign rally speech in Greenville, North Carolina, to attacking Omar — who was born in Mogadishu, Somalia — less than a week after he told the lawmaker, and three other progressive Democrats of color to "go back and help fix the totally broken and crime infested places from which they came." Trump's racist rhetoric at the rally prompted supporters to loudly chant "send her back."
Following an onslaught of outrage and condemnation from Democrats and concern from his own Republican party over the incident, Trump attempted to distance himself from the controversy by blaming his supporters, despite his failure to halt the chant. "I was not happy with it. I disagree with it... I didn't say that; they did," the president said in the White House on Thursday, before claiming that he "started speaking very quickly" in an attempt to shut it down.
Videos of the event, which shows Trump stopping his speech for 13 seconds as the crowd repeatedly shouted the words, told a different story.
Other Twitter users have since shared McCain's video to demonstrate how Trump should have handled his crowd.
McCain on Thursday continued to rebuke Trump over the incident on Thursday's The View by complaining that the president and his supporters' continued attacks on Omar had taken away her "agency" to criticize the congresswoman's policies.
She later apologized on Twitter and clarified her remarks. "I am sorry. I was trying to say Trump's racist tweets and the horrific chanting prevent us from arguing about critical policy issues," McCain wrote. "It's my fault for using language that has led people to feel frustrated. I would like to strive for more productive conversations all around."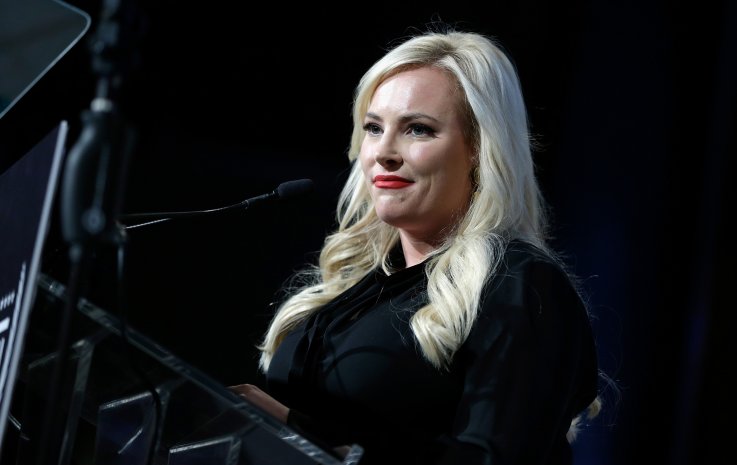 After 'Send Her Back' Chant, Meghan McCain Shares Video of Father Schooling Supporter Who Called Obama an 'Arab' | Politics