Here's Why 'Feminism' Is The Word Of The Year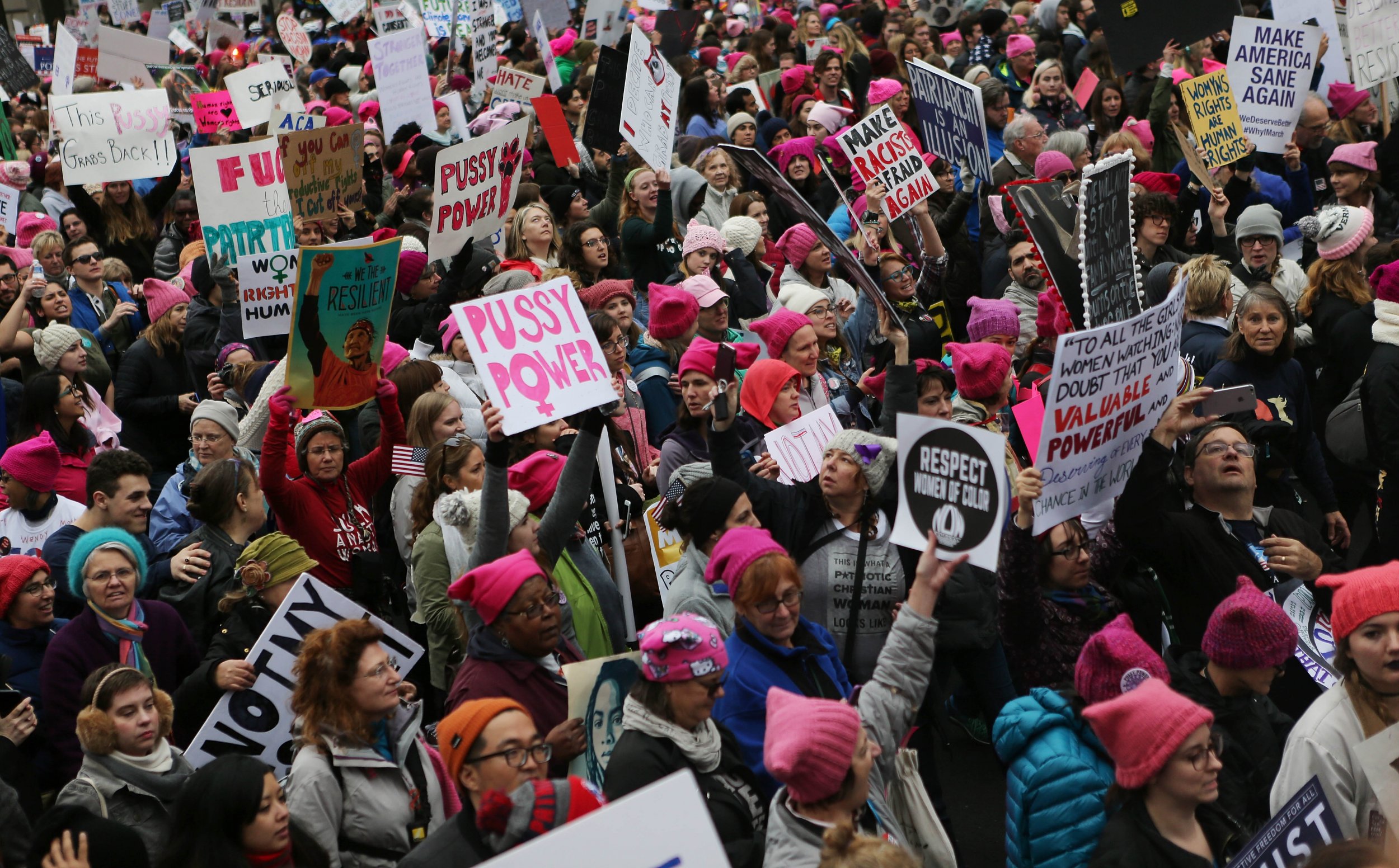 One of America's top dictionary company says "feminism" is the word of the year—which makes sense, given how many times America had to look in the dictionary to remember what it meant.
Officially, Merriam-Webster said it dubbed "feminism" the word of the year because so many people were looking it up in 2017. But unofficially, the need to know what "feminism" really means is a by-product of a year in which a partisans seized the word for their own agenda, forcing the rest of us to keep googling "feminism."
The word seemed well-defined in January when women donned pink pussy hats and gathered by the millions around the world one day after President Donald Trump's inauguration.
By February, the Trump administration sent people back to search for the meaning of the word after Counselor to the President Kellyanne Conway told the Conservative Political Action Conference that she wouldn't call herself a feminist "in a classic sense" because, she said, feminism "certainly is very pro-abortion, and I'm neither anti-male or pro-abortion."
Merriam-Webster's definition is neither partisan nor political, and certainly does not include "anti-male" in the definition: "feminism (noun): 1. the theory of the political, economic, and social equality of the sexes. 2. organized activity in support of women's rights and interests."
The Trump family has frequently tried to redefine feminism so that the president could fit the definition. In April, at a Women and Entrepreneurship panel in Berlin, first daughter Ivanka Trump said her father was an avid supporter of women. The crowd jeered in response to the notion of the president as a feminist.
President Trump's ex-wife Ivana Trump also weighed in, telling The New York Post, "I don't think he's feminist ... He loves women. But not a feminist." Loving women is also not the definition of "feminism."
The dictionary company said searches for the word were more than just politics-related and observed more searches for "feminism" after Hollywood released The Handmaid's Tale, the fictional story of women held captive and impregnated against their will. In June, activists dressed in the show's signature cloaks showed up on Capitol Hill in support of women's rights and Planned Parenthood, clearly a "feminist" statement.
Merriam-Webster said it received more searches for the word in late 2017 as the many allegations against Hollywood moviemaker Harvey Weinstein, and many other men, led to the social-media-driven #MeToo movement that united women to speak out against sexual assault and misconduct. Clearly, that's a statement that goes beyond feminism into law, employment mores and basic rights.
Harvey Weinstein, too, tried to define himself as a feminist in his letter to The New York Times. "I so respect all women and regret what happened," Weinstein wrote, but the scores of women who accused Weinstein of sexual assault would question his apparent definition of himself as a feminist.
So in that way, "feminism" is the perfect word to sum up where we are right now.
"When we look back at the past 12 months and combine an analysis of words that have been looked up much more frequently than during the previous year along with instances of intense spikes of interest because of news events, we see that one word stands out in both categories," Merriam-Webster Editor Peter Sokolowski said in statement.