After SVB, Yellen Must Act to Prevent Run on Banking System, Democrat Says
Representative Josh Gottheimer, a New Jersey Democrat, asked Treasury Secretary Janet Yellen on Sunday to act immediately in order to prevent a run on the country's banking system amid the collapse of Silicon Valley Bank (SVB).
Established in 1983, SVB became a go-to financial institution for technology and health startup businesses in the United States, particularly for those in California's Silicon Valley tech corridor. Taking in an influx of business during the COVID-19 pandemic, the bank reported over $200 billion in assets by the end of last year.
On Friday, however, the once trusted bank of venture capital investors was shut down by regulators as customers began a run on their deposits. This is credited due to rising interest rates that devalued the bank's security, putting it on the verge of collapse.
In a letter written by Gottheimer on Sunday, the Democratic congressman asked Yellen to "take immediate steps using all necessary regulatory tools." Gottheimer suggested that the Federal Deposit Insurance Corporation (FDIC) prioritize finding a buyer for SVB to "provide a seamless transition for the bank's depositors and borrowers with the hope of making the depositors whole."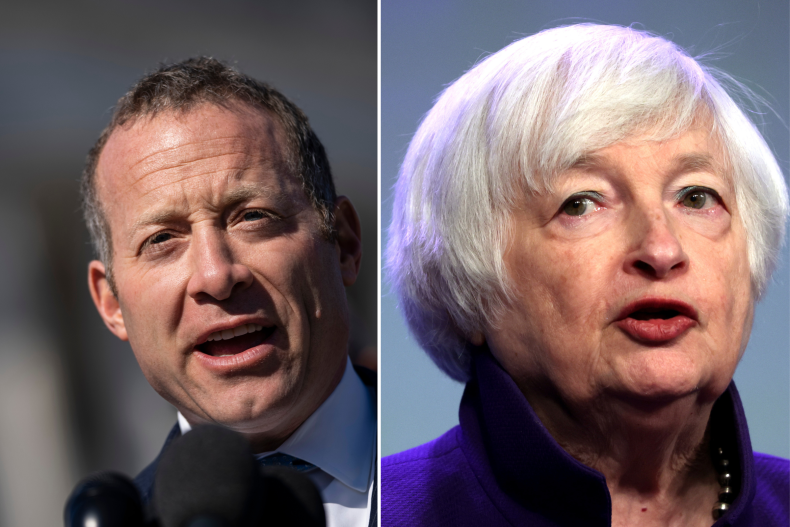 In addition, Gottheimer asked the Treasury Department and the Federal Reserve to encourage banks of all sizes that have relationships with SVB's depositors to extend temporary lines of credit to the bank's depositors to "assist with essential costs" like payroll. Lastly, the congressman asked that the Fed continue to offer liquidity through repurchase agreements in order to prevent contagion and assure depositors that their banks are healthy.
"If Americans can't trust that their basic deposits are safe, we could suddenly face runs at banks of all sizes across the country," Gottheimer wrote in his letter.
"Right now, we are concerned about the depositors at SVB, and at banks across the country, suddenly unnerved by SVB's catastrophic failure that unfolded in just forty-eight hours, accelerated, in part, by social media and pack mentality withdrawals," he added.
Meanwhile, Representative Ro Khanna, a California Democrat who represents the district including Silicon Valley, is also pushing the Biden administration for "more clarity" amid the bank's collapse.
In an interview with CBS's Face the Nation on Sunday, Khanna was asked about his thoughts about Yellen's remarks, in which she said the U.S. government will not "bail out" SVB.
"I have great respect for Secretary Yellen, but I think we need to have more clarity and greater strength in what the Treasury is saying," Khanna said.
"First, the principle needs to be all depositors will be protected and have full access to their accounts Monday morning. Here's what I'm hearing from people in my constituency, they are getting notes to pull out of regional banks, and all of this will be consolidated in the top four banks. We don't want that as a nation," he said.
Political analyst Craig Agranoff told Newsweek on Sunday that "to try and prevent a [bank] run, the Federal Reserve and other regulatory authorities will likely take steps to reassure depositors about the safety of their deposits in other banks."
Agranoff said the Fed may also provide additional liquidity to the banking system in order to meet demands of depositors. He also pointed out that runs on banks are "rare events in the modern banking system, which is generally well-regulated and well-capitalized."
However, the political analyst also suggested that Monday could "be a tumultuous day for the banking sector," as SVB's collapse could potentially lead to a run on other banks.