The day after it was reported that President Donald Trump's administration would push to define gender solely as male or female, Trans Lifeline reportedly received four times the normal number of calls.
Trans Lifeline, a phone service operated by people who are transgender to offer emotional support to other people who are transgender, announced in an Instagram post that it received four times the normal number of total callers. That same day, the hotline received two times the normal number of first-time callers.
The announcement came one day after The New York Times reported a Department of Health and Human Services (HHS) memo explained the agency would push for gender to be defined as it is in the Title IX federal civil rights law. Under the definition, gender would be definitively decided based on an individual's genitals at birth. After birth, the definition as "male" or "female" would be legally unchangeable and any disputes would require genetic testing.
"The sex listed on a person's birth certificate, as originally issued, shall constitute definitive proof of a person's sex unless rebutted by reliable genetic evidence," the memo stated.
Title IX protects people from being discriminated against based on their sex. Protections are applicable to any institution that receives federal assistance from the Department of Education.
Sam Ames, executive director of Trans Lifeline, told Teen Vogue that people working at the organization see in real time that policy debates have "direct and immediate impacts on real lives." As far as the increase in callers is concerned, Ames added, "This is bad news, but it isn't new news."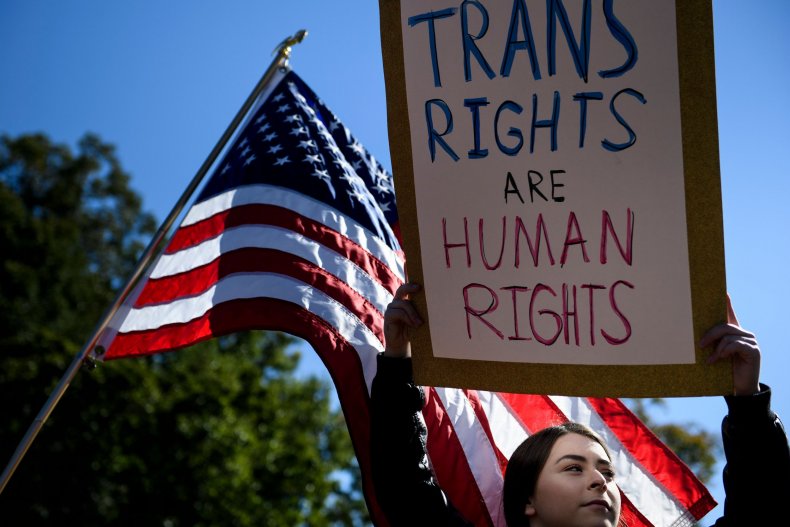 About a week before the election, Ames also told Teen Vogue that the hotline had an increase in calls from people in Massachusetts. On the ballot is Senate Bill 2407, which upholds a law that prohibits discrimination based on gender identity in public spaces. The current law requires areas segregated by gender, such as bathrooms and locker rooms, to allow individuals access to the area based on their gender identity.
"Playing politics with civil rights of a vulnerable population has consequences. But moments like this are exactly why Trans Lifeline exists," Ames told Teen Vogue. "Our hotline intervenes at the moment of crisis, and our Microgrants program helps pay for the documents that allow trans people to safely access public spaces."
Following the news about the possible push for binary genders only, several people took to Twitter to express their outrage at the idea.
Representative John Lewis tweeted that he fought for too long to end discrimination based on race to stay silent about a policy that would allow the discrimination of people based on gender.
"We are all human beings blessed with the spark of the divine," Lewis tweeted.
Caitlyn Jenner, who voted for Trump in the 2016 presidential election, wrote in an op-ed for The Washington Post that she made repeated visits to Washington, D.C., which always seemed to be a positive step forward for the LGBTQ community. However, she said her hope that Trump would be a fighter for the LGBTQ community had diminished.
"The reality is that the trans community is being relentlessly attacked by this president," Jenner wrote. "The leader of our nation has shown no regard for an already marginalized and struggling community. He has ignored our humanity. He has insulted our dignity."
In the memo, the HHS proposed that four federal agencies all adopt the new definitions and regulations in an effort to improve defenses against legal challenges in the court system.