After Trump Admits to Golfing During Hurricane, CNN Host Calls 'Hypocrisy' by Airing President's Past Obama Criticisms
CNN chief national correspondent John King on Monday accused Donald Trump of "hypocrisy" after the president went golfing as Hurricane Dorian threatened several U.S. states this long weekend, despite his previous criticisms of former President Barack Obama for playing the game while in office.
After Sadiq Khan, the mayor of London, criticized the president for playing golf as Hurricane Dorian loomed ⁠— despite having canceled a trip to Poland to commemorate anniversary of the start of WWII to focus on the storm ⁠— Trump admitted to playing "a very fast round" and defended the move in a series of tweets on Tuesday.
"The incompetent Mayor of London, Sadiq Khan, was bothered that I played a very fast round of golf yesterday," the president tweeted. "Many Pols exercise for hours, or travel for weeks. Me, I run through one of my courses (very inexpensive). President Obama would fly to Hawaii. Kahn should focus on 'knife crime,' which is totally out of control in London. People are afraid to even walk the streets. He is a terrible mayor who should stay out of our business!"
During a panel segment on Tuesday's CNN, King noted that Trump "is entitled to spend his labor day holiday however he wishes," but reminded viewers that "this president once felt very differently about golfing while president," before then airing old clips of Trump prior to his 2017 inauguration.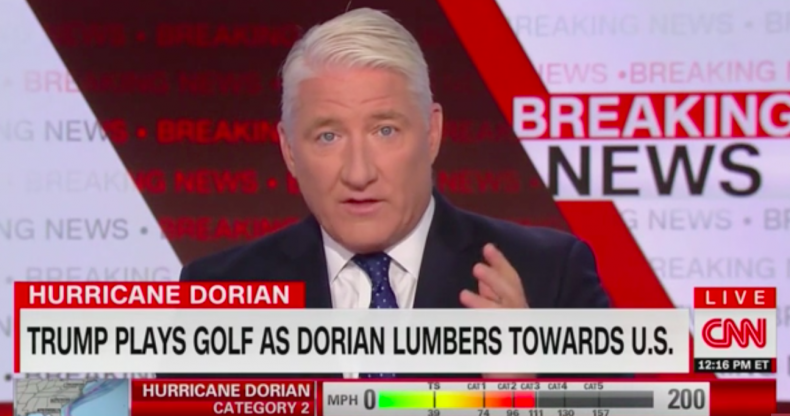 "Obama oughta get off the golf course and get down there," Trump said during a rally in 2016.
"I'm going to be working for you. I'm not going to have time to go play golf," the president said in August 2016.
"He played more golf last year than Tiger Woods," Trump said in December 2015, apparently in reference to Obama.
"I'm not going to be playing much golf, believe me," the president added in February 2016.
Commenting on the president's remarks, King said "there's clearly the hypocrisy of the Obama reference."
"There are a lot of things this president said as a candidate, especially about Obama, that we can attribute to a politician just saying things. So, there's the hypocrisy," he continued. "The other question for me is the empathy factor. Yes, the storm was hitting the Bahamas yesterday, not really the United States, yet, but has he re-written all the rules? All the norms?"
Julie Pace, the Associated Press' Washington Bureau Chief, accused Trump of not even attempting to appear empathetic. "The empathy question is something that this president has struggled with in a lot of different situations, especially when it comes to natural disasters that are barrelling down or poised to barrel down on parts of this country," she said. "It just doesn't come naturally to him and in some ways he doesn't really try."
Wall Street Journal White House Reporter Vivian Salama noted that "it's just not a good look" for Trump, particularly since he canceled the trip to Poland this weekend "in the name of monitoring this hurricane and the very next day he went and played golf."