After Trump Attacks, Less Than Quarter of Republicans Now Believe the News, Says Poll
A new Hill-HarrisX survey shows that 24 percent of Republicans believe mass media news stories, while 49 percent of Democrats and 36 percent of Independents believe news in the mass media. Meanwhile, trust in the mainstream media remains low across the board.
The survey broke down the responses of 1,204 registered voters across the party spectrums who were surveyed between November 8 and November 9. Forty-one percent of all respondents "believe most news stories, but do not trust certain sources," while 26 percent believe "most news stories, not certain sources," and 17 percent each say they "almost always" or "almost never" believe news stories. There is a margin of sampling error of plus or minus 2.8 percent.
General trust in the mainstream media is down across the board. Mirroring the Hill-HarrisX poll, a September Gallup poll showed only 41 percent of Americans had a "great deal" or "fair amount" of trust that the media reported stories "fully, accurately and fairly." These results were down 13 points from a similar poll conducted in October 2018 poll.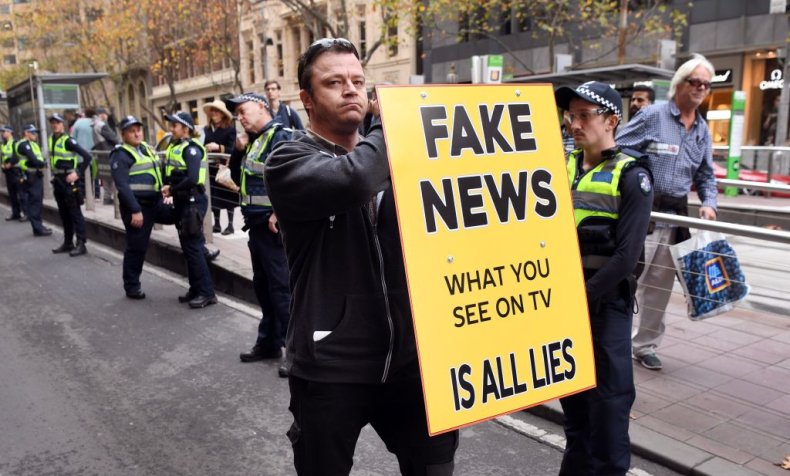 A recent Pew Research poll, too, has shown a decreased sense of trust of Americans in their institutions across the board. This poll found that 61 percent of those polled thought that the news media purposefully ignores stories that are important to the American public. The majority believed that Americans' confidence in its institutions were shrinking, and that such confidence is important to reestablish such trust and help to solve the country's problems—in one's fellow man and in one's institutions.
"Many people no longer think the federal government can actually be a force for good or change in their lives. This kind of apathy and disengagement will lead to an even worse and less representative government," one respondent told Pew.
This reflects both President Trump's conflict with the mainstream media, which he often expresses as dislike for, insisting that many outlets show a bias against him, nicknaming them the "fake news."
"I don't think the mainstream media is free speech either...To me free speech is not when you see something good and then you purposefully write bad. To me that's very dangerous speech and you become angry at it. But that's not free speech," Trump said in July at a White House social media summit.