After Trump Fallout, GOP Group Turns to DeSantis for Help
A conservative political action committee that once had a tight alliance with former President Donald Trump is turning to Florida Governor Ron DeSantis to help cut an ad for GOP Senator Mike Lee's reelection campaign in Utah.
Beginning Wednesday, DeSantis will appear in the Club for Growth's latest TV ad for Lee, a Republican whom the governor said will "help get America back on the right path forward."
Although Lee is poised to win against independent Evan McMullin, the PAC has spent as much as $8 million on the race. Lee has also been endorsed by a number of national Republicans, including Trump, former Vice President Mike Pence and former Secretary of State Mike Pompeo.
Democrats have funneled millions into McMullin's bid to unseat Lee in hopes of finding a Senate ally in the anti-abortion conservative who could help Democrats in a tight midterm race. FiveThirtyEight currently shows Lee with a 9.8-point lead.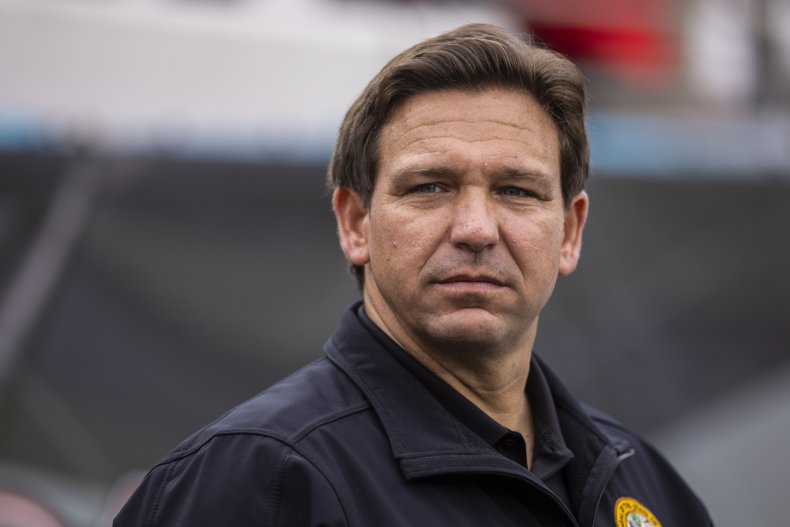 Earlier on Wednesday, Trump issued a statement reiterating his support for Lee, saying: "The Great People of Utah have a gem in Mike Lee. He will never let you down, whereas his opponent, McMuffin, will only let you down."
Likewise, DeSantis praised Lee in the new ad for "always stand[ing] firm against the extreme left" and attacked McMullin as "a donkey in sheep's clothing."
"He'll be a vote for Biden not for Utah," DeSantis said in the 30-second spot.
The decision to tap DeSantis for the ad comes after a recent falling out between Club for Growth and Trump. Differing endorsements in Ohio's GOP primaries had pitted the PAC, which backed Josh Mandel, and the former president, who lined up behind J.D. Vance, the candidate who eventually secured the Republican nomination for Senate.
The group, which became a Trump ally after opposing his 2016 bid, targeted him in an April ad campaign that questioned his decision to endorse Vance. In response, Vance's campaign said Mandel's allies had effectively "declared war on President Trump and the entire MAGA movement."
Newsweek reached out to the Club for Growth for comment.
In a statement addressing the recent endorsements for Lee, McMullin's communications director, Kelsey Koenen Witt, blasted the senator for being "a loyal sycophant when convenient for his own political future."
"People have had enough of Lee's broken politics that put special interest groups and party bosses ahead of Utahns," Koenen Witt said, adding that voters should be more focused on who isn't endorsing Lee rather than who is supporting him. Utah's other senator, Mitt Romney, has stayed neutral in the race.
DeSantis' latest endorsement comes as he continues to weigh in on a number of races outside Florida, furthering his national profile that many have speculated will bolster a 2024 bid for the White House.
Over the weekend, DeSantis was seen campaigning for Republican Lee Zeldin in his campaign to oust Democratic Governor Kathy Hochul in New York.
Hypothetical matchups show Trump as the frontrunner among potential 2024 Republican candidates—a lead the former president has leaned into without announcing a bid. The only Republican aside from Trump who has repeatedly managed to earn double-digit support is DeSantis, who has also stopped short of declaring a 2024 run.
During last week's gubernatorial debate, DeSantis sidestepped Democratic challenger Charlie Crist's question about a possible presidential bid, saying the only candidate he was currently focused on defeating was Crist.
Update 11/2/22, 3:36 p.m. ET: This story was updated with comment from Kelsey Koenen Witt.