In light of the U.S. decision to cut nearly all American security aid to Pakistan, the country's defense minister has announced that Islamabad will begin purchasing more weapons from China, Russia and other Eastern European countries.
"We have a long relationship [with the U.S.], and we want to keep it," Khurram Dastgir Khan assured Bloomberg in an interview on Wednesday, before adding that his country would, nonetheless, increasingly acquire weapons from countries other than the U.S.
Relations between Pakistan and the U.S. have deteriorated rapidly since August, when Trump began accusing Pakistan of taking aid while simultaneously supporting armed groups that attack U.S. forces and allies in Afghanistan. The tension reached a high point in early January when Trump began accusing Pakistan of accepting billions in U.S. aid without giving anything in return.
Foreign Affairs Minister Khawaja Asif accused Trump of lying about the amount of aid the U.S. gives Pakistan. Days later, the Trump administration announced that it would cut all security funding until Pakistan begins cracking down on the activities of the Taliban on its territory and in Afghanistan.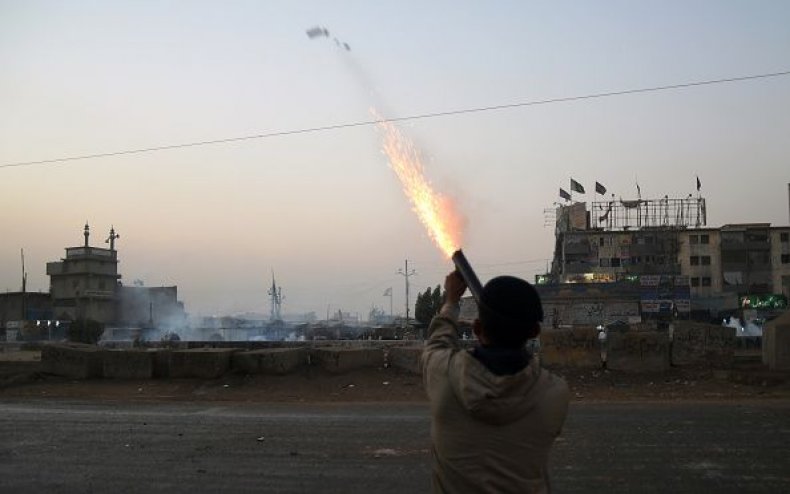 Meanwhile, Pakistan has been increasingly turning to China for military aid. Beijing is now building an offshore naval base near a strategic Pakistani port.
Experts say it is typical for Pakistan to turn to other world powers when its relationship with the U.S. sours, but Trump's harsh rhetoric toward Pakistan is out of the ordinary.
"In the past when the U.S. has suspended military aid to Pakistan, such as following the 1965 India-Pakistan War and again in the 1990s because of the Pakistani nuclear program, Pakistan saw relations with other major powers, especially China, as a means of procuring arms and military equipment," Harrison Akins, a security expert at The Howard Baker Center for Public Policy, told Newsweek.
"In the current situation, it is the Trump administration's behavior that is a distinct break from past patterns in this relationship, as it suspends aid and publicly rebukes Pakistan's duplicity simultaneously with the ramping up of U.S. forces in Afghanistan," he continued.
The U.S. usually adopts a pragmatic view of its relationship with Pakistan and only rebukes the country when it is disengaging from South Asia and therefore needs Pakistan's support less, Akins noted.
Speaking Wednesday, Khan suggested that Pakistan could play a role in brokering peace negotiations between the Taliban and the Afghan government.