After Trump Impeachment Inquiry Launched, #ImpeachTheMF, #ImpeachTrump, #Impeachment and #ImpeachDonaldTrumpNOW Trends
After House Speaker Nancy Pelosi announced the House will launch a formal impeachment inquiry of President Donald Trump on Tuesday afternoon, Twitter exploded with hundreds of thousands of users weighing in on the move, making the hashtags #ImpeachTrump, #Impeachment, #ImpeachDonaldTrumpNOW and #ImpeachTheMF trend across the U.S.
Despite having long resisted calls from progressive lawmakers to launch impeachment proceedings, Pelosi on Tuesday announced that the House will begin a formal impeachment inquiry of Trump. The Democratic leader's mind appears to have changed on the matter after the emergence of the whistleblower scandal and Trump's flubbed attempts at defending himself.
"Today I'm announcing the House of Representatives is moving forward with an official impeachment inquiry," Pelosi said in a scathing statement in Washington, D.C. "This week, the president has admitted to asking the president of Ukraine to take actions which would benefit him politically."
"The actions of the Trump presidency revealed dishonorable facts of the president's betrayal of his oath of office, betrayal of national security and betrayal of the integrity of our elections," she added.
Although Democrats have previously been divided and cautious over launching impeachment proceedings, the tipping point for the House came after the Trump administration was accused of pressuring the newly-elected Ukrainian president Volodymyr Zelensky to launch a probe into his 2020 rival Vice President Joe Biden's son, Hunter Biden. An unidentified whistleblower subsequently filed an official complaint reportedly over concerns about a phone call made between the U.S. president and Ukraine.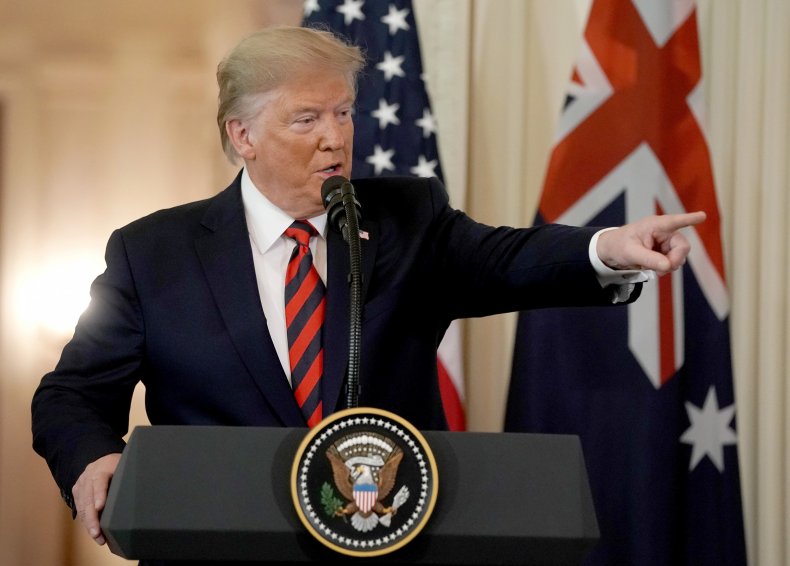 Hundreds of thousands of Americans took to Twitter to weigh in on the House's decision to launch impeachment proceedings, with many expressing gratitude towards Pelosi for finally taking the plunge. As of Tuesday evening, the hashtags #ImpeachTrump, #Impeachment, #ImpeachDonaldTrumpNOW and #ImpeachTheMF rose to first, second, fourth and fifth place respectively on Twitter's top trending topics in the United States.
"Impeachment brings all the evidence to light including the $130K payment to Stormy Daniels in violation of campaign finance laws, the multiple instances of obstruction of justice, the whistleblower, and the call to Ukraine's president. Trump's polls will nosedive. #ImpeachTrump," American surgeon Eugene Gu, one of Trump's most vocal critics on Twitter, wrote.
"Trump impeached but pence as president #ImpeachTrump," Twitter user @interweblester wrote, alongside an image of a face expressing disgust.
"TRUMP GETTING IMPEACHED??? ABOUT TIMEEEE! #ImpeachTheMF #ImpeachTrump," Twitter user @TAESUTOPIA wrote.
"I love that it's a woman that gets to take him down. If that isn't karma, I don't know what is. #ImpeachTrump," Twitter user @hellotorifleetch wrote, alongside a clip of Pelosi's famous State of the Union clap at Trump.
"While everyone is celebrating Nancy Pelosi finally deciding to pursue impeachment, let's not forget that Maxine Waters was the person truly leading the charge. #ImpeachTrump #impeachment #ImpeachTheMF," writer Frederick Joseph tweeted.
"We're moving ahead with a formal #impeachment inquiry; nobody is above the law, including @realDonaldTrump. But we must prepare to overwhelm the ballot boxes in 2020, too," Democratic congressman Eric Swalwell tweeted.
"Not to be a buzzkill but I urge people to dial down the triumphalism," author Meredith Gould tweeted. " We have a looooong process ahead involving expert liars and criminals. #impeachment"
"You have lied nearly 13,000 times since you took office. You literally tell, on average, 12 lies every day. At this point, releasing the transcript is pointless. It's bound to be full of lies. Time to #impeachdonaldtrumpnow #impeachment #tuesdaythoughts," musician Holly Figueroa O'Reilly tweeted, in reference to Trump.
"Dear Congress, Please impeach that racist, white supremacist, sexist, lying bigot. It's been too much. #ImpeachDonaldTrumpNOW," immigration rights activist Erika Andiola tweeted.
"All he had to do was just sit there and eat his food. He likely would've gotten away with all the Russia stuff. Just sit there and stop committing high crimes and misdemeanors, you sallow-faced numpty. But noooope #ImpeachTrump #ImpeachTheMF," Rewire News senior legal analyst Imani Gandy tweeted.
"I'm afraid to feel this hopeful, but I'm actually hopeful. In a way I haven't been since Nov. 7, 2016. #ImpeachTheMF," Twitter user @jennifergraen wrote.