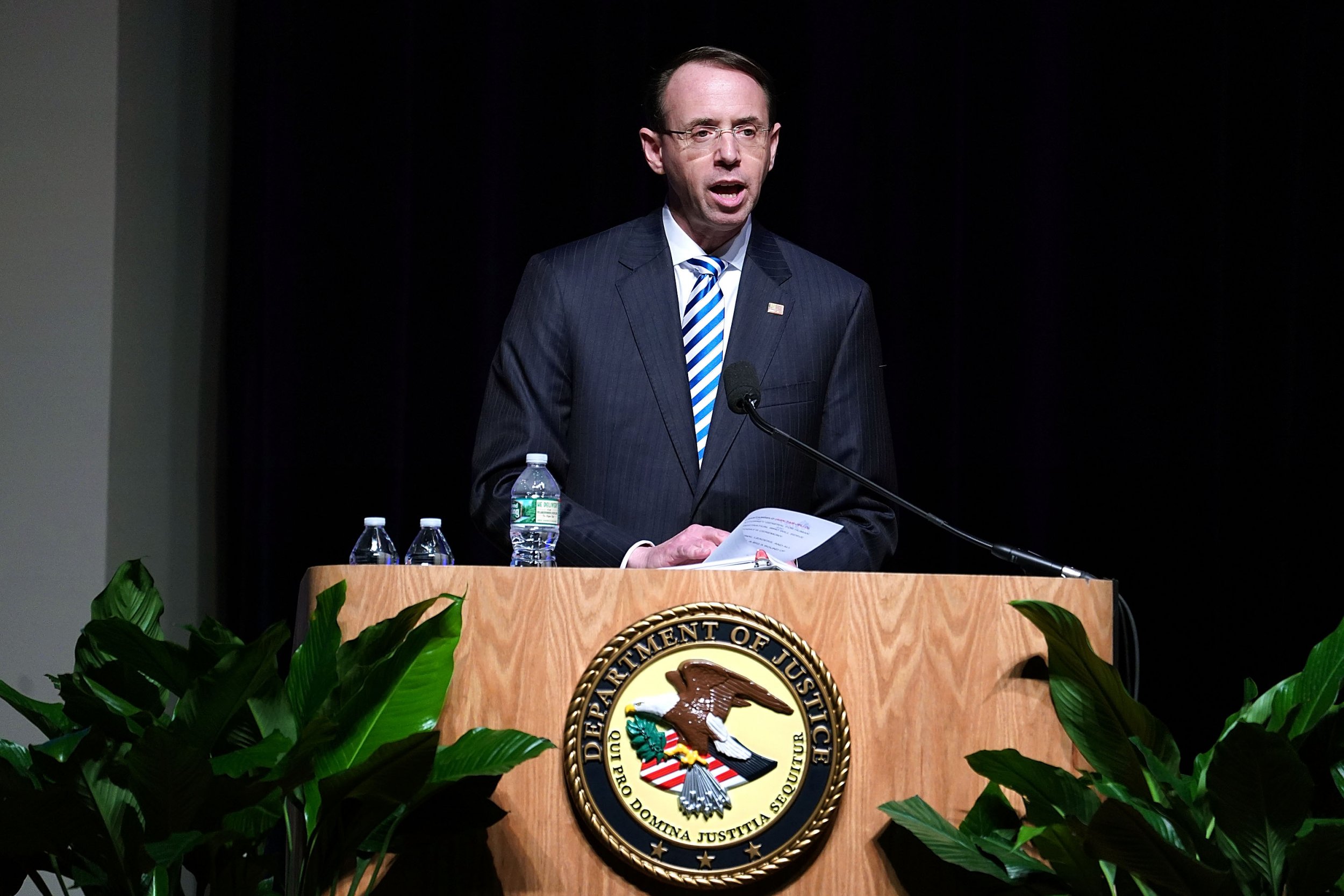 Updated | Days after President Donald Trump criticized the Department of Justice and the FBI in a series of tweets, Deputy Attorney General Rod Rosenstein addressed "critics" of the department while delivering a speech on Tuesday.
Speaking at the Justice Department's Criminal Division Awards Ceremony in Washington, D.C., Rosenstein said, "Our department employs 115,000 people. Sometimes people do the wrong thing, or make mistakes, and they deserve criticism." But, he continued, "many times, people get criticized even when they do the right thing. That is the nature of our work."
He went on, "Promoting public confidence in our work is sometimes challenging, particularly in the modern era of nonstop so-called breaking news. Talking heads and commentators are not constrained by the need to find credible eyewitnesses and determine the facts beyond any reasonable doubt before reaching a verdict. Sometimes critics are not constrained by the facts at all." He added, "But we must remain focused on the things that matter."
Related: Why Mueller threw an agent off the Trump-Russia probe
As deputy attorney general, Rosenstein is responsible for overseeing the FBI. He is also responsible for supervising Special Counsel Robert Mueller's investigation into Russian meddling in the 2016 election and possible coordination with Trump's presidential campaign. He took on that responsibility after Attorney General Jeff Sessions recused himself from matters involving the campaign.
The day after Mueller's team charged former National Security Adviser Michael Flynn, Trump tweeted, referring to the FBI's completed investigation into Hillary Clinton's use of a personal email server, "So General Flynn lies to the FBI and his life is destroyed, while Crooked Hillary Clinton, on that now famous FBI holiday 'interrogation' with no swearing in and no recording, lies many times...and nothing happens to her? Rigged system, or just a double standard?"
He also tweeted, "Many people in our Country are asking what the 'Justice' Department is going to do about the fact that totally Crooked Hillary, AFTER receiving a subpoena from the United States Congress, deleted and 'acid washed' 33,000 Emails? No justice!"
The following day, Trump returned to Twitter to criticize former FBI Director James Comey and to retweet the news that Mueller had to remove an investigator, Peter Strzok, because of allegations that he had exchanged text messages critical of the president. "Wray needs to clean house," the retweet said, referring to FBI Director Christopher Wray.
Trump then tweeted, "After years of Comey, with the phony and dishonest Clinton investigation (and more), running the FBI, its reputation is in Tatters - worst in History! But fear not, we will bring it back to greatness."
The tension between Trump and the Justice Department has existed at least since 10 days into his administration, when he fired Acting Attorney General Sally Yates. He later fired Comey and expressed regret for hiring Sessions. He has involved himself in the process of interviewing potential nominees for United States attorneys, which legal analysts have claimed is unusual and inappropriate. The president has also described the U.S. justice system as a "joke" and "a laughingstock."
In May, Rosenstein wrote the memo that Trump initially cited as his reason for firing Comey, though the White House later walked back that reasoning. The president has expressed public criticism of Rosenstein at least twice. In a June 16 tweet, he wrote, "I am being investigated for firing the FBI Director by the man who told me to fire the FBI Director! Witch Hunt." Days later, he told The New York Times, referring to the deputy attorney general, "Who is he? And Jeff [Sessions] hardly knew. He's from Baltimore.... There are very few Republicans in Baltimore, if any." (Rosenstein is from Philadelphia, but he worked as a U.S. attorney for the District of Maryland.)
People close to Rosenstein have said Trump's comments are unlikely to rattle him. "Rod Rosenstein is a completely above-board ethical straight-shooter," Douglas Gansler, a former attorney general of Maryland, told Newsweek in July. "I don't think he anticiapted being in the maelstrom of Donald Trump."
Gregg Bernstein, a former Baltimore City state's attorney who is friends with Rosenstein, told Newsweek in July, "He was hired to do a job and he is not one who gets caught up in whatever the latest news story is." He added that his friend "is not watching the news every 10 minutes or Twitter every 10 minutes."
Besides Rosenstein, FBI Director Wray appeared to respond to Trump's remarks, in an email to employees on Monday. He wrote that he was "inspired by example after example of professionalism and dedication to justice demonstrated around the bureau. It is truly an honor to represent you." He concluded by saying, "Keep calm and tackle hard."
Former officials have come forward to defend the department, too. "The FBI is in 'tatters'? No," former Acting Attorney General Yates tweeted. "The only thing in tatters is the President's respect for the rule of law. The dedicated men and women of the FBI deserve better." Eric Holder, who was attorney general under former President Barack Obama, tweeted, "The FBI's reputation is not in 'tatters'. It's composed of the same dedicated men and women who have always worked there and who do a great, apolitical job. You'll find integrity and honesty at FBI headquarters and not at 1600 Penn Ave right now."
Comey tweeted a remark he had made in June, "I want the American people to know this truth: The FBI is honest. The FBI is strong. And the FBI is, and always will be, independent."
Thomas O'Connor, president of the FBI Agents Association, whose membership includes more than 14,000 active and former special agents, said in a statement following Trump's comments, "Every day, FBI Special Agents put their lives on the line to protect the American public from national security and criminal threats. Agents perform these duties with unwavering integrity and professionalism and a focus on complying with the law and the Constitution." He added, "This is why the FBI continues to be the premier law enforcement agency in the world. FBI Agents are dedicated to their mission; suggesting otherwise is simply false."
In an email to Newsweek, Sarah Isgur Flores, a Justice Department spokeswoman, said Rosenstein's remarks on Tuesday were unrelated to the president and consistent with those he has previously made in speeches. "The timing of today's remarks was based on when the criminal division scheduled their awards ceremony—which was weeks ago," she said.
This article has been updated to include a comment by Sarah Isgur Flores.