After Trump Pressure, GOP Leadership Says Senate Caucus Doesn't Have Enough Votes to Dismiss Impeachment Articles
Senator Roy Blunt of Missouri on Monday said the GOP Senate caucus does not have enough votes to dismiss the articles of impeachment after President Donald Trump encouraged Republicans to "outright" dismiss what he called the "Impeachment Hoax."
"I think our members generally are not interested in a motion to dismiss," the top Republican told reporters. "Certainly there aren't 51 votes for a motion to dismiss."
Blunt's comments come one day after Trump rebuked the GOP-led Senate for "giving credence to a trial based on the no evidence, no crime, read the transcripts, 'no pressure' Impeachment Hoax." The president made the statement in a tweet, where he went on to suggest Republicans in Congress should "outright" dismiss the articles of impeachment against him. Blunt and other Republican leaders have repeatedly said for months that they will not dismiss impeachment.
By not dismissing impeachment, Republicans are giving "the partisan Democrat Witch Hunt credibility that it otherwise does not have," Trump added.
Newsweek reached out to the Trump administration for comment but did not receive a response in time for publication.
Senate Majority Leader Mitch McConnell needs 51 votes for a dismissal, an unlikely outcome given that no Democrats have indicated they will support such a motion. Only two Republican senators can break from the party in order for it to pass and multiple have already said they would oppose dismissing the articles. GOP Senators Susan Collins from Maine and Rob Portman from Ohio are among those who would rather see Trump make his case.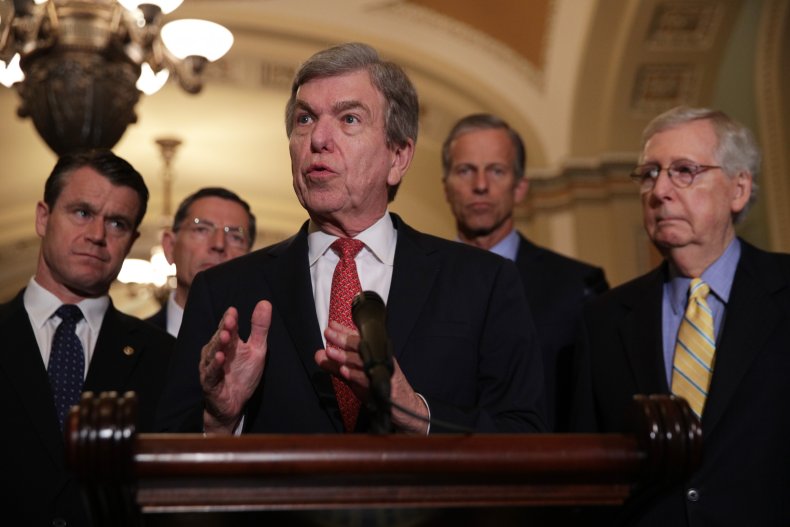 The lower chamber voted in mid-December to pass both articles of impeachment—230-197-1 on the abuse of power article and 229-198-1 on the obstruction of Congress article—making Trump just the third U.S. president to be impeached by the House.
In the weeks following, House Speaker Nancy Pelosi decided to hold the articles from reaching the Senate until Republicans and Democrats could agree on how to tackle the Senate trial objectively. After she backed down last week, McConnell on Monday rebuked the Democratic leader, calling her delay a "strange gambit" that resulted in "absolutely nothing."
Pelosi defended the delay during a weekend appearance on ABC's The Week, where she continued to push for the Senate to allow witnesses in their trail. "What we think we accomplished in the past few weeks is that we wanted the public to see the need for witnesses," she said. "It's about a fair trial. The senators who are thinking now about voting for witnesses or not, they will have to be accountable."
"Now the ball is in their court to either do that or pay a price," Pelosi added.