After Trump Rallies, 5 Counties See Rise in COVID Cases and N.C. Health Officials Concerned Their State Could Be Next
In the days following President Donald Trump's rallies, at least five counties have seen a spike in COVID-19 cases and North Carolina health officials have expressed concern that their state could be next.
On Wednesday night, thousands of Trump supporters flocked to the Gastonia Municipal Airport in North Carolina's Gaston County to hear the president speak at his Make America Great Again rally. At the event, attendees had their temperature taken upon arrival and mask wearing was encouraged but it was not enforced.
Just one day after the rally, officials from Gaston County discussed a potential rise in COVID-19 cases stemming from the event.
"We're looking for some COVID cases to come from this, it wouldn't surprise us if that was the case," Gaston County Public Information Officer Adam Gaub told WJZ-TV.
"Anytime you have the amount of people gathered like that, whether it's a rally or a sports event, religious event, it doesn't matter why they're there, you increase your risk for spreading COVID," Gaub said.
In an email sent to Newsweek, Gaub wrote, "What I can say is that we've seen spikes in cases after major holidays—Memorial Day and 4th of July in particular—about a week or so after those holidays, where there were more folks gathering in large groups and doing less in the way of mask wearing and social distancing. The health department is preparing as if we would see a similar spike after this event."
There is precedent for Gaub's concern. According to an analysis from USA Today, five counties that hosted Trump rallies between mid-August and October 19 saw an increase in cases of the novel virus following the event.
These counties include Blue Earth County and Beltrami County in Minnesota; Lackawanna County and Dauphin County in Pennsylvania, and Marathon County in Wisconsin. According to the analysis, those five counties reported 1,500 new COVID-19 cases in the two weeks following the president's rallies.
Those rallies were made up of more than three dozen similar events held by the Trump campaign in that time frame, and public health officials have cautioned that there's no definitive proof that the rallies are connected to an increase in cases, though the chance for transmission is higher due in part due to lack of social distancing and many attendees not wearing face coverings.
"Health experts say it's impossible to pinpoint the rallies as the direct source of infection or community spread without an intensive outbreak investigation," USA Today wrote in their analysis while also noting that contact tracing done by health departments can only show someone who developed COVID-19 was at the event, but not that the event was the only cause.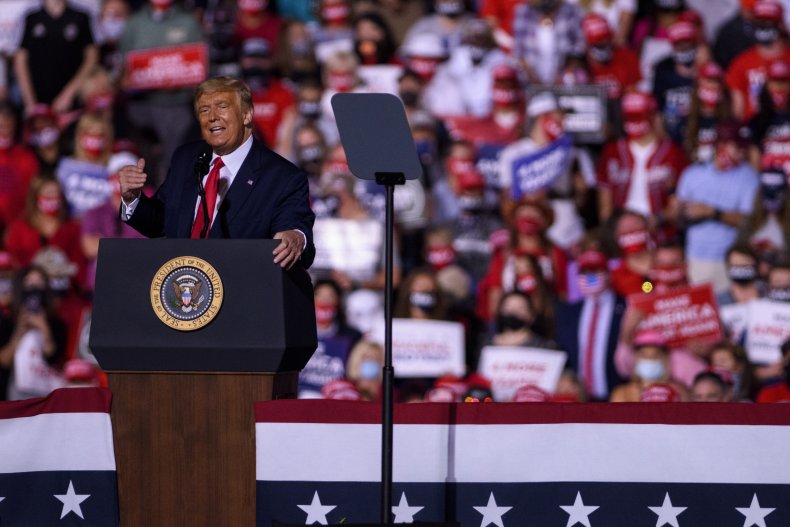 USA Today's analysis also notes that four of the five counties listed saw case counts increase faster in the 14 days after Trump's rally when compared to the county's state.
According to the analysis, Marathon County saw a 67.32 percent increase in cases in the two weeks after the rally, while Wisconsin as a whole saw a 28.66 percent increase.
Additionally, Beltrami County, where Trump held a rally on September 18, saw a 34.50 percent increase, while Minnesota reported a 14.25 percent increase. On August 17, Trump held a rally in Blue Earth County, which saw a 24.55 percent increase in cases in the 14 days after, while Minnesota saw a 14.79 percent increase.
In late August, the president also held a rally in Lackawanna County and according to USA Today's analysis, the county saw a 7.47 percent increase in cases following, while Pennsylvania as a whole saw a 6.91 percent increase.
Newsweek reached out to Trump's campaign for comment but did not receive a response in time for publication.