After Trump Move, A Second Nation Recognizes Jerusalem as Israel's Capital
Guatemala has confirmed it will relocate its embassy in Israel from Tel Aviv to Jerusalem. The transfer will take place just two days after the U.S. makes the same controversial move to coincide with the anniversary of Israel's creation.
"I would like to thank President [Donald] Trump for leading the way. His courageous decision has encouraged us to do what is right," President Jimmy Morales said at a Washington conference on Sunday.
He added the decision "strongly evidences Guatemala's continued support and solidarity with the people of Israel."
Israeli Prime Minister Benjamin Netanyahu met Morales at the conference, thanking him for the decision to recognize Jerusalem as Israel's capital. "It's the right thing to do," said Morales.
Palestinians have been angered by Trump's decision, which went against the vocal opposition of Arab leaders as it seeks to change the status of the contested city. They intend east Jerusalem as the capital of any future sovereign Palestinian state.
They have also slammed the timing of the move, saying its pace has not taken into account Palestinian protests, and called the date—a celebration of independence for Israelis, a commemoration of "disaster" for Palestinians—insensitive.
Guatemala now becomes the first country other than the U.S. to set a date for the relocation of its embassy to Jerusalem. No other foreign embassies to Israel are currently in the city, which hosts holy sites for Jews, Christians and Muslims.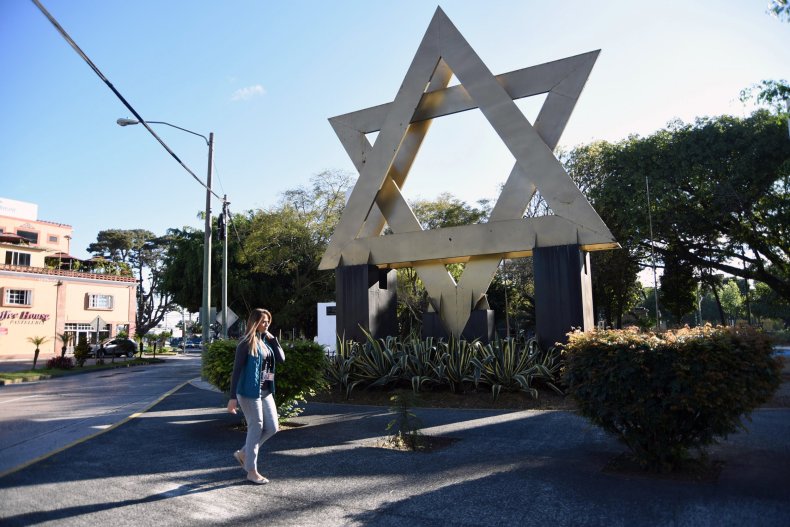 The Israeli government considers the entire city to be its undivided capital, although the international consensus is that the city's status should be decided through negotiations and not unilateral moves.
In a December 2017 the U.N. General Assembly voted on a resolution condemning Trump's decision. Only eight countries joined the U.S. in opposing it, including Guatemala. But 128 countries supported that non-binding resolution.
The central American country's support may come as a surprise to some but the nation has been a long-time backer of Israel. It was one of the first countries to recognize its status as a nation, and its diplomats once lobbied for votes at the U.N. to ensure its creation.
It had based its embassy in Jerusalem until 1980, along with 12 other countries, but it was forced to move it to Tel Aviv by a U.N. Security Council resolution in the same year after Israel passed a law calling the whole of Jerusalem its capital.
The 2015 election of Morales, an evangelical Christian and former TV comedian, to the Guatemalan presidency further bolstered ties between the two countries.