After Trump Tells U.N. 'Protecting Religious Freedom' Is High Priority, Twitter Reminds President of Muslim Ban
Critics reacted with raised eyebrows as President Donald Trump praised himself as a champion of religious freedom at an event at the general assembly of the United Nations on Monday.
"As President, protecting religious freedom is and always has been one of my highest priorities," Trump told the crowd gathered the U.N.'s "Global Call to Protect Religious Freedom."
Trump opponents on Twitter were quick to point out what they claim is the hypocrisy of the president, who shortly after entering office in 2017 had advocated for a "Muslim ban," and signed an executive order suspending entry into the United States for citizens of several Muslim-majority countries.
"Remember when this man proposed banning all Muslims from entering the country?" tweeted writer Parker Molloy.
Actor Jon Cryer joined in by tweeting, "Sorry, but the guy behind the Muslim Ban doesn't ever get to talk about #ReligiousFreedom."
A supportive tweet by the president's daughter Ivanka Trump repeated a statistic from the speech, stating "80% of the world's population live in countries where religious liberty is threatened, restricted, or even banned. While religious freedom is protected in the United States, sadly it is rare and under attack in many areas of the world. #UNGA"
U.S. Representative Judy Chu (D-CA), who earlier this year introduced the "NO BAN Act," an effort to neutralize Trump's ability to impose "Muslim bans," replied to Ivanka Trump's tweet with "Fun fact: after trying to ban Muslims, your dad's Administration just threatened Duke University for teaching classes that are "too positive" towards Islam. We are smart enough to judge you and your father by your actions, not your lies. #NoBanAct #RepealTheBan"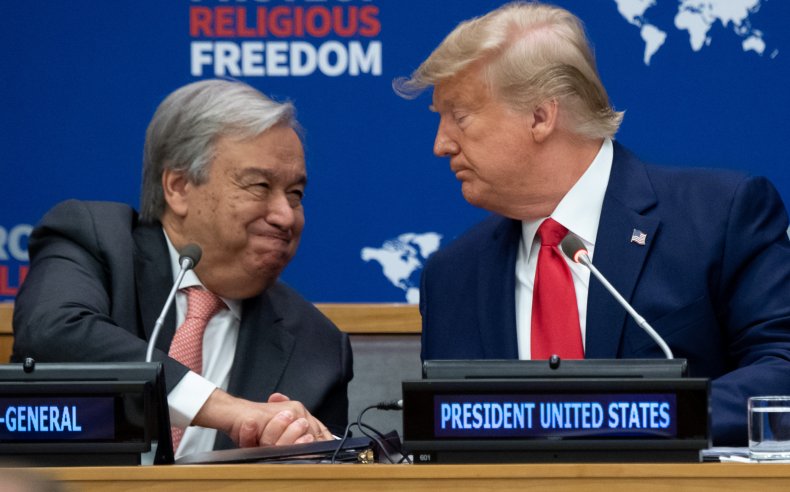 The president also appeared to suggest conflict between the ideas of religious freedom and diversity in his speech.
"Too often people in positions of power preach diversity while silencing, shunning or censoring the faithful. True tolerance means respecting the right of all people to express their deeply held religious beliefs," Trump said.
Some critics doubted the sincerity of the president's claims to support religious freedom, instead claiming that president's true intent is to the favor the rights of Christians alone, including at the expense of others.
"Religious freedom is code for allowing Christians to discriminate against others," said Twitter user @jase0910.
Television writer and producer Bill Prady agreed, saying "Trump's protection of 'religious freedom' extends to conservative Christians and not much further. Trump approved using your tax dollars to discriminate against Jews among other egregious examples."
Trump declined to mention any alleged religious intolerance in countries strategically allied with the United States, such as Saudi Arabia.
The Kingdom of Saudi Arabia has been repeatedly accused of religiously motivated human rights abuses and "religious apartheid" by critics, with crimes such as blasphemy, witchcraft and apostasy being punishable by death in the country. In 2014, Saudi Arabia issued a royal decree which deemed all atheists "terrorists," and labelling anyone who "calls into question the fundamentals of the Islamic religion" with that same distinction.