After Trump's COVID Infection, Biden Doubles Lead to 7 Points in Georgia—A State Dems Haven't Won Since 1992
A new poll shows Democratic presidential nominee Joe Biden widening his lead over President Donald Trump to 7 percentage points in Georgia, a solidly red state that hasn't gone for a Democratic candidate since 1992.
In the latest Quinnipiac poll, released Wednesday, Trump trailed Biden by seven percent with 44 percent of support from likely voters in the state, compared to Biden's 51 percent. Four percent of respondents were undecided.
The former vice president's lead over his Republican opponent grew by 4 points since the last poll conducted by Quinnipiac in September, which had Biden at 50 percent and Trump at 47. The last survey was taken before the two candidates faced off in their first presidential debate and Trump's coronavirus infection.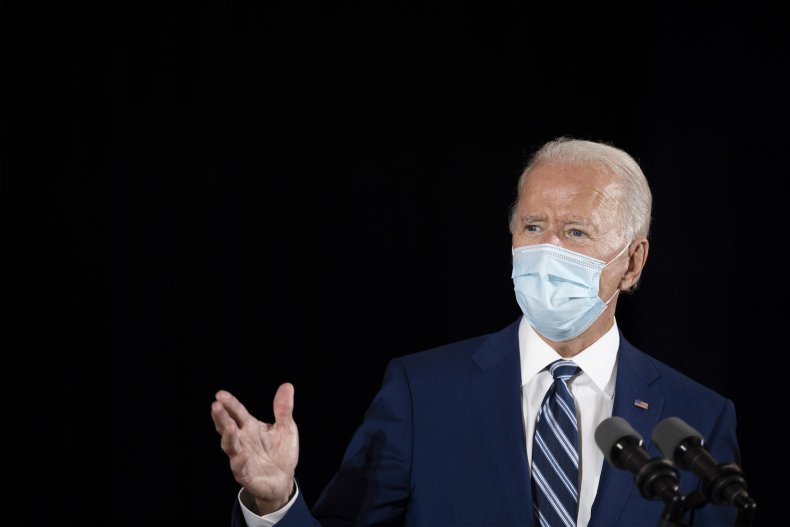 Biden's favorability rating has also grown in Georgia. Today's poll showed Biden drawing a net positive favorability rating—51 percent favorable among likely voters in the state and 46 percent unfavorable. In the September survey, Biden garnered mixed reviews with a 48 percent favorable and 49 percent unfavorable rating.
Trump's favorability rating has dropped since September. Today's poll showed the president drawing a negative favorability rating—43 percent favorable among likely voters in the state and 54 percent unfavorable. 47 percent of likely voters gave the president a favorable rating in the last Quinnipiac poll and 51 percent an unfavorable rating.
"For Trump, 2016 is a distant memory. Defeating Hillary Clinton by 5 points when the polls closed then, and now down seven to Biden with three weeks to go. Warning lights are blinking red and alarms are going off in the Peach Tree state," said Quinnipiac University Polling Analyst Tim Malloy.
Trump and first lady Melania Trump both announced that they had tested positive for COVID on October 2. The president spent three days under medical care at the Walter Reed National Military Center shortly after his diagnosis, before returning to the White House.
On Monday, White House physician Sean Conley said Trump tested negative for the coronavirus on "consecutive days." Since then, the president has attended two in-person campaign rallies and plans to hold more in the coming weeks.
While Trump insists he has completely recovered, 59 percent of likely voters in Georgia say they do not trust him to tell the truth when it comes to his health. 38 percent do trust the president.
Biden hasn't caught COVID, but more Americans—50 percent—trust him to tell the truth when it comes to his health, while 46 percent do not trust the former vice president.
Newsweek reached out to the Trump campaign for comment.