After Trump's Dingell 'Hell' Remarks, Sarah Sanders Praises President for Being a Fighter
After a speech at a Michigan rally where President Donald Trump speculated that late Representative John Dingell went to hell after he died, former White House Press Secretary and Fox News contributor Sarah Sanders stood up for the president.
Trump's comments came as he related a phone call from Dingell's wife Debbie after Trump offered to hold Dingell's memorial in the Capitol Rotunda, in which she allegedly said "John would be so thrilled. He's looking down, he'd be so thrilled."
"Maybe he's looking up," Trump said. "I don't know. Maybe. But let's assume he's looking down."
"Look, the president's a fighter," Sanders said Thursday on Fox News. "He's somebody who is never going to take a punch and not punch back. And I think that's the only reason he has been able to survive the last three years is because he is so tough. If he wasn't, and if anybody else was in his position, I think they would be curled up in a ball on the floor in their office most days."
"But this is a president who's resilient and he believes in what he is doing," Sanders continued. "He loves the country and he's going to continue to go out and fight for the country and fight for the people that Democrats are ignoring. And I think you saw that last night unfold."
Newsweek reached out to Sanders for comment but did not receive a response in time for publication.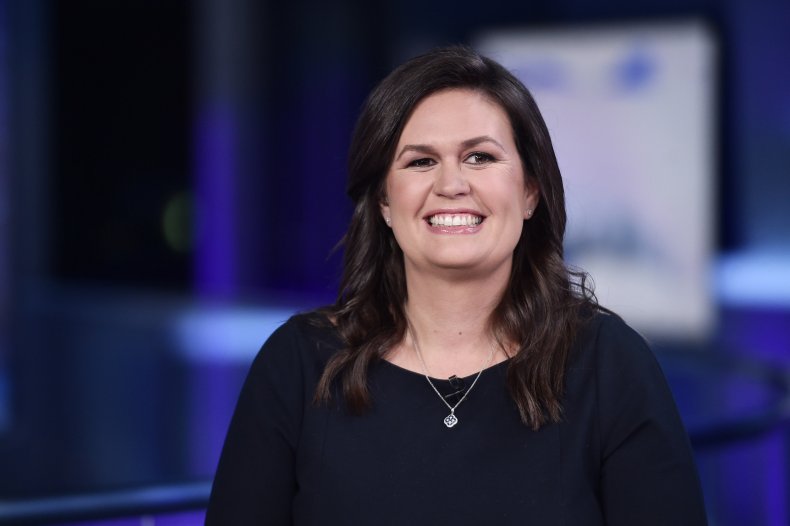 Sanders' remarks seemed to line up with the official White House line as given by White House Press Secretary Stephanie Grisham Thursday on Good Morning America.
When asked by co-host George Stephanopoulos why she thought the president made the remarks, she quickly deferred the question back to Trump.
"You'd have to talk to the president about that," Grisham said. "He has been under attack and under impeachment attack for the last few months and under attack politically for the last two and a half years. I think that as we all know the president is a counter-puncher. It was a very, very supportive and wild crowd and he was just riffing on some of the things that had been happening the past few days."
Representative John Dingell passed away February 7, 2019 from prostate cancer at the age of 92. Dingell was the longest-serving U.S. congressman.
Trump's comments were rebuked by politicians on both sides of the aisle.
"I think it's really sad," Republican Representative Jaime Herrera Beutler told The Hill Thursday. "It's a really, really terrible thing to say. It's Christmas, to make jokes about where people are spending eternity—you must be really sure about where you're spending your eternity, right?"
"What the president misunderstands is that cruelty is not wit," House Speaker Nancy Pelosi told reporters Thursday. "Just because he gets a laugh for saying the cruel things that he says doesn't mean that he's funny. It's not funny at all. It's very sad."
Shortly after Trump's original statement at the rally, Dingell's widow commented on Twitter, saying the president's words had hurt her.
"Mr. President, let's set politics aside. My husband earned all his accolades after a lifetime of service. I'm preparing for the first holiday season without the man I love. You brought me down in a way you can never imagine and your hurtful words just made my healing much harder," she wrote.