After Trump's 'Nuclear Button' Tweet, Protesters Project 'Jack Is Complicit' onto Twitter HQ, Demand CEO Step Down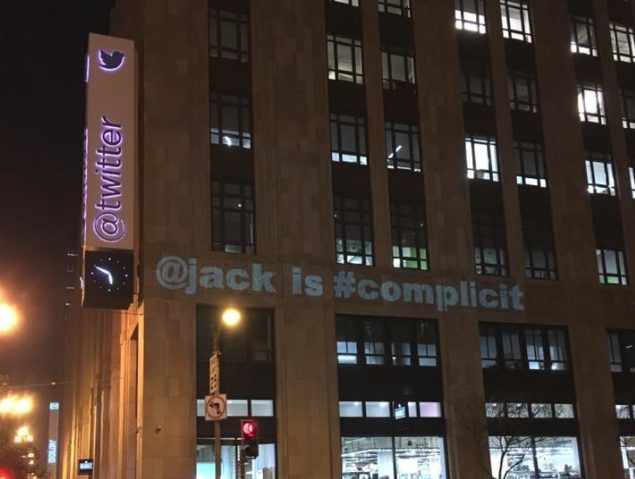 Updated | Protesters are demanding that Twitter's CEO either step down or take action to remove President Donald Trump from the social media site after he taunted North Korea's Kim Jong Un over America's "bigger and more powerful" nuclear button.
The message "@Jack is complicit" was projected onto Twitter's headquarters in San Francisco on Wednesday, sending a clear call to action to CEO Jack Dorsey.
Protesters have said they also plan on holding an "emergency demonstration" expected to take place later in the evening, at 5:30 p.m., outside the same building.
"Jack Dorsey, CEO of Twitter and Square, has enabled @realDonaldTrump from his first dog whistles in the birther movement to his latest nuclear pissing contest. @Jack is #complicit," a Resistance SF spokesperson told Newsweek.
"He endangers the world and allows Trump to break his company's own terms of service to do it. As long as he is CEO of Twitter and Square, they cannot be considered moral tech companies, and the board of directors of both should do the right thing and insist that either Trump or Jack must go. Jack Dorsey brought 280 characters to Twitter, but what we need more is a Twitter CEO with more character."
Responding to a New Year's Eve broadcast message from Kim alleging that he keeps a "nuclear button" on his desk, Trump tweeted on Tuesday evening: "North Korean Leader Kim Jong Un just stated that the 'Nuclear Button is on his desk at all times.'
"Will someone from his depleted and food starved regime please inform him that I too have a Nuclear Button, but it is a much bigger & more powerful one than his, and my Button works!"
The president followed up his message to Kim with a tweet criticizing the media, writing less than an hour later: "I will be announcing THE MOST DISHONEST & CORRUPT MEDIA AWARDS OF THE YEAR on Monday at 5:00 o'clock. Subjects will cover Dishonesty & Bad Reporting in various categories from the Fake News Media. Stay tuned!"
Twitter has said Trump's provocative tweets toward North Korea do not violate its terms of service after receiving a barrage of complaints and inquiries over the president's messages.
A Twitter spokesperson said in a statement on Tuesday evening that the tweets do not amount to a "specific threat" and therefore do not warrant disciplinary action. The spokesperson referred to Twitter's policy on violent threats and glorification of violence, which states: "You may not make specific threats of violence or wish for the serious physical harm, death, or disease of an individual or group of people."
Twitter also updated its rules in December, stating that its policy on promoting violence "does not apply to military or government entities and we will consider exemptions for groups that are currently engaging in (or have engaged in) peaceful resolution."
It's not the first time protesters have called on Twitter to ban the president from the social media site. Many users have argued that Trump's tweets threatening North Korea and others should constitute a violation of the platform's terms of services.
CNN's Jake Tapper was among those critical of the tweets, saying: "This is the President of the United States issuing a threat to use nuclear weapons then turning around and glibly chastising the media ... None of this is normal, none of this is acceptable, non of this is – frankly – stable behavior."
Dorsey has previously defended the company's decision not to remove the president from the site, stating in November that a "clause in our terms of service" allows for tweets considered to be "newsworthy" to remain online.
Read more: President Trump threatens Kim Jong Un with his "bigger and more powerful" nuclear button
"If an account were to publicly attack or harass a private citizen, we would take action," Dorsey said at the New York Times DealBook conference in November, according to Fortune magazine. "We do have a clause in our terms of service that we unfortunately did not have publicly stated ... around newsworthiness and public interest," the CEO added.
If a tweet is considered "newsworthy" or in the public interest, Twitter will keep the content up because it serves as a record, Dorsey said.
Without Trump, it has also been previously estimated that Twitter could lose nearly a fifth of its value. Monness Crespi Hardt analyst James Cakmak said in August that the social media company could take as much as a $2 billion hit in market value if the president gave up tweeting—or was removed from the site.
Cakmak told Fortune the loss of one of Twitter's most prominent users would negatively affect Twitter's "intangible value," likely causing multiple compression, which typically occurs as a result of investors' skepticism over a company's growth prospects. "There is no better free advertising in the world than the president of the United States," Cakmak said.
This story was updated December 3 to add quotes from demonstration organizers Resistance SF.