'After My Uncle Died, We Discovered The Truth About His Life'
I was writing my uncle Tom's obituary when a roundabout request appeared in my cell phone messages.
"I have no agenda and do not want there to be any unpleasantness; I can keep quiet— but wanted you to know that Tom and I got married back in 2016. Hadn't ever been that big of a deal to us, but we were so upset over Trump's election, we wanted to do something in protest."
"Well congrats four years late!" I texted back. There wasn't much more to say about a wedding announcement that arrives after one spouse passed away. I set to editing. I'd included my uncle's partner in the draft already, weighed how to describe him, a man who lived with my uncle and, in his old age, became his caretaker. I had inserted the catch-all of "partner" because that's what you do when there's an intimate relationship that everyone knows about but no one has discussed.
It certainly wrong-footed me at that moment. Throughout most of his marriage to his wife, everyone knew my uncle was married to a woman even though she was more or less absent. For the majority of their matrimonial merger, Gwen* lived in Paris, not in my uncle's house on Lake Carnegie, New Jersey. But when he actually had his spouse in his midst, residing with him, nearby in his daily life, people around him, even his own family, didn't know. He died without ever telling us that he married again, to a man.
While the obituary wouldn't carry my name, the journalist in me meant I wouldn't perpetrate the lie that my uncle was divorced if he wasn't.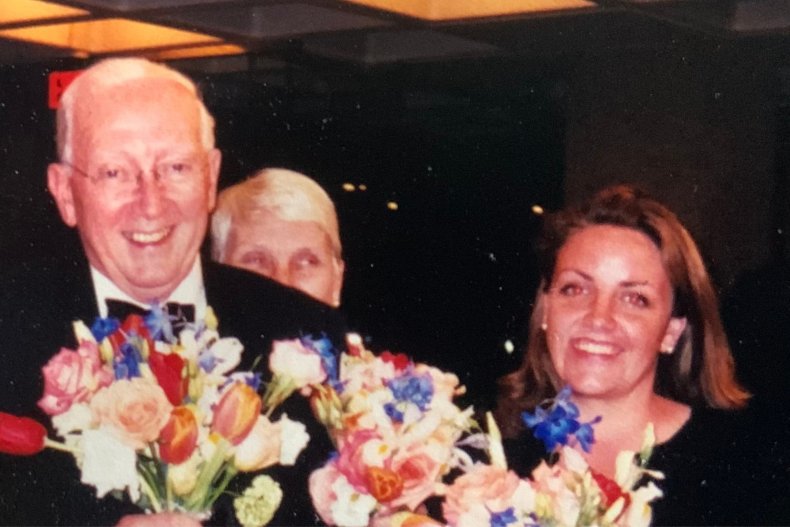 To an outsider, it would appear that my uncle didn't share his recent same-sex marriage because he feared disapproval or prejudice, but that's not true. We knew my uncle and his partner were together and had been for 19 years; they both attended my sisters' weddings. No one cared that he was with a man—and not necessarily because the whole family is so evolved. As long as he was happy and cared for, no one in my family had spare energy to invest in any concern about his life choices. That he wed the man he was living with would have actually made my parents feel better; what with the tax benefits.
I wasn't hurt, but the news ate away at me because my uncle hadn't confided in me about these nuptials. He was closer to me than he was to anyone else in the family, even my mother, who was his youngest sister. We were so close that when my aunt Nancy succumbed to stomach cancer in 2006 she noted our attachment in her will.
Other than to hear that he was an English professor at Princeton and that he had published a book, growing up I didn't know much about my uncle beyond his resume. His book about the epic poem "The Faerie Queene" by Edmund Spenser didn't interest me; its hot pink spine sat high on my parents bookshelf for years, a signal that it was respected but not read.
My uncle would flit into our home occasionally to attend a conference at Yale University, which was about 8 miles away from us in Connecticut. He would update me and my sisters about his cats and the Folger Shakespeare Library. Much of his reports were irrelevant to three girls whose lives were geared around getting good grades, field hockey practice, the Baldridge speed reading course and the latest Esprit fashions.
Then I got into Princeton. It was probably the seventh time I had met him in my life when I visited the campus as a high school senior. He made fun of my mother's driving which appealed to my seventeen-year old sense of superiority. I suspected that I might enjoy getting acquainted with the distant, intellectual uncle when I matriculated that fall.
But, at the last minute, he decided to take a sabbatical in Italy with Gwen during my freshman year. The first day he returned during the September of my sophomore year, I met him at a local restaurant, the Annex. The Annex was dark and had plastic-covered menus that had been typed on a typewriter. Tom would lunch there every day; sipping a gin with a twist and eating some provolone while he graded student papers.
"What do you want? You want a drink? Some wine?" he asked.
"I'm 19," I answered, underscoring that it was illegal to serve me.
Then the waitress approached me and asked if I was Gwen. That was confusing. My uncle had married a younger woman for sure, but Gwen was only 13 years his junior. I was 10 months away from 20, which meant I was 39 years younger than my uncle. To mistake me for Gwen meant that the people who knew my uncle hadn't ever known or even met his wife. And he was important enough in their lives that they wanted to know her, to know about her.
Gwen lived in Paris—and still does as far as I know—and would come home for a few days every couple of years, never long enough to interact with the university community. It wasn't acrimony or abuse that drove his wife to Europe. She wanted to study with a famous psychologist there. My uncle and his wife—I never called her my aunt because my parents told me when I was young that she didn't want to be identified that way— never considered themselves separated or their ties tenuous or troubled. He just happened to have a wife who he rarely spent time with and who lived on a different continent.
I began to eat dinner with Tom several times a week. I ran to him with news before I told my mother and father. I took his course on Spenser. I proofread his work.
Once, after too much grappa, he confided in me about his bride. He wanted children; Gwen did not. Gwen loved him as much as she could love anyone—which wasn't all that much in his eyes.
"I've never said that to anyone before," he said.
When I look back now, I can't pinpoint any friendships with men that could have been more. Certainly not during the time I was around, because my uncle spent all of his time with me. My family just regarded Tom as unusual; an inscrutable academic in all regards. Marriage was just one aspect of their assessment of him.
When Gwen came back for a week in 1993, I insisted that I be there when she got to the house. Part of it was curiosity: what are you doing here? What do you really look like? There were no pictures of her with my uncle.
Gwen was as I remembered her from her youth; petite with dark black hair that she folded into a bun. Then, in 1993, she marched in wearing an oversized trenchcoat but didn't seem relieved to be home or even all that interested in what had changed in Princeton since her last visit years before. She was a houseguest and I don't think any outsider would have guessed that she was married to my uncle.
When I graduated and wasn't on campus anymore, uncle Tom and I grew apart. But it wasn't just geography that did it. Seven years after I left Princeton, Tom divorced in 2001 and met the man he would eventually marry at age 70.
I wasn't that surprised because I knew my uncle didn't like being alone; looking back I would guess that he may have been bisexual or even pansexual. He wasn't promiscuous by any means but he liked company. If that company was someone he enjoyed being with, then all the better.
I didn't know that my uncle's memory was failing and various systems were starting to go with his advanced age: he had kidney problems and struggled to walk sometime after 2008; he entered a nursing home about 10 years later and I couldn't have gone to see him. I was incarcerated from 2007 to 2014, an experience I have written about at length in the years since, and my re-entry conditions prevented me to from heading to Cleveland where my uncle spent the last years of his life. Any telephone conversations with him were cursory no matter what his health was throughout his life.
My uncle was incapable of speaking for months before he passed in 2020, and although my uncle's husband could have told me they tied the knot sooner, I'm glad he was brave enough to ask me to include their legal relationship in my uncle's final literary sendoff. It meant that my uncle could finally announce a spouse who was proximate, present and oriented toward him.
In truth, I don't think that the wider family was particularly shocked. It was the beginning of a pandemic and my parents, then 80 and 82, were more concerned with their own survival than anything else. My sisters were never close to him so they had no opinion whatsoever.
Tom died on May 3, 2020. He was a collateral COVID casualty as he couldn't get the care he needed immediately because no nephrologist could enter the nursing home to see him; COVID risk and the reassignment of all specialists to helping severely ill patients in local hospitals would keep those kidney doctors at bay. When it was clear that even COVID infection couldn't hasten my uncle's passing, the nursing home let his husband enter his room and speak to him as he transitioned rather than pantomiming through a window. Sometimes a violation of infectious disease policy is a mercy.
Social distancing rules canceled any memorial, so no one in my family has seen his husband since we learned they were married. I've never asked "Why didn't you just tell us?" And I won't.
I don't know if my uncle's husband is fully aware of why my uncle would keep their marriage to himself. Looking back, there weren't any signs they had married, but that may be because I was too preoccupied with my own problems at the time.
And, because I grew up with uncle Tom at a distance, it was easy to place him at a distance again. But I'm glad that he found a person he loved and who loved him back.
Learning Tom had secretly married didn't cause so much negative feelings as nostalgia for my youth, my alma mater and getting to know an uncle who I hadn't interacted with much as a child. Looking back, I don't think children could have gotten to know my uncle; he was too cerebral and scared of normal affection. I've realized now that it required waiting for young adulthood to meet my uncle Tom on any level.
Chandra Bozelko graduated from Princeton University. She is a columnist and freelance journalist.
All views expressed in this article are the author's own.
*Name has been changed.