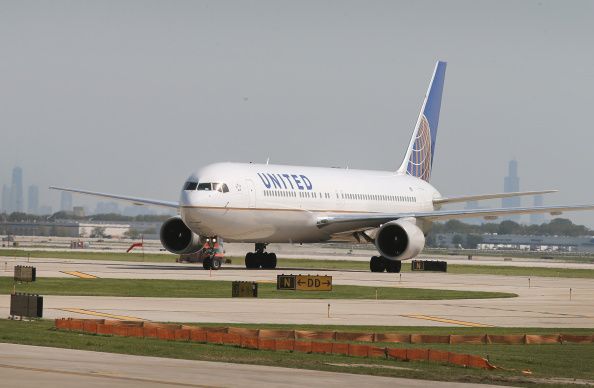 Congress is considering bipartisan legislation that would prohibit airlines from removing passengers from planes involuntarily once they have boarded. The efforts in both the House and Senate to bolster travelers' rights come after a jarring incident on a United Airlines plane at Chicago's O'Hare International Airport in April.
"We'd like the airlines to understand what they should be doing on their own for consumer protections that are reasonable, rational and commonsense," Representative Frank LoBiondo (R-N.J.), chairman of the Transportation and Infrastructure Subcommittee on Aviation, told The Hill. "And if they don't do it on their own, we're going to help them out."
When news and footage of David Dao being dragged off United Express flight 3411 to Louisville, Kentucky, went viral—showing the 69-year-old doctor being forcibly removed from his seat and pulled by the arms down the aisle as his glasses fell down his face—most viewers were shocked at the airline's behavior. Even White House Press Secretary Sean Spicer was troubled, saying in a press briefing that although it wasn't his place to judge the company's actions, "I don't think anyone looks at that video and isn't a little disturbed that another human being is being treated that way."
Related: Watch: United Airlines has man dragged from overbooked flight
In the wake of that incident—and with several other public relations fiascos before and after it—United saw its stock price drop and its brand become the butt of jokes everywhere from Twitter to late-night shows.
After a company review, the airline announced 10 policy changes, including a rule that customers who were already seated would not be removed involuntarily except over a security or safety risk. American Airlines instituted a similar policy after its competitor's debacle, and Delta upped the amount of compensation available to passengers who have to give up their spots on overbooked flights.
Such voluntary policy updates are not enough for the authors and supporters of Federal Aviation Administration (FAA) reauthorization bills introduced by committees in both chambers of Congress on Thursday. Both the House bill, the "21st Century Aviation Innovation, Reform, and Reauthorization Act," and the Senate bill, "S. 1405, the Federal Aviation Administration (FAA) Reauthorization Act of 2017," include language meant to protect passengers in situations like the one United blundered a few months ago.
"I believe [the United incident] did play a role," Representative Lou Barletta (R-Pa.) told The Hill.
The legislation would prevent airlines from taking passengers off planes involuntarily after boarding, save for instances in which they are considered risks to security, safety or health, or when they are being disruptive or engaging in unlawful behavior. It would also clarify that there is no federal limit to the amount of compensation airlines can offer passengers on overbooked flights.
"A lot of it is clarifying some of the rules," Representative Blake Farenthold (R-Texas) told The Hill. "There was some discussion with United that there was a limit as to what they can pay. This legislation makes it clear that that is not the case."
The House bill boasted a bipartisan list of sponsors in addition to LoBiondo: Bill Shuster (R-Pa.), Sam Graves (R-Mo.), Paul Mitchell (R-Mich.), Colleen Hanabusa (D-Hawaii) and Kyrsten Sinema (D-Ariz.).
The Senate version of the bill—also a bipartisan effort, sponsored by John Thune (R-S.D.), Bill Nelson (D-Fla.), Roy Blunt (R-Mo.) and Maria Cantwell (D-Wash.)—calls for a review of airlines' policies on overselling and would force them to spell out their boarding and bumping procedures directly to passengers on their itineraries or receipts, or in some other format.
"This is a good example of what can happen when Republicans and Democrats work toward the same goal," Nelson said. "With this bill, we're putting the flying public first and insisting they receive better treatment from the airlines."