An unvaccinated pregnant woman in North Carolina died of complications from COVID-19 last month, and her mother is now urging pregnant women to get the vaccine.
The woman, Stephanie Baker, 31, of Shallotte, North Carolina, delivered twins on January 27. She continued to battle the virus until she passed away three days later, her mother, Debbie Baker, said in an interview with Newsweek.
Prior to Stephanie's death, one of her newborn infants had passed away. Stephanie's doctors performed an emergency Caesarean section because her babies were showing stress from a lack of oxygen. She got to hold her son, Sylas, before he died.
Stephanie's other newborn son, Sage, remains in the newborn intensive care unit (NICU) but is "doing well," Debbie Baker said.
Debbie said that her daughter didn't get the COVID-19 vaccine because she was concerned it might harm her children.
"She just thought, 'Gotta protect them and I don't want anything to hurt them,' and I respect that [because] she loved her children," she said.
"But I was always thinking 'what if' and just praying 'Please don't let her get COVID, please let her make it through this pregnancy and be healthy.' And she chose not to, and I respected that," Debbie added.
But Debbie is now urging pregnant women to get vaccinated because "hopefully they would make it through with a minor case of COVID if you have a vaccination, than if you don't have a vaccination."
"We would never push anything on anyone, but it's devastating to go through this and I wouldn't want anyone else to go through such pain," she added.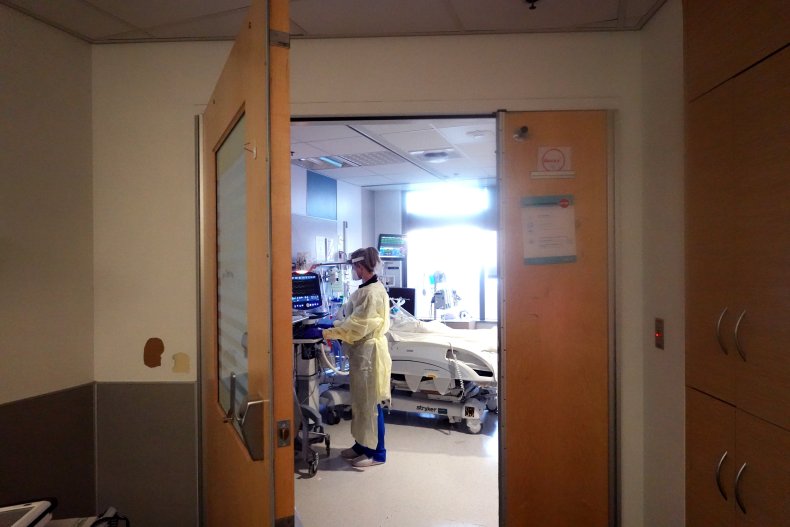 Stephanie worked as a receptionist at an animal hospital and was in school to become a veterinary technician.
Debbie said her daughter was "beautiful, inside and out."
"She loved everybody unconditionally. She would go out of her way to be a friend. Her love had no boundary for caring," she said.
In addition to her newborn, Stephanie leaves behind a 4-year-old son.
North Carolina news station WECT first reported on Stephanie Baker's story.
The Centers for Disease Control and Prevention (CDC) recommends the COVID vaccine for "people who are pregnant, breastfeeding, trying to get pregnant now, or might become pregnant in the future."
The agency also warned that pregnant people or those who have been recently pregnant are at a higher risk of getting seriously ill from COVID.
"Evidence about the safety and effectiveness of COVID-19 vaccination during pregnancy has been growing. These data suggest that the benefits of receiving a COVID-19 vaccine outweigh any known or potential risks of vaccination during pregnancy," the CDC stated.