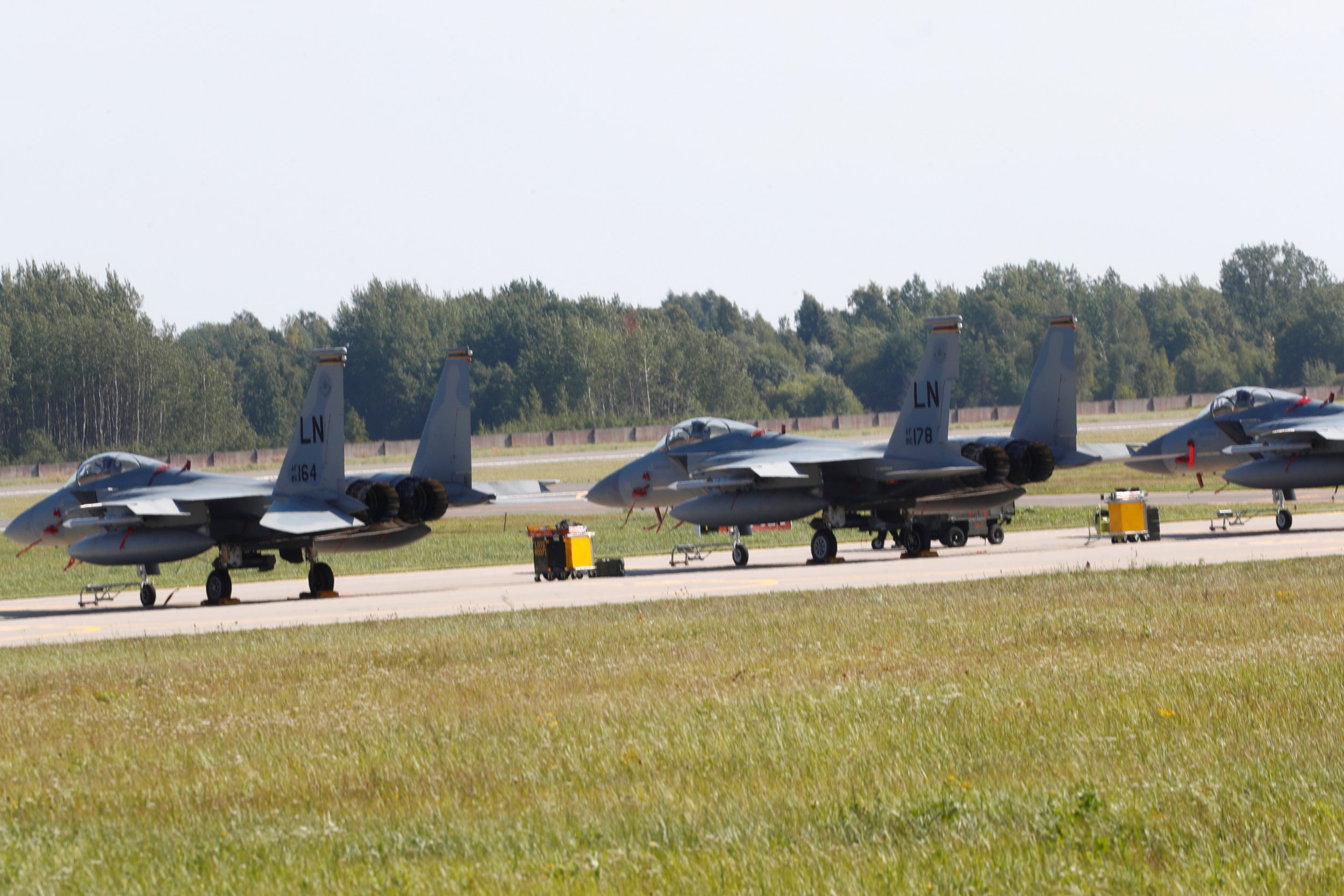 After a U.S. fighter jet crashed into the ocean Monday morning, the Kadena Air Base in Japan grounded its fleet of F-15s pending a review.
The fighter was conducting a routine training flight, according to the air base, when the plane crashed into the waters south of Okinawa, Japan, where the base is located. The pilot was able to eject before the crash. The Air Force pilot of the F-15C Eagle was recovered by members of Japan's Air Self-Defense Force based out of Naha, Japan. The pilot was in "serious condition" and brought to a Navy hospital at Camp Foster.
"I would like to personally thank the Naha Rescue Squadron for their quick response this morning, which led to the safe recovery of our airman," said Colonel Richard Tanner, vice commander of the air squadron at the base, in a press release. "I sincerely appreciate the strong support of our Japanese partners in this difficult situation."
The statement said it wasn't immediately clear what caused the crash and that the accident would be investigated. Training operations with F-15 fighters will temporarily cease while operational, maintenance and safety procedures are reviewed, according to a statement from the base.
"Our hearts and prayers go to the pilot and his family as they go through this difficult time," the base tweeted.
The fighter crash is one of a string of recent U.S. military mishaps in Japan.
"Accidents of U.S. military aircraft are occurring repeatedly. We would like to continue asking for their flight safety," said Itsunori Onodera, Japan's defense minister, to Japanese wire service Kyodo on Monday.
After two helicopters made emergency landings in Japan at the beginning of 2018, Defense Secretary James Mattis called to apologize for a series of U.S. aerial accidents.
In December 2017, two alleged incidents of parts falling from helicopters onto civilian territory occurred. One was a window that fell onto the sports field of an elementary school from a U.S. heavy-lift helicopter; the other was a plastic part that fell onto a day care facility and was believed to have come from a U.S. helicopter.
Last October, a U.S. Marines helicopter made an emergency landing on Okinawa after catching fire and was almost completely destroyed as it burned. No one was injured in the accident.
The Air Force did not immediately respond to Newsweek's request for comment.