Iran will acquire whatever weapons it needs to keep out "invading powers" that seek to surround it the country's President Hassan Rouhani said at a military showcase in Tehran.
Speaking at a rally for National Army Day, Rouhani appeared to take a swipe at the recent strikes against its ally Syria by the United States, United Kingdom and France, all of which are convinced the Syrian regime has once again used chemical weapons against its own people. Iran and Russia remain the Syrian government's main allies, and often argue that they are the only foreign military powers whose involvement in Syria is legitimate.
Iran's backing for Syrian President Bashar al-Assad has proven unpopular with much of the rest of the region as Turkey, Saudi Arabia and smaller Gulf states have backed opposition groups in wartorn country. In a televised statement on Wednesday, Rouhani told Iran's neighbors not to consider any new arms an aggressive threat, but declared that he will not defer to international consensus on the weapons he believes Tehran needs to ensure national security.
Related: Russia tells U.S. risk of war over Syria is real and cannot be ruled out
"We tell the world that we will produce or acquire any weapons we need, and will not wait for their approval," Rouhani said on Wednesday, according to Reuters. "We tell our neighboring countries that our weapons are not against you, it's for deterrence."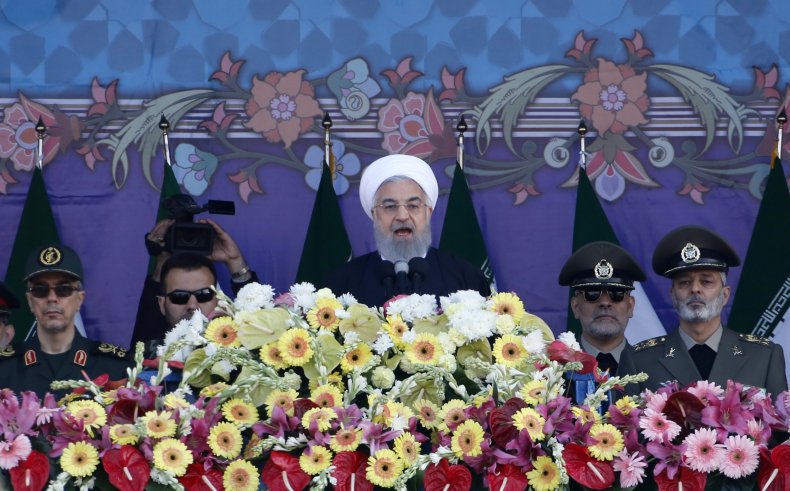 Talking in front of a crowd at a military rally, with warplanes flying overhead, Rouhani blamed unsanctioned, foreign interventions for his new stance.
"We are not living in a normal region, and we see invading powers have built bases around us. Disregarding the principles of international law, they intervene in regional affairs and invade other countries without U.N. permission," Rouhani said.
The leader appeared to refer to the joint strikes on Syrian military assets by the U.S., U.K. and France over the weekend. The operation was the second time U.S. forces have targeted the Assad regime since President Donald Trump took office, after a cruise missile strike last year following another reported chemical attack on Syrian soil.
Russian and Iranian forces mounted a joint intervention in the country in 2015, backing Syria's embattled military. The intervention largely restored Assad's control over much of the country. Despite the president's brutal crackdown on opposition, which includes repeated reports of chemical attacks on civilians, Russia's veto power in the United Nations Security Council has prevented the launch of a U.N.-backed push to remove the autocrat by force.