'I Send My Son To Kindergarten With a Bulletproof Backpack'
I'm from Oklahoma, where guns are a normal part of many people's lives. I grew up around hunting and firearms; my dad kept rifles in the closet. But we were always taught to treat every gun as if it was loaded. We knew that each one was a dangerous weapon; that no matter what type it was, it could cause serious damage.
When I was at school we had intruder drills, but we never spoke about firearms. Teachers taught us how to react if a stranger broke into the school. I knew we were learning about a serious situation, but I think I was too young to consider gun violence.
When I fell pregnant with my first son, Weston, in 2017, it still wasn't something I really thought about much. Becoming a mom for the first time was pretty difficult. I was 19 and had never even held a baby before.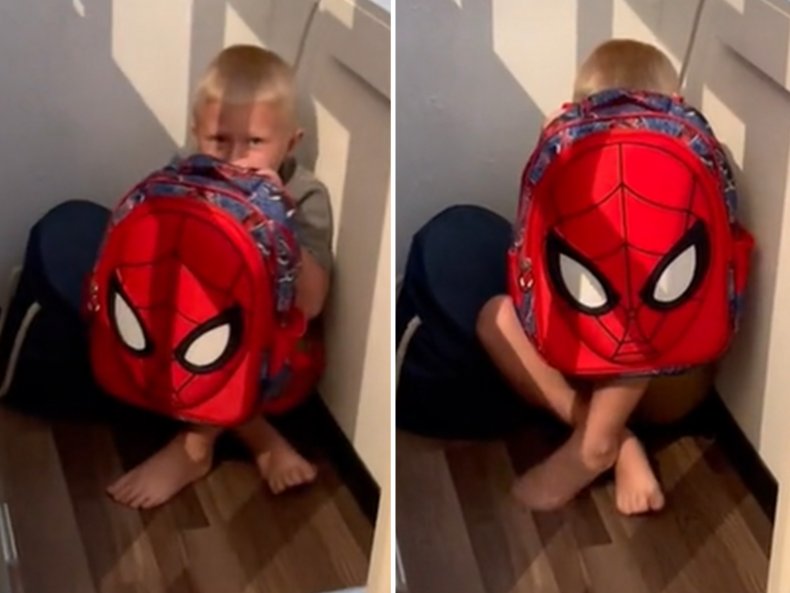 I had really bad postpartum depression, which I immediately got medical help for. I went to the doctor and after a few tries got some medicine which worked for me. My husband was working night shifts at the time, so it was hard not seeing him much. But my mom stayed home with me, which really helped.
It took me around a year to get over the symptoms completely and start feeling that mother's intuition. I was so young and had never experienced depression before, but once I got over it I definitely felt stronger. After the birth of my second son, Huston, in 2020, I didn't experience any problems at all.
Weston was pretty nervous before he went to pre-kindergarten, aged four. He had been home with me since he was a baby, so it took him about a week to get used to the whole system; getting up and leaving his mom.
Of course it depends on individual situations, but for the most part I believe I'm a pretty laid back mother. I never considered gun violence might take place at my son's school, until a tragic mass shooting occurred at Robb Elementary in Uvalde, Texas in May, 2022.
When I saw the story on the news, I was devastated. I wish such atrocities didn't happen and that we could all come together to figure out how to stop them. Many parents might think: "That kind of thing would never happen at my child's school." But the reality is, it can happen anywhere.
Weston is only five, but when he watched the story on the news he had several questions. He asked me; would the same thing happen at his school? Why would someone commit such an awful crime? What would he do if something similar happened in his classroom?
I started looking into bulletproof items or clothing he could potentially take to school and saw a video online of another mom showing off a bullet resistant insert, specially designed to fit into children's backpacks.
After purchasing the same insert, I told Weston we were going to run through the safety drills he is taught in class, but that we were going to add his new bulletproof backpack for extra security.
At Weston's school, the children are taught what to do if an intruder breaks into the building. They are warned there will be an announcement on the intercom, which tells the kids to huddle in the corner as quietly as possible and pretend they aren't there. I just said to do exactly the same, but to make sure he brings his backpack and then hides underneath it for extra protection.
I believe it's up to parents to speak to their children about gun violence, because it's such a serious subject. Weston is really smart and after I explained the reality of the drills to him, he understood the importance of the situation.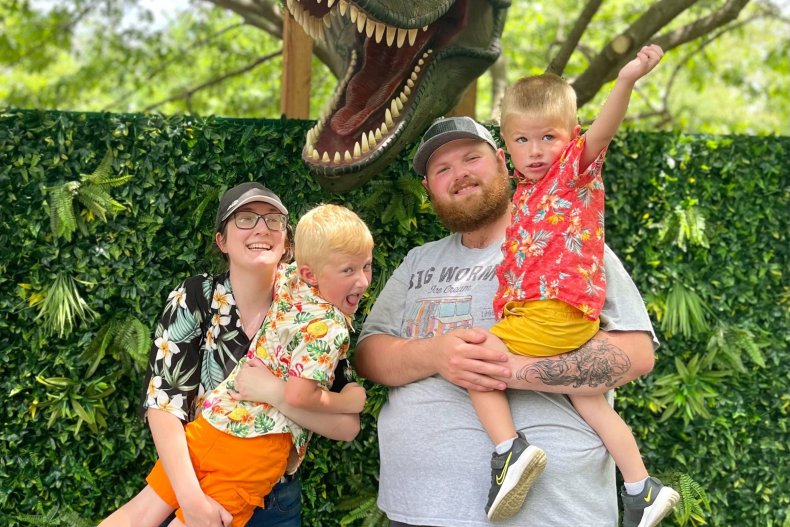 He loves stories about superheroes and bad guys and initially he played along like he was in a movie; he thought he was as invincible as his favorite characters. I had to explain to him that even heroes like Spider Man can't survive getting shot by a gun.
I recorded Weston doing all of his drills, but I was holding back tears as I was filming. It is very sad that this kind of thing is necessary and I wish there was something else we could do, but for now it seems this is the most effective method we have to keep children safe from gun violence at school.
I posted the video on social media in early August, two days before Weston went back to kindergarten. I wanted to spark a conversation and the video has since gained nearly eight million views. I've had a lot of messages from other parents saying I inspired them to speak with their children about shooter drills or to buy the bulletproof backpack insert.
I've had a small number of negative comments, some users claim that my son will be traumatized or scared to go to school. I don't really have a response to them, I do what works for us and nobody is forcing anybody else to do anything. Weston isn't traumatized or scared of the drill. It's exactly what he practices in school, just with the bulletproof backpack added.
I don't have negative feelings towards guns and I don't think there is a reason to ban them. But, I do believe there should be more laws surrounding firearms; potentially about how easily they're purchased or the age individuals can buy one.
I think that people should be taught more about how to use guns safely, in a wise way. I feel like the root of the issue is more to do with mental health and security, rather the guns themselves.
I believe Weston is safer with these drills in place, I like that his school teaches them and I think all schools should be doing the same thing; having more open conversations about safety.
I would tell all parents, even if you're not going to do the drills, at least try to have an age appropriate conversation with your kids about these serious situations, because in the world you cannot sugar coat things or hide them from everything bad. So it's best to explain the reality to them and make them more comfortable talking about safety.
Cassie Walton, 23, lives with husband Stoney and their two children Weston, five, and Huston, two, in Oklahoma. You can follow their journey on TikTok or Instagram @thewaltonfamily1
All views expressed in this article are the author's own.
As told to Monica Greep.