After Van Drew's Switch to GOP, Pro-Trump Super PAC Praises Him For Resisting Impeachment 'Mob' in Ad
Republican political action committee (PAC) The Committee to Defend the President (CDP) began running an advertisement Saturday in New Jersey encouraging voters to reelect Congressman Jeff Van Drew during the 2020 campaign. Van Drew left the Democratic Party to join the Republicans after voting against the impeachment of President Donald Trump.
Democratic luminaries like House Speaker Nancy Pelosi and former president Barack Obama are seen in the advertisement saying that people have to "put country before party."
"That's just what Jeff Van Drew did," says the commercial, "standing by President Trump rather than participate in a sham impeachment. It takes guts to stand up for what's right, even when the mob rises against you."
Newsweek reached out to the CDP but did not receive a response in time for publication.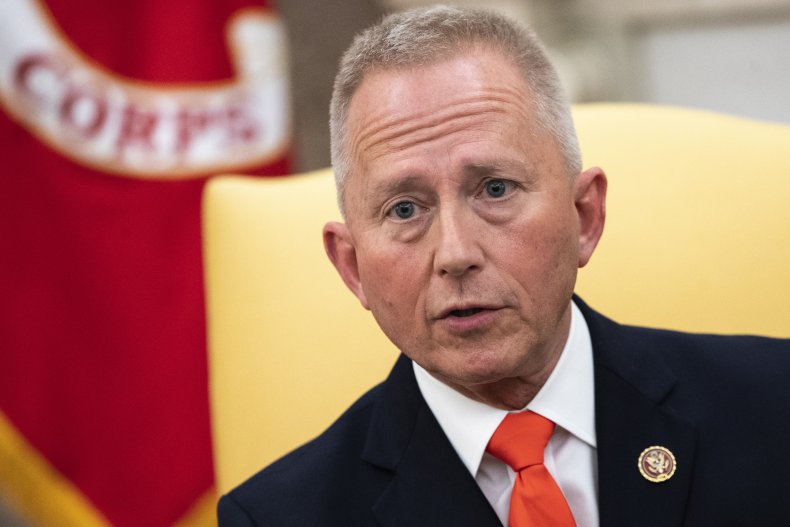 Van Drew has gone on record as saying the impeachment was the catalyst for him to switch parties, especially after being informed that he could face negative political consequences if he chose to vote against Trump's impeachment.
"For all the years that I have worked so hard and tried to give so much, not only to the party, but to everybody," Van Drew told Maria Bartiromo Sunday on the Fox News Channel program Sunday Morning Futures, "it all boils down to one vote, that I may have my own individual opinion on one vote and that is not going to be allowed? I'm going to be punished for that? That's when I knew."
"This impeachment is a weak, thin impeachment that doesn't mean much to most of the American people," Van Drew added. "Folks are tired. They're tired of the millions of dollars that have been spent on [impeachment] and they want to move forward."
Advertising to support Van Drew's reelection effort cost the CDP over $208,000 for television time and $50,000 for advertising on the internet, according to Politico.
Originally formed in May 2013 as the Stop Hillary PAC, The Committee to Defend the President is chaired by former Colorado state senator Ted Harvey. Now they have aligned in favor of Trump in order to "defend him from the radical left as he sets about undoing the progressive policies and regulations that are destroying our nation," according to the CDP's website.
Designated as a super PAC, the CDP may receive unlimited contributions as long as they do not donate those funds to federal candidates and committees. Money collected by a super PAC can only be used for communications, such as advertising, that advocate for or against a clearly identified candidate without that candidate's express request or suggestion.