After Weeks of Protests, Some Michigan Restaurants, Bars to Reopen in Time for Memorial Day Weekend
Bars and restaurants in two Michigan regions will be permitted to reopen in limited capacities Friday, a significant step forward for one of the states hit hardest by the coronavirus pandemic.
The executive order signed by Governor Gretchen Whitmer follows weeks of protests as residents, frustrated by the statewide stay-at-home order, have demanded that local businesses be allowed to resume operations. Under Whitmer's latest order, which goes into effect after midnight Friday, some retail businesses and office workers who have been unable to work remotely will be able to return to work, Whitmer said during a Monday news conference.
The relaxed restrictions will apply to businesses in the Upper Peninsula and Traverse City regions, Whitmer said. Businesses covered by the executive order in those areas will be required to follow strict social distancing and sanitation procedures to protect their employees and customers, though local leaders who wish to enforce stricter guidelines can do so at their discretion, the governor said.
In a further expansion of worker protections, Whitmer also announced a second executive order signed Monday that requires businesses to create COVID-19 prevention strategies and train workers who will be involved in implementing them. "Going to work is going to feel different for a little while," she said.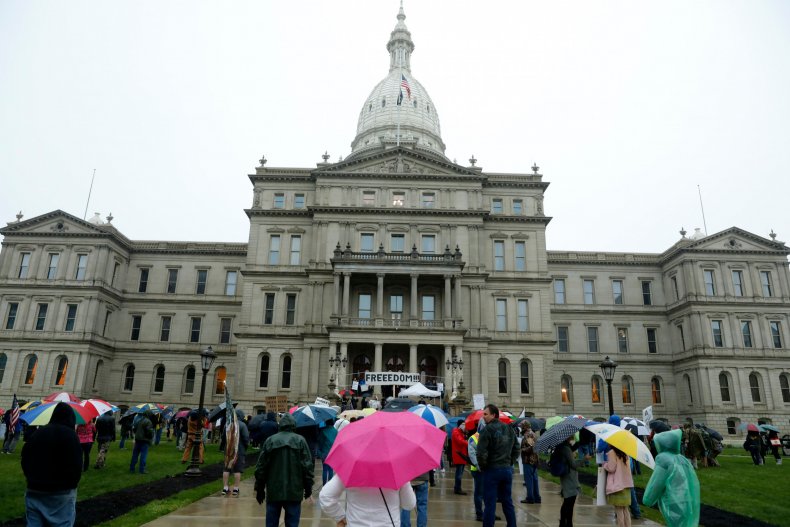 Restaurants and bars that choose to reopen will have to limit their seating capacity to 50 percent, with tables placed at least 6 feet apart and servers required to wear facial coverings. The Upper Peninsula and Traverse City regions received approval to begin reopening because the percentages of new cases in those areas were below the statewide average, Whitmer said. Eased restrictions for businesses in other parts of the state could be announced within the next few days, the governor said.
"If we keep doing what we have been in protecting ourselves and our family from this virus, we can begin thinking about re-engaging sectors in the lower parts of our state," Whitmer said.
As of Monday, 51,915 cases and 4,915 deaths have been reported statewide, according to Dr. Joneigh Khaldun, chief medical executive with the Michigan Department of Health and Human Services. "Case and death trends continue to improve overall as a state—and importantly, people are recovering," Khaldun said during Whitmer's news conference.
Though the case numbers for regions approved to begin reopening seemed promising, Traverse City Mayor Jim Carruthers joined Whitmer Monday to caution residents against visiting Traverse City and other areas with relaxed restrictions in droves during the Memorial Day weekend. "We welcome you to come, but we want you to be safe. We still want you to be careful when you travel here," he said.
Whitmer echoed Carruthers' call for vigilance, emphasizing the importance of adhering to social distancing guidelines to prevent a second coronavirus wave in the state later this year. "If we get this right, we will be able to take the next step—and the next," she said.