After White Man Tells Black Protester To 'Go Back To Africa,' Another Conversation Leads to Forgiveness, Understanding
The video is like many on Facebook Live -- the picture is grainy, the sound sometimes distorted, but a moment between a Black protestor and a white man went viral anyway. But unlike some other videos, this one sparked a conversation about forgiveness and acceptance.
The initial encounter happened Tuesday in Waukegan, Illinois as a group of people waited for President Donald Trump to arrive at the Waukegan National Airport before visiting Kenosha, Wisconsin and tour buildings damaged in protests and riots following the police shooting of Jacob Blake.
Broadcast via livestream, the conversation between Clyde McLemore, who is Black, and Gary Lloyd, who is white, involved Trump, war and America's freedom. In the video, McLemore holds a 'Black Lives Matter' sign and wears a matching t-shirt. He can be heard saying, "we ain't won a war yet," followed by his disapproval of the president.
In response, Lloyd replies, "If you don't like it, why don't you go back to Africa and see how nice it is there?"
The video quickly made the rounds across social media. As of publication time, the viral moment was viewed over 550,000 times across various platforms including Facebook, Instagram and TikTok. McLemore's Facebook Live alone has over 1,600 comments.
McLemore told Newsweek that the overwhelming support he got after the incident, from both Trump supporters and non-Trump supporters, was reassuring, but the matter still left him feeling discouraged. "I felt really bad because I thought, this is 2020. 'Go back to Africa,' for real? Of all the days?" he said.
Lloyd, a Vietnam veteran who owns a construction company in Lake County, said he's "not a racist person" but grew angry when McLemore started speaking against U.S. involvement in wars.
"I was very upset when he was tearing up our country," Lloyd told Newsweek in a separate phone call. "So that's why I said what I did... I got angry and I lost my temper, but I never should have said it."
McLemore, 61, is a former contractor at the local jail, running a transitional program to help former inmates transition back to a normal environment. He is also the founder of the Black Lives Matter Lake County chapter and hosted various communal efforts for the cause, including food and water donations to communities in need and renting out movie theaters for local children to view Black Panther when it premiered in 2018. The Lake County BLM chapter opened its first office in downtown Waukegan last month.
It was the next day that Lloyd set out to talk to McLemore.
"I didn't go to him because I was worried. I just know that's not part of me, it's really not me to say something like that," said Lloyd. "That's why I had to ask for his forgiveness. So I could just go on with my life."
Zakee Darr, the president of the Lake County BLM organization, said he noticed a white man walking in circles outside of the office on Wednesday. Darr was concerned at first, but when the man approached him, he asked if he could speak to McLemore to apologize.
"He came up to the office and he said, 'Man, I'm gonna tell you. I don't know why I said that.' He said, 'Please accept my apology,'" McLemore said of Lloyd. "There was something about the sincerity in his eyes that led me to believe that he was honest. He came and found us because we were a brand new office."
McLemore said that he and Darr took the opportunity to educate Lloyd on the Black Lives Matter movement and what the cause supports. McLemore said he also gave Lloyd a copy of his organization's bylaws and core principals.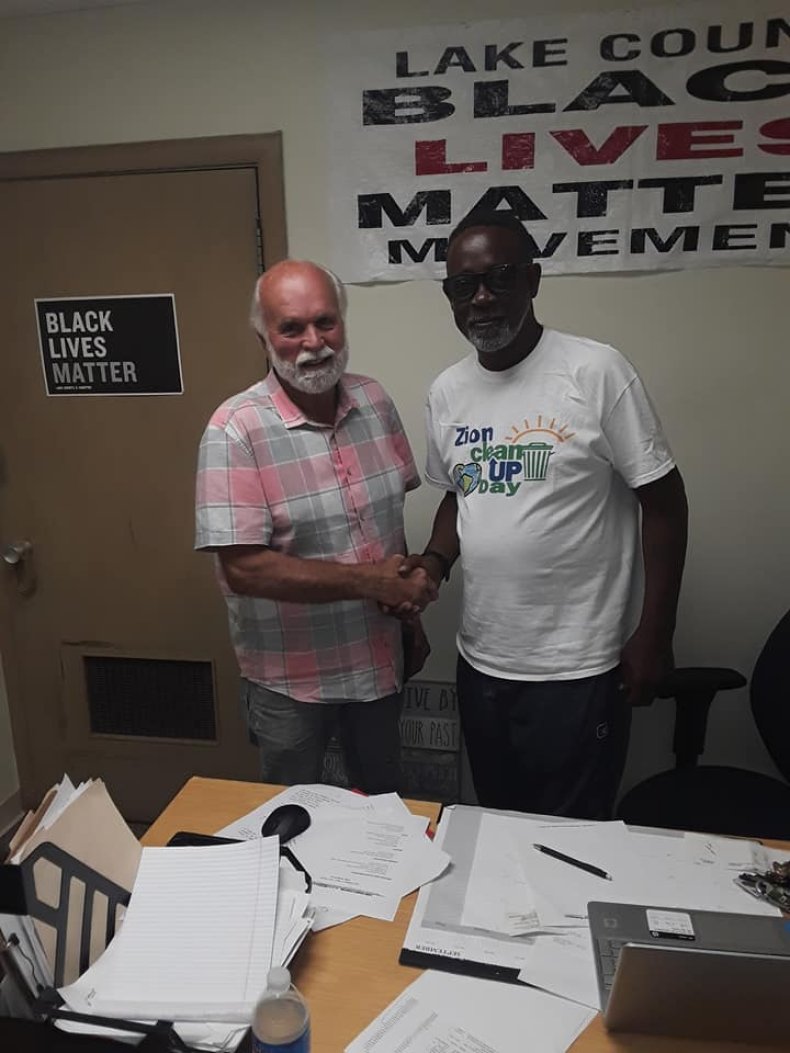 "He didn't know a lot about Black Lives Matter. He thought we were the ones up there in Kenosha, setting fires and all of that. But after visiting our office and going through everything,'" McLemore said.
Lloyd echoed McLemore's comments, telling Newsweek that "he was letting me know that Black Lives Matter wasn't doing all of this destroying the property. People are coming from all over the country and they're doing this and it's not them. And so it gave me a whole different way of looking at things."
Lloyd asked McLemore and Darr to pray with him, which McLemore said it was an "intimate" moment and one that touched him deeply. "He asked God to forgive him in his prayer, and that was so unique. He didn't pray to God to forgive me or for me to accept his apology. He asked God to forgive him," he said.
The meeting was captured in a series of pictures, with Lloyd holding a "Silence is Violence" sign provided to him by the organization. McLemore posted the photos on his Facebook page, the same feed that, just a few scrolls down, shows the initial exchange between the two men.
"I mean, I read all the comments of people telling me, 'Don't trust him,' but we have to start somewhere," he said. "And maybe this was a turning point."
Lloyd said he "got to know" McLemore in the hour the two men spent together, and that their conversation helped him to "understand where they're coming from."
"We had a great talk about that, and I can see why they're going out doing what they're doing to try to stop this stuff. And I think the police force needs to step back and look at what they're doing too," Lloyd said.