After a Year in Office, How Biden's Approval Rating Stacks Up Against Trump's
A year into his presidency, President Joe Biden is more popular than former President Donald Trump was after his first year, but not by much, with both presidents having similar ratings after their first year in office.
Biden's overwhelming election victory was viewed as a referendum on Trump's administration and some championed the win as a rejection of the former president. However, Biden's honeymoon phase with voters ended in the summer and problems with the economy and the ongoing pandemic has continued to drag down his approval rating.
A year after being inaugurated, Biden's average approval rating stands at just 42 percent, according to FiveThirtyEight. The president's rating is lower than the approval ratings nearly all of his predecessors had at this point in their presidencies in the last 70 years. The one exception is Trump, who had only a 39.5 percent approval rating a year into his presidency.
In both 2018 and 2022, one of the top issues Americans thought the United States was facing was the economy. Trump, a champion of his administration's ability to build up the economy, left office during a severe downturn, which he blamed on the COVID-19 pandemic.
Although the U.S. saw improvements to the economy as states reopened businesses, the country continues to deal with high unemployment numbers and inflation. The Biden administration originally asserted the inflated costs of goods would be temporary. But as the president enters his second year in office, Americans still see increased prices across sectors.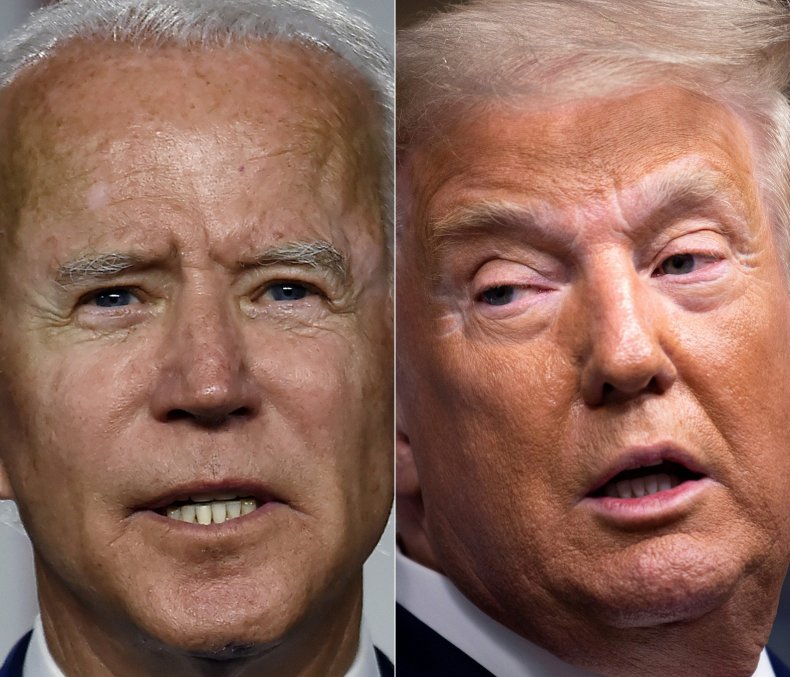 According to a Reuters/Ipsos survey from January, the top issue Biden should be focused on is the economy. It ranked higher than any other issue, including the COVID-19 pandemic. However, voters don't have a lot of confidence in Biden's ability to tackle the economy.
The survey found that only 41 percent of respondents approve of Biden's handling of the economy. At this point in 2018, 49 percent approved of Trump's handling of the economy. While Democrats are more confident in Biden's economic strategy, it's not an overwhelming majority at 69 percent. Only 34 percent of independents back Biden's handling of the economy, followed by Republicans at 16 percent.
On the subject of the two presidents' handling of employment and jobs, one year into his term, Trump once again had a higher approval rating than Biden at the same point in his presidency, at 50 percent to 43 percent, according to polls from Reuters/Ipsos.
A year into Trump's presidency, the Reuters/Ipsos poll found he had an approval rating of 37 percent. Biden, at 45 percent approval, is enjoying a slightly higher overall approval rating than his predecessor.
The two men both earned higher marks from their respective political parties, although Biden had a slight edge on Trump with 78 percent of support from Democrats, compared to Trump's 76 percent support from Republicans.
When it comes to independents, however, both Trump and Biden have equal support at 31 percent. Once relatively popular among independents, Biden's support with the demographic has been slipping for months, raising concerns about the potential for Republicans to retake control of Congress in the midterms.
Republicans only need to flip one seat in the Senate and six in the House to become the majority party. The president's party often loses seats during the midterm elections and a Republican-controlled Congress could make it difficult for Biden to move his agenda forward in his last two years in office.
Despite challenges, the White House has championed the Biden administration as making "a lot of progress" in the first year after coming into an "incredibly difficult circumstance.