In the Aftermath of the Mass Shooting in (Name of City) | Satire
Please select appropriate details from the template.
Deepest condolences to (name of city) in the aftermath of the latest mass shooting at (name of school/business/place of worship/park/event).
Those affected by gun violence join a club with exponential membership growth, atop years of experience. Decades. Students have been bracing for this moment since Kindergarten, practicing active shooter drills meant to prepare, not scare. Life in your community will feel different in the coming (days, weeks, months, years). Essentially for the rest of your life, unless you are killed before your time by another mass shooting.
Maybe it will offer some comfort to know you are not alone. Many have been there before you. So far in 2021, there have been (insert updated number) casualties from (insert updated number) mass shootings. At this rate, many more are to come.
If this is your first mass shooting, it's normal to feel like this is the first time it's ever happened. That's only because it's the first time it's happened to you. While this information may seem overwhelming, think of how prepared you'll be (next week, month, year) when it happens again.
Following a mass shooting, you may be skittish returning to (school, work, grocery stores, places of worship, the park, concerts, movie theaters, the mall, your own home). Perhaps you will struggle to be in (open spaces/closed spaces.) While the feeling might fade, it will never go away. This is normal.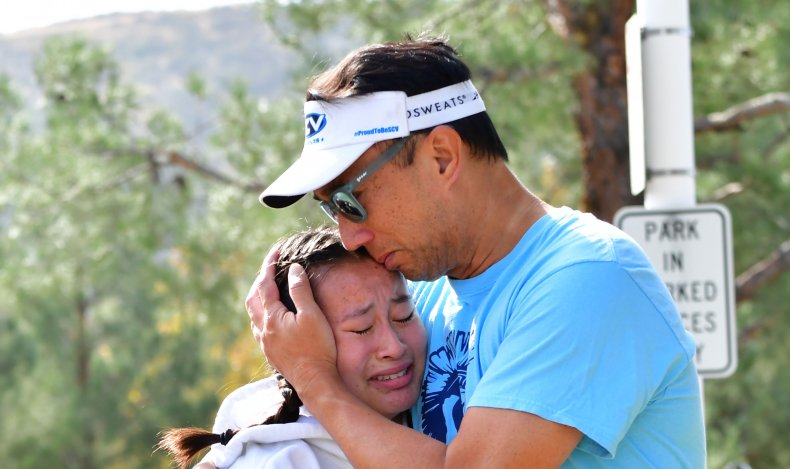 It's likely you will wonder about (infant, child, teenage, adult, elderly) victims of the mass shooting, and what their life was like before, and what it might've been like had they survived. So much (history/potential). This is also normal. But what can you do?
You can post on social media, for one thing. There you will find politicians' statements decrying the (senseless, domestic, workplace, school, racially targeted, religiously intolerant) violence, promising (full investigations, justice, a vague stop to this). Some will promise change; some will mean it. To support the efforts, you can (write emails, make phone calls, march for change), a stronger action than a mere tweet.
But then change doesn't come. People forget about (last week's city/cities) because now they are focused on (this week's city/cities.) You may find yourself impatient. Surely our elected officials are working on the common-sense gun laws that prevent every other country in the world from experiencing the (daily) tragedy of violence by (guns) in (America). [Note: No other template options apply here.]
Because if our leaders weren't advocating for change, that would mean they had an investment in the senseless carnage wrought by guns. That would mean they lied to the grieving individuals and communities that they purported to comfort, at least while the cameras were on. That dead bodies only stacked up to numbers on a balance sheet. What was the tradeoff for human lives? (Answers may vary by state. Fill in yours here: _________________).
Then there is the shooter to consider. (He/She/They, but probably he) could have been (very troubled/totally normal). He might have had a history of (violence toward women/kindness toward one specific woman who called the TV station.) It makes sense to (learn everything you can about him/ignore the coverage entirely). If the shooter is alive, you might want to (mourn/scream). If the shooter is dead, you might want to (mourn/scream).
All of these things are normal.
That prickly-neck feeling you get when an open-carry cowboy stands too close at the checkout? Normal. Wearing sneakers every time you go out, in case you need to run for your life? Normal. Assessing the exits of each building you enter? Normal. Considering how to best angle your body as a shield to protect your (children, parents, siblings, spouse, boyfriend, girlfriend, best friend, coach/players, teacher/students, coworkers, religious leaders) from bullets? Also normal.
You are not alone, (name of school/city). You are completely normal.
Sarah Layden's recent essays, interviews and articles have appeared in The Washington Post, Poets & Writers, Salon, The Millions, Ladies' Home Journal, The Indianapolis Star, The Writer's Chronicle, and Indianapolis Monthly. She is the author of a novel, Trip Through Your Wires, and a flash fiction chapbook, The Story I Tell Myself About Myself, winner of the Sonder Press Chapbook Competition. She is an Assistant Professor of English in the creative writing program at Indiana University-Purdue University Indianapolis.
The views in this article are the writer's own.