AG Barr Blames Rise In Violent Crime On Efforts to 'Demonize' Police And Defund Their Work
Attorney General William Barr on Wednesday blamed the rise in violent crime in cities across the U.S. on efforts to "demonize" police officers and defund their work.
Barr made the comments while speaking at a press conference in Kansas City meant to provide an update for Operation Legend, the Department of Justice-led initiative launched in early July meant to aid local law enforcement agencies in combatting levels of violent crime that haven't been seen in the U.S. in nearly 30 years.
Barr pointed to several reasons for the uptick in violent crime, including "pent-up aggression prompted by state and local quarantine orders," and the "premature release of dangerous criminals" during the pandemic.
But he also blamed those working to "demonize" the police and defund their work. Defunding the police has become a rallying cry of protesters in cities around the U.S.
Operation LeGend has coincided with federal officers arriving in Portland, Oregon, to crack down on nightly demonstrators protesting police brutality and racial injustice.
Barr and other law enforcement officials have attempted to draw a distinction between Operation Legend and the controversial federal response in Portland. On Wednesday, Barr blamed the media for confounding what he referred to as two different aspects of law enforcement.
"One is dealing with civil unrest, rioting," Barr said during the press conference. "And the other is the classical, traditional work that law enforcement does, finding criminal suspects and prosecuting them. What Operation Legend deals with is the latter."
The movement to defund, and even abolish, entire police departments has spread throughout the U.S., following the May 25 death of George Floyd, an unarmed Black man who died at the hands of white Minneapolis police officers. Floyd's death prompted a resurgence of the Black Lives Matter movement, which called for defunding the police nationally.
President Donald Trump and other members of his administration have used the protesters as evidence for why police departments should not be defunded. Barr alluded to this Wednesday, saying that Operation Legend's goal is to "save lives, solve crimes and take violent offenders off the streets before they can claim more victims."
"Rather than demonizing and defunding our police, we are supporting and strengthening our law enforcement partners at the state and local level," Barr said, touting the operation's high number of arrests.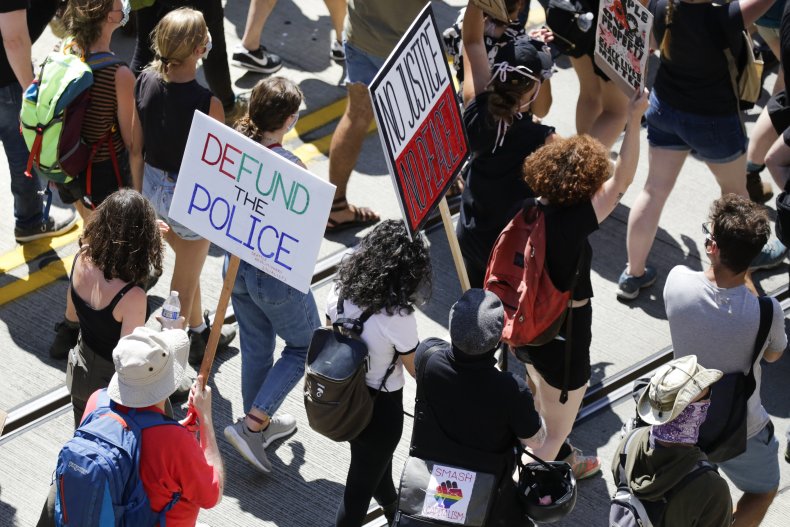 Operation Legend was named after 4-year-old LeGend Taliferro, who died June 29 after he was shot while sleeping in his Kansas City apartment. Barr referred to the boy on Wednesday as a "symbol" who represented the "hundreds of innocent lives" taken in the "recent upsurge of crime" in many urban areas.
The initiative places officers from the FBI, Drug Enforcement Administration, U.S. Marshals Service and other federal agencies in cities to support local law enforcement. It has since expanded to nine U.S. cities dealing with surges of violent crime, and participating officers have made about 1,500 arrests so far, Barr said.
Tim Garrison, United States Attorney for the Western District of Missouri, praised Operation Legend's presence in Kansas City, adding that federal agents helped local police deal with an "unprecedented surge in violent crime."
In June, before federal officers arrived, the city reported more than three killings every four days. Since Operation Legend began in early July, the number decreased to fewer than three killings every five days, Garrison said during Wednesday's press conference.