Agents Bust Woman Attempting to Cross Texas Border With Heroin Worth $1.5M
A woman was recently bused by U.S. Customs and Border Protection (CBP) officers after allegedly attempting to cross the U.S.-Mexico border in Texas with $1.5 million worth of heroin.
The incident occurred Monday at the Pharr-Reynosa International Bridge in Texas, which is within the Hidalgo/Pharr/Anzalduas Port of Entry, the CBP said in a press release. CBP officers assigned to the bridge encountered a woman, who was identified only as a U.S. citizen from Edinburg, Texas, trying to cross the border from Mexico into the U.S. The woman was driving a Volkswagen Jetta.
The press release said that when the woman entered the border crossing area at the bridge, CBP officers referred her and her car for a "more thorough examination." After conducting further investigation of the woman and her car, CBP officers "discovered that the car's tires contained suspected narcotics."
CBP officers then used a canine team to assist with inspection of the woman's car and eventually discovered 24 packages of heroin hidden in the tires, according to the release. The 24 packages weighed around 55 pounds and were worth around $1.5 million.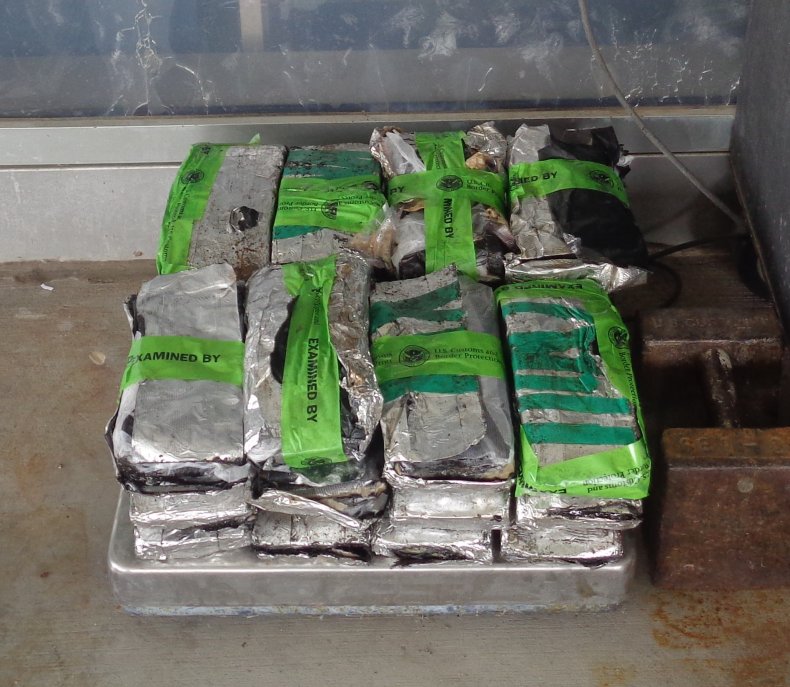 The CBP's Office of Field Operations officers then seized the vehicle and the narcotics. According to CBP, the woman was arrested and turned over "to the custody of agents with Homeland Security Investigations (HSI) as they continue with the investigation."
Carlos Rodriguez, the port director for the Hidalgo/Pharr/Anzalduas port of entry, said in the release that "our officers' relentless dedication to CBP's border security mission and robust enforcement posture contributed to the detection of these hard narcotics that will now be prevented from possibly inflicting harm within our communities."
Newsweek was directed to the press release after reaching out to the CBP for comment.
According to CBP data, there have more than 8,000 drug seizure incidents at the Southwest border since the start of this year. The seizures amount to over 200,000 pounds of narcotics.
Earlier this month, CBP officers seized over 120 pounds of heroin from two citizens from Pharr, Texas, in separate, unrelated incidents. Both men were attempting to cross the U.S.-Mexico border at the Hidalgo International Bridge. CBP officers discovered 33.7 pounds of heroin hidden in one man's vehicle, and later that evening, they seized 91.93 pounds of heroin from the other man. The seized heroin was worth over $3 million.