'Agents of S.H.I.E.L.D.' Recap: What Happened in the Last Season of the ABC Show?
The final season of Agents of S.H.I.E.L.D. is set to premiere on Wednesday, May 27 on ABC, and sees the team sent back in time to 1931 New York in order to fight the Chronicom threat.
The S.H.I.E.L.D. agents are joined in the '30s by a familiar face, as Agent Coulson (Clark Gregg) returns...sort of.
Exactly how S.H.I.E.L.D. ended up in New York was explained at the end of Season 6 of the Marvel show. In the episode, the Chronicoms decided after observing the Earth across numerous episodes that they want to turn the planet into a new homeworld, Chronyca-3.
However, their plan is not just to attack in the present, such as when they destroyed the Lighthouse in Season 6, but also to attack S.H.I.E.L.D. at different points in its history.
However, the team was helped by rogue Chronicom Enoch (Joel Stoffer), who, after trying to save Earth for the whole season, could not join with his race in conquering it.
As such, he helped the agents turn their plane into a time machine, taking the team into the past when the Chronicoms are making their first move against S.H.I.E.L.D., whose tech they want to use as part of their invasion.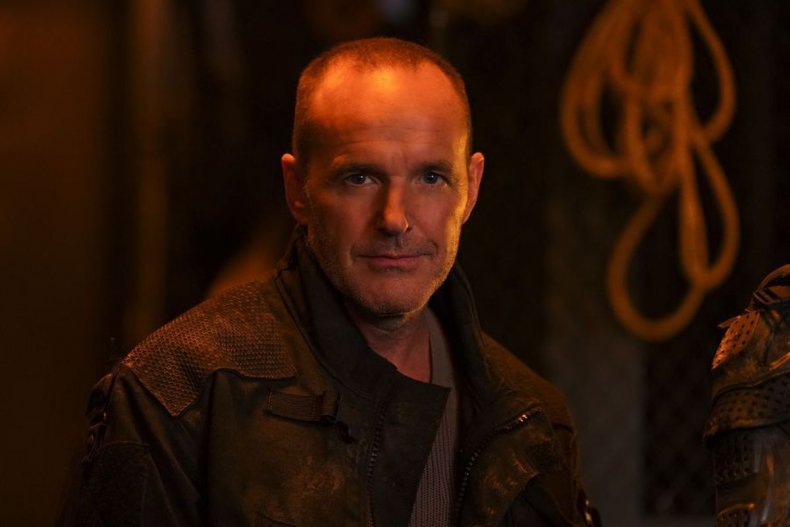 As for how Coulson is back, in the finale the team built a new robot Life Model Decoy version of him to help them with their mission. This means that Clark Gregg will be back on the side of good after spending most of Season 6 as "Sarge."
Sarge was part of a group of mercenaries who arrived on Earth during a time when the planet was experiencing time distortions, and who took Coulson's form.
Initially, the team thinks that Sarge and his gang are bad guys, but they eventually learn that they have come to Earth to battle the Shrike, a bat-like parasite that kills people by causing their bodies to crystallize.
In order to do this, he eventually teamed with S.H.I.E.L.D., until they learn that Sarge's plan is to set off an atom bomb to kill the Shrike.
Meanwhile, the team had to face off against Izel (Karolina Wydra), an entity able to inhabit other people's bodies. Initially encountered by the team on the hunt for Fitz (Iain De Caestecker) in space, she eventually comes to Earth.
There, she tells Sarge that they are actually of the same race, who want to open a portal into the Fear Dimension to let their kind inhabit the Earth. She kills him, knowing he will come back to life with increased powers.
When he returns, he tries to kill Izel, but this causes the memories of his original form to return, meaning that S.H.I.E.L.D. now has a super-powerful and evil creature to contend with.
But Mackenzie (Henry Simmons) is able to kill him with his own sword, made of one of the few materials that can destroy Sarge's kind. May (Ming-Na Wen) also used this to destroy Izel.
Though the battle against Sarge and Izel's race is over, the Chronicoms end Season 6 as a major threat which is sure to provide fans plenty of drama in the show's final episodes.
Agents of S.H.I.E.L.D. Season 7 starts on Wednesday, May 27 at 10 p.m. ET on ABC; Seasons 1 to 6 are streaming on Netflix now.