Why Is 'Agents of SHIELD' Season 6 on Hold Until Next Summer?
There will be another season of Agents of SHIELD, but the Marvel series won't return until summer 2019, ABC President Channing Dungey told press Tuesday. While it's great news Agents of SHIELD is not ending, the inescapable coincidence of the release date has not escaped astute Marvel fans.
That summer 2019 window puts the sixth season premiering about a year after the Season 5 finale, which airs this Friday, May 18. That will be only about a month after the Avengers: Infinity War sequel, unofficially titled Avengers 4, hits theaters on May 3, 2019. It's still possible these characters could suffer the same end as the Avengers faced in Infinity War. The writers have said they planned for both a renewal and a cancellation. The film's ending would have worked perfectly for both a season and series finale, being both impactful and open-ended.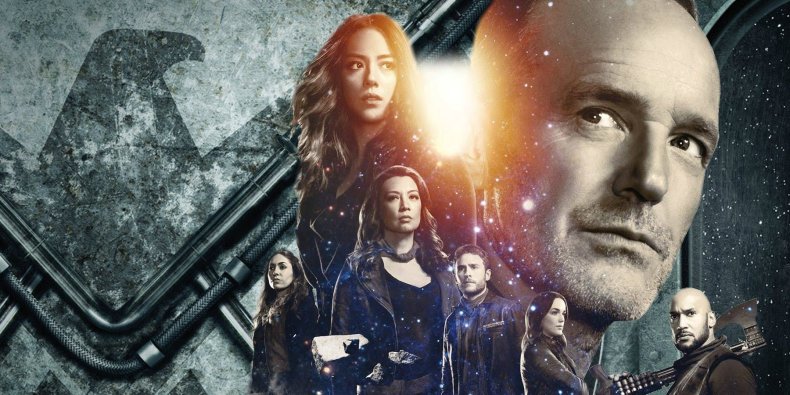 If the upcoming finale goes this route, that would mean 50 percent of the SHIELD team will disappear into thin air. It's possible Season 6 must wait until the conclusion of Avengers 4 to bring back the dissolved heroes to the cast. This way, Agents of SHIELD would not have to directly correct the events of Infinity War. However, there's also the possibility SHIELD will not connect to he greater Marvel Cinematic Universe at all. In the past, the series has included only vague plot references.
It's also worth noting Phil Coulson's role in Captain Marvel to introduce the MCU's next strongest hero in the wake of Infinity War. The film takes place in a pre- Iron Man timeline during the 1990s, so we'll be getting much younger versions of Nick Fury and Agent Coulson. Clark Gregg will presumably have to devote a good chunk of time to filming and it's possible Marvel doesn't want anything to interfere with his story arc from the movies. At this point, it's unclear if Gregg will also appear in Avengers 4 alongside Captain Marvel and Nick Fury. However, if he survives the Agents of SHIELD Season 5 finale, there's no doubt Marvel fans will rally behind seeing the Avengers learn Coulson has been alive since his "death" in The Avengers.
Do you think Agents of SHIELD is returning with a lower episode order because of low ratings and a tight primetime schedule, or because of the events of Avengers 4? Let us know in the comments.