'Agents of SHIELD' Season 6 Won't Be the Last, ABC Confirms
Agents of SHIELD has been renewed for Season 7 by ABC. The pick-up comes months ahead of the Season 6 premiere, expected sometime after Avengers 4 in July 2019. Season 7 has a 13 episode order, reduced from previous years but on par with Season 6.
ABC's decision to move Agents of SHIELD to a summer schedule had many fans fearing Season 6 would be the last, especially considering the season 5 cliffhanger where Marvel Cinematic Universe vet Agent Coulson, played by Clark Gregg, is presumed dead. Disney's upcoming streaming service also contributed to the speculation ABC would lose the show. However, ABC Entertainment President Channing Dungey attempted to assure fans otherwise.
"I feel the season we just had was creatively the strongest yet," she said in August. "We don't plan it as a final season. The show has a loyal passionate base. It does incredibly well in delayed viewing."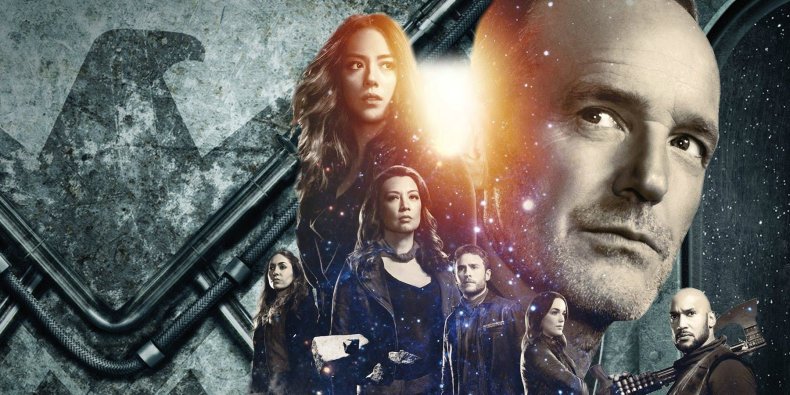 Dungey also hopes the summer schedule puts less pressure on live ratings. "It's my hope that by moving it to summer, where our live-same-day ratings are less important, it might be able to continue for longer," she said.
Agents of SHIELD just won a HPA (Hollywood Post Alliance) Award for Best Visual Effects in the Over 13 episodes category. The winning episode was "Orientation: Part 1," which was the Season 5 premiere episode written by Maurissa Tancharoen, Jed Whedon and directed by Jesse Bochco. Visual Effects Supervisor Mark Kolpack posted a photo of the award on Twitter.
It remains to be seen if Coulson is actually dead (it was never shown on-screen), but even if he is, fans will have a chance to see a younger version of the character in the upcoming Captain Marvel film set for March 8, 2019. While there's still no Season 6 synopsis, the premiere title is "Missing Pieces. "
Any theories? Sound off in the comments.