Aggressive Looks, High Horsepower on Tap for New 2022 Hyundai Elantra N
The 2022 Hyundai Elantra N brings the performance of the company's sport-centric N line of vehicles to a budget-friendly compact car. The car features enhanced drive dynamics and aggressive styling that set it apart from the pack.
The exterior of the Elantra is enhanced for aerodynamics and aesthetics. The car's front fascia is inspired by the look of a driver's race helmet and the lip spoiler complete with an N-exclusive red stripe is designed to emphasize the car's stance. Out back, the wing spoiler with rear diffuser is designed to help control airflow. An inverted-triangle N-exclusive reflector and dual, single-tipped exhaust complete the look.
Under the hood is a turbocharged 2.0-liter four-cylinder engine that has 276 horsepower and 289 pound-feet of torque at the ready. Hyundai's N Grin Shift technology provides a 20-second power boost to 286 horsepower via a button on the steering wheel.
The engine is paired with the buyer's choice of a standard six-speed manual gearbox or an eight-speed wet, dual-clutch transmission.
Hyundai has given the Elantra N standard technology that has been honed in the Veloster N including N Power Shift and N Track Sense Shift. That tech combines with 14.2-inch brake rotors, high-friction pads, half-cut brake dust covers, braking air guides, and a mechanical parking brake (U.S. only).
The car's integrated drive axle is inspired by World Rally Cross cars. A dual-compound insulator has been applied to the front suspension, enabling better reductions in noise, vibration and harshness. A stiff rear bar and rack-mounted power steering play together with the technologies to enable a zippy ride.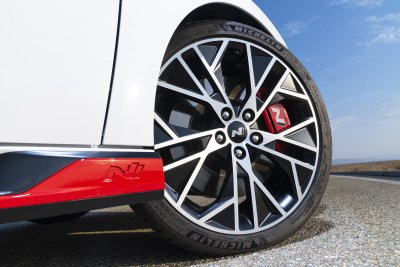 Drivers who want to enhance their exhaust note can take advantage of N Sound Equalizer technology. The virtual engine sound simulates sounds from various Hyundai Motorsports cars. It enables drivers to regulate the white, throat and bass of the sound like sound settings in the car's audio system.
The car rides on 19-inch alloy wheels wrapped in 245-section width Michelin Pilot Sport 4S tires.
The cabin of the 2022 Elantra N has been specialized to include an N-exclusive graphic infotainment interface that includes information needed for circuit driving like oil, coolant, torque, and turbo meters. Drivers can use the screen to customize various driving conditions, such as engine and steering feel.
There are N-branded elements throughout the cabin and sport seats provide a unique seating position.
Hyundai has equipped the model with a wide variety of advanced driver assistance system features including forward collision alert with avoidance assist, lane-keeping assist, lane-following assist, driver attention warning, high beam assist, blind-spot monitoring with collision avoidance assist, rear cross-traffic collision avoidance alert, and safe exit warning.