Staff shortages exacerbated by COVID-19 have strained almost every industry over the last 20 months, but the demographic of American educators could result in a troubling future for the nation's public schools even after the pandemic.
The move to virtual learning, return to in-person classes, mask mandates and social distancing guidelines all upended the lives of students, teachers and other school staff in 2020, but many educators say it was the second year of the pandemic that caused an exhausted workforce to reach a near-breaking point.
"Now that we're back in person, with the number of people constantly going in and out of quarantine protocols and the incredible shortage of substitute teachers... what has occurred is this incredible stress," Ellen Bernstein, the president of the Albuquerque Teachers Federation, told Newsweek. "My fear is that it will create more shortages."
"Because we have an aging workforce and so few people are looking at education as a career choice, what you have is this kind of perfect storm of need versus number of people willing to work in schools," she added.
In the five years leading up to the pandemic, Bernstein's school district saw an average of 232 retirements among teachers, librarians, nurses, counselors and other school staff.
Retirements actually fell during the 2019-2020 school year, but in the 2020-2021 school year, Albuquerque Public Schools saw 358 retirements—an 85 percent increase from the year before.
In a September email sent to Bernstein, an HR representative from the district said that educators cited a variety of reasons for leaving in their exit surveys, including health concerns, feeling overworked, moving out of the state and a dislike for remote teaching.
"What we can't tell from these numbers is whether or not some of those who retired would have stayed longer if COVID and shortages weren't part of their working conditions," Bernstein said. "My gut tells me yes, they would have stayed in education longer."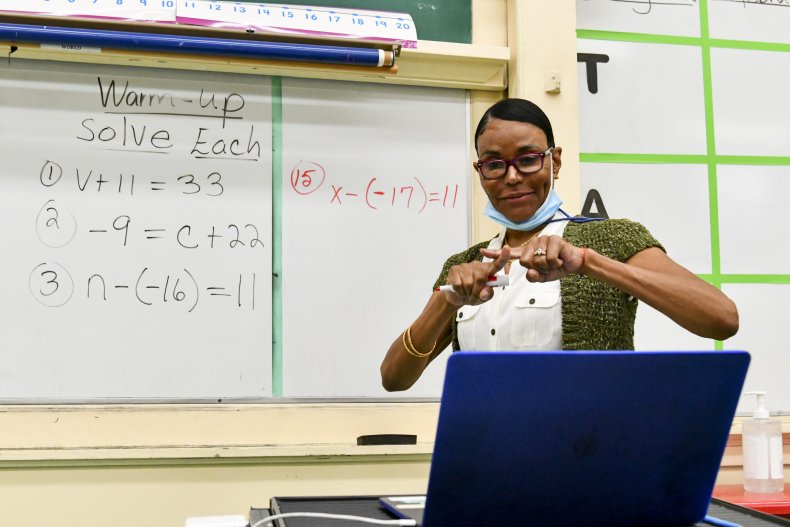 The figures in Albuquerque mirror an alarming trend that is being seen both on the state and federal level.
This year's New Mexico Educator Vacancy Report, conducted annually by the New Mexico State University SOAR Center, found that the state faced 1,048 teacher vacancies going into the 2021 school year, nearly double last year's 570 vacancies.
"Now a thousand teachers, it's like 'Well, you've got around 23,000 teachers statewide, so that isn't much right?'" Bernstein said. "Until you start creating an algorithm asking how many kids are impacted. When you don't have a thousand teachers—even if you just take an average of 25 kids per teacher—that's thousand and thousands of kids who are not being taught by a qualified individual right now."
The issue isn't confined to New Mexico, in Missouri more than half of the teachers in the state say that they consider leaving the profession often or very often.
The Missouri State Teachers Association's 2021 wellness survey also found that 83 percent of teachers said they were frequently or almost always stressed and more than 6 in 10 teachers believed 2021 to be more stressful than 2020.
On a national level, the U.S. Bureau of Labor Statistics estimates that more than 270,000 public school teachers will leave the profession between 2016 and 2026.
Those figures are being quickly accelerated by aging teachers who have been driven to retire early in part because of the pandemic.
A nationwide survey conducted by the National Education Association in 2020 found that nearly a third of teachers polled said COVID-19 has made them more likely to retire early or leave the profession altogether.
Those statistics are even more pronounced among teachers of color. The same poll found that 43 percent of Black teachers believe the pandemic has made them more likely to leave the profession early.
And as a flock of teachers leave their jobs, there are also fewer new faces to fill those vacancies.
Even before the pandemic, the country had been experiencing a declining enrollment in teacher preparation programs—a phenomenon that has shown no signs of stopping.
"Ten years ago, we were in a place where if you were a social studies teacher or an English teacher, you were probably going to have sub for a year or two, before you would find a full-time job," Jason Roberts, president of the Kanas City Federation of Teachers & School Related Personnel, told Newsweek. "There were not vacancies in those positions. They were so saturated. At this point across the state, we have social studies and English classes that are vacant."
"We have a lack of interest of people entering the profession on top of people leaving," he said.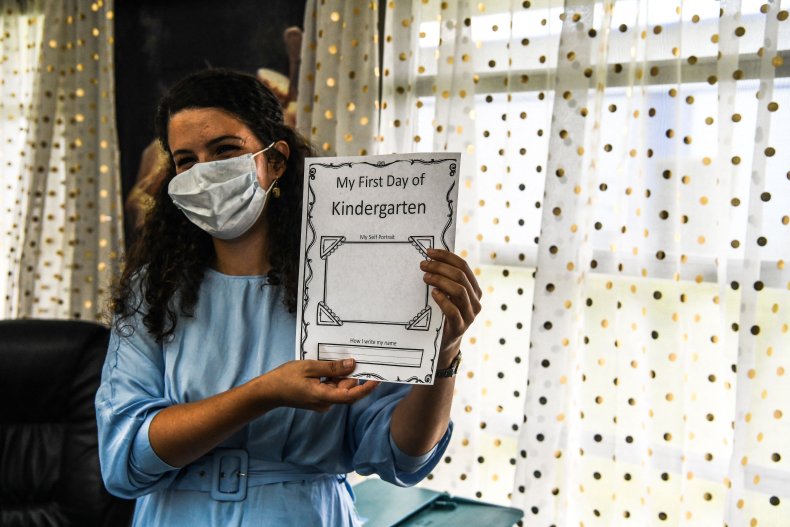 Finding teachers to fill vacancies in states like New Mexico and Missouri is especially challenging due to the states' teacher compensation rates, which are lower than those in neighboring states.
"Missouri has traditionally struggled with teacher compensation. We're one of the lowest in the country for compensation and so we do have teachers that go elsewhere. They'll go either to Kansas, to Iowa or, particularly, to Illinois because Illinois pays better," Roberts said. "For years, we've struggled with issues of compensation. Since the pandemic has started, we've seen a rather large number of people leave the state."
In New Mexico, many teachers will leave to teach in Arizona and Colorado for better salaries and working conditions.
Roberts worries that growing staffing shortages in the education sector will eventually push some districts to move virtually full-time.
"There just are not enough teachers to go around," he said. "The interest isn't there and I do not believe [online learning] is best for kids. I don't believe that sitting in front of a computer for seven hours is what's best for kids. They need human interaction with kids their age. They need a teacher right there to assist them, to challenge them, to guide them."
"It's not what's best for kids, but I'm afraid that's what we'll have to do because we don't have the staff," he continued.
Educators are hoping that emphasizing the value of their profession will help not only recruit new teachers, but retain them.
In January, Bernstein will help to launch a statewide campaign to build awareness for the staffing shortages and to advocate for more educational funding.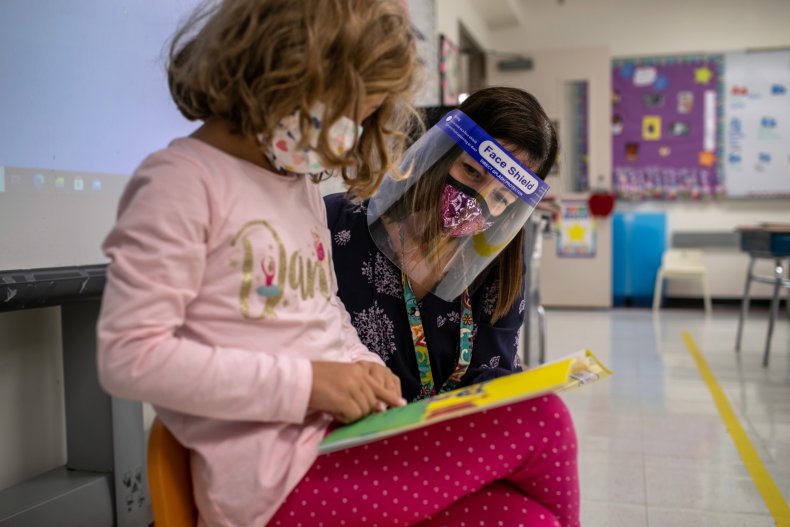 Roberts said it's not only compensation that needs to be addressed. He said it would be of tremendous help to look at the demands placed on teachers to evaluate what can be taken off their plates.
"There are things that can be done that don't necessarily cost a lot of money that show appreciation for teachers and I do think that goes a long way," he said.
For example, working with his superintendent, Roberts' district was able to give school staff a whole week off for Thanksgiving break.
"It was only two days and that made a huge difference for our teachers," he said. "Things like that, looking at ways to celebrate them."
As public education comes to a crossroads, educators are asking the nation to reevaluate what their roles are worth to a greater society.
"I believe in the function of public education in society," Bernstein added. "I believe that with a stable, well-supported public education system, you have an informed citizenry. If we destabilize the entire system—and it is destabilized nationwide because of the shortages—then the implications are huge for our future."
"What do we believe as a nation? Do we believe that this is a noble profession worthy of somebody's dedication, expertise and energy? And what are we going to do as a country to solve the problem?" she added.