Trump's Secretary of Agriculture Tells Joke About Whining Farmers to Room Full of Farmers, Gets Booed
President Donald Trump's Secretary of Agriculture Sonny Perdue cracked a joke that American farmers "whine" about Trump's trade war with China and got laughs as he intended but also jeers from audience members that seemingly found it insensitive.
"I had a farmer tell me this in Pennsylvania," Perdue said at a farm show in Minnesota last Wednesday, according to Agri-Pulse. "He said, 'What do you call two farmers in a basement?' I said 'I don't know, what do you call them?'"
Perdue said the farmer said: "A whine cellar."
There was laughter but the "boos" came as some members of the crowd did not find Perdue's joke funny, just two days after China declared it would no longer buy any American agricultural products to hit back at Trump for imposing an additional 10 percent tariff on Chinese goods.
Perdue made the joke at the end of a back-and-forth with farmer Mike Peterson of Northfield, Minnesota. Peterson said that a June Acreage report by the United States Department of Agriculture (USDA)'s National Agricultural Statistics Service was "speculative," which Perdue denied by saying the officials "are professional." Petersen then complained that the data has been released several weeks after farmers were surveyed and joked, "the show American Idol can tabulate how many votes in the course of an episode?"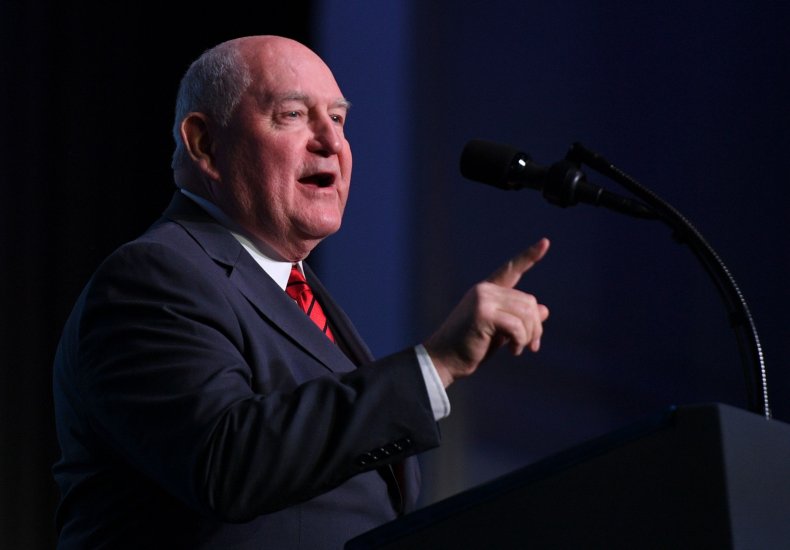 Trump's tariffs on China have led to farmers filing bankruptcy at never-before-seen rates.
Minnesota Corn Growers Association President Brian Thalmann said farm producers are not "starting to do great again" and that "things are going downhill very quickly."
American Soybean Association member Joel Schreurs expressed concern about export markets with the ongoing trade war and predicted the markets are "just not going to come back in a day or two."
But Perdue stood by Trump's pressure on China and belief that the United States will come out on top in the end.
"China is going to buy where they see the best value, when we get the trade resolution done," Perdue said. "We're working on markets in India, Thailand, Indonesia, and Malaysia to develop other markets."
Farmers in other states have cast similar frustration with the president's trade war.
"It's really, really getting bad out here," North Dakota farmer Bob Kuylen told CNBC on Saturday. "Trump is ruining our markets. No one is buying our product no more, and we have no markets no more."
The USDA did not immediately respond to a request for comment from Newsweek Monday regarding Perdue's joke.
Correction: This story has been updated to reflect the proper spelling of "booed."