AGs Sue to Block DeVos' Repeal of Obama's Rule Against For-Profit Colleges
A group of attorneys general have filed to block the removal of the "gainful employment" rule for higher education programs.
The rule, implemented by the Obama administration, means programs must indicate information on study costs and debt accrued, compared to how much students earn after completion.
It also saw schools face the risk of losing the ability to access federal student aid programs should the cost of debt be too high, or should they not supply sufficient clarity for prospective students.
The rule was repealed by Education Secretary Betsy DeVos in 2019, with this taking effect from July 2020.
A group of 19 attorneys general has grouped together in a bid to stop the repeal, arguing that without providing an alternative standard to the rule, new standards coming into place are contrary to current law.
Alongside a statement outlining the lawsuit, New York Attorney General Letitia James said: "Betsy DeVos's unjustified and illegal repeal of the Gainful Employment rule is yet another example of the Trump Administration's continued efforts to dismantle critical safeguards protecting students and taxpayers in order to further the interests of for-profit colleges.
"We are standing up for students and calling out the Department of Education's improper repeal of a rule that plays a vital role in ensuring students can make informed decisions about their education. The Trump Administration's actions here are just another example of putting special interests ahead of student interests."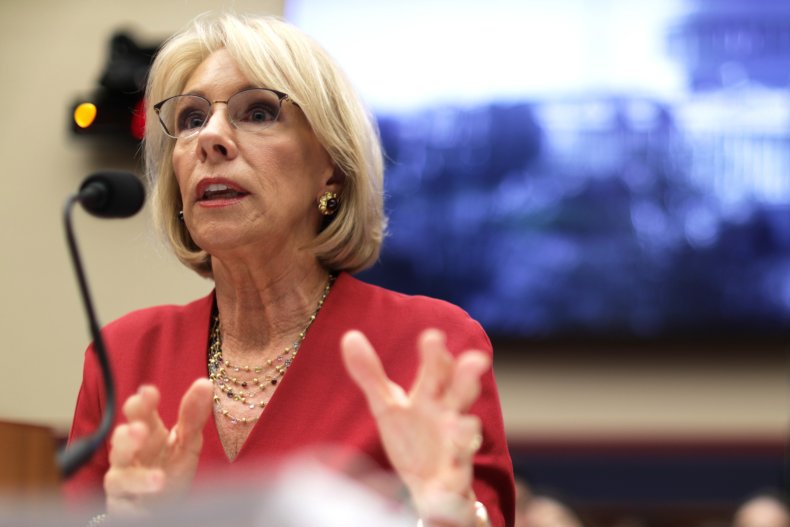 The statement took aim at what it branded "fraudulent and abusive practices" which aim to "convince students to enroll in useless academic and training programs," adding that graduates have been left with debt but without career prospects to support paying it off. It argued that the gainful employment rule works to counter this and "held for-profit institutions accountable for the future success of their students."
Responding to the lawsuit, Education Department Press Secretary Angela Morabito said in a statement shared with Newsweek: "The Department will vigorously defend its final regulation rescinding this deeply flawed rule."
The move to eliminate the rule previously met criticism, with suggestions this could cost $6.2 billion in financial aid going to programs which would previously not met the criteria for doing so.
In a statement last year, after the announcement to repeal the rule, Rep. Bobby Scott (D-VA), chairman of the House Education and Labor Committee, said: "Repealing – rather than revising or replacing – the Gainful Employment rule will prop up low-quality for-profit colleges at the expense of students and taxpayers. According to the Education Department's updated analysis, this decision will cost taxpayers $6.2 billion in federal financial aid, which will go to college programs that have failed to meet the existing standard and would have otherwise closed.
"The decision to eliminate clear enforcement standards does not absolve schools of their legal obligation to provide students a worthwhile education that leads to gainful employment. But by eliminating this rule without enforcing any alternative standard, the Education Department is giving low-quality, for-profit colleges a free pass to charge high tuition for worthless credentials that leave students with insurmountable debt."
The Education Trust, a nonprofit looking to close opportunity gaps impacting students of color and those from low-income families, described repealing the rule as "an attack on vulnerable students."
In a statement last year, Denise Forte, senior vice president for partnership and engagement at the trust, said: "The gainful employment rule was put in place to protect hundreds of thousands of students — often students of color, veterans, and students from low-income backgrounds — from predatory career-education programs that leave them with crushing debt and no degree, or with crushing debt and a worthless credential.
"The decision to completely repeal gainful employment is an attack on the students whom the U.S. Department of Education is trusted with protecting. Eliminating this rule will mean that predatory programs, many of them at for-profit colleges, will continue to access billions of federal dollars while harming students financially and leaving many with an empty promise of higher education."
In an executive summary explaining the rule change, it was said the department found the rule was based on a debt to earnings formula it described as "fundamentally flawed and inconsistent with the requirements of currently available student loan repayment programs."
This added that it was determined the rule "fails to properly account for factors other than institutional or program quality that directly influence student earnings and other outcomes, fails to provide transparency regarding program-level debt and earnings outcomes for all academic programs, and wrongfully targets some academic programs and institutions while ignoring other programs that may result in lesser outcomes and higher student debt."
This article has been updated to include a statement from the Education Department.