Who Is Lord Nil? Escape Artist Was Almost Eaten Alive By Alligators in 'AGT' Act Simon Suggested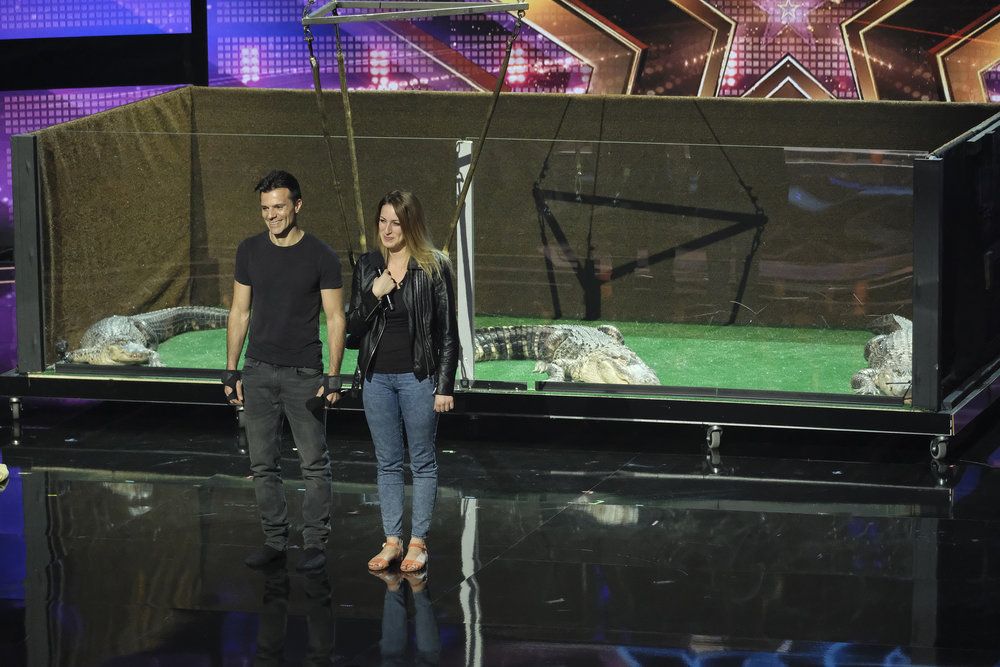 Lord Nil accepted Simon Cowell's challenge and added alligators to a very dangerous act in the last round of Judge Cuts on America's Got Talent Tuesday.
After the 38-year-old escape artist's audition in June, the judge asked if he could include alligators next. Lord Nil added them to an already dangerous act that went wrong in 2015. He had been trying to escape from a straight jacket while hanging upside down 15 feet in the air from burning ropes. He didn't escape in time and fell, breaking his hips, shattering bones in his arm and suffering head trauma. For the Judge Cuts, he did the same act—above alligators. "If I fail this escape, I cannot think of the consequences," he said.
Simon and fellow judge Howie Mandel thought the alligators looked happy—for different reasons. "They've been fed," Simon said, but according to Howie, "they're looking at a buffet." Once in the straight jacket, Lord Nil was lifted upside down above the alligators. Fire burned through the ropes above him. Two ropes broke before he escaped the straight jacket and returned to the safety of the stage.
"You had the good sense to listen to my advice," Simon told him. "This was a big step up, and that was an incredible act." He didn't have a suggestion for his next act this time, and Lord Nil shouldn't take guest judge Chris Hardwick's comments as one either. "I don't know where you go from here," Hardwick said. "I don't know if you jump into a blender of sharks."
Judge Melanie Brown hit the buzzer halfway through, leading Simon to ask if she thought the escape artist would stop. "I just don't want to be part of anybody's death," Mel B, who turned around during the act, said. "It's a risk I don't think you should be taking in life."
Lord Nil advanced to the live shows.
That makes two difficult escapes for Lord Nil already on America's Got Talent. For his audition, he locked his head in a box and secured his arms with zip-ties to a pole. He had 90 seconds to cut his wrists free and figure out which of four possible combinations unlocked the padlock on the box before a case of more than 30 scorpions was lowered on his head.
There was a paramedic on hand in case. "One sting, you feel extreme pain, difficulty breathing and seizures," he said. "If they sting me in a massive quantity, I will die." He escaped just in time.
America's Got Talent Season 13 airs Tuesdays at 8 p.m. ET on NBC.