Watch AGT Golden Buzzer: Detroit Choir Wows Audience and Leaves No Dry Eye
The moment that golden confetti rains on a Golden Buzzer-winning performance is always a tear-jerker, but emotions were already flowing through the room before the Detroit Youth Choir opened their mouths.
"I love choirs," judge Simon Cowell prefaced Tuesday. "We've never had a choir win the show."
"Well, this can be the first," choir director, Anthony White responded.
Beginning their performance with a melodic rendition of Macklemore's "Can't Hold Us," the youth choir quickly changed tones with upbeat rap and dance. Every person in the audience quickly rose to their feet and clapped along to the beat.
At the conclusion of the energetic performance, Cowell, fist in the air, gave a standing ovation alongside his fellow judges.
"This was your moment," judge Howie Mandell said. "The dancing, and the singing, and the rapping–it's so much more than you expect from any other choir."
He added: "I love you! I love you all."
"You know, it started with the people," judge Julianne Hough commented. "You guys came together and created something that was traditional–like a choir–and you took it and went so fresh."
"It was so fun, the choreography," Hough added, with arms in the air. "I was up on my feet–I love it!"
"Let me thank you," judge Gabrielle Union said. "Because what we witnessed here tonight was nothing short of absolute brilliance."
"This was not expected," Cowell concluded. "You could win this."
As Cowell was about to collect the votes from the judges, host Terry Crews quickly interjected and walked on stage.
"Wait, wait, wait, I'm sorry to interrupt," Crews began. "But I have to tell you, every young man and woman on this stage represents me and where I came from."
"I remember sitting at my window in Flint, Michigan, dreaming that I wanted to make it and be here–and they're here," he tearfully added. "They're here and they did so well, so I have to do this–"
At that moment, Crews takes the steps down the stage and toward the judging panel.
"Let me tell you something, Mr. White, all it takes is one person to believe in a man or a woman for them to reach their dreams and you are that man, sir," Crews exclaimed as he slammed the Golden Buzzer.
As the stage began to be covered in golden confetti, tears streamed down the young faces of the Detroit Youth Choir.
"You're going to the live show in Hollywood," Crews excitedly told them backstage.
Find out which performance is headed to Hollywood when America's Got Talent airs on NBC Tuesday nights at 8 p.m. ET.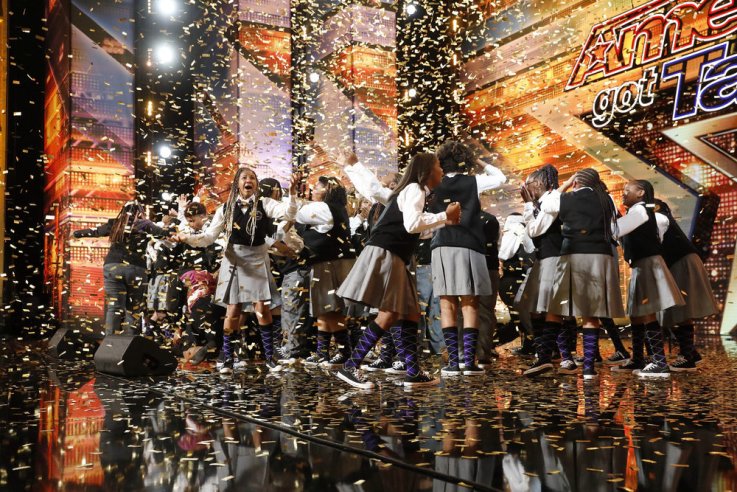 Watch AGT Golden Buzzer: Detroit Choir Wows Audience and Leaves No Dry Eye | Culture